Act Now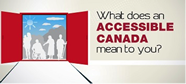 The Government of Canada is leading consultations to inform planned accessibility legislation.
In-person sessions are coming soon to your community. Now is the chance to have your say. Read more.
Sign Up for a Voice of Our Own
A quarterly newsletter from CCD.
Guide dog, trip out in the cold; Vacation scuttled at last minute
by Bruce Owen, Winnipeg Free Press Staff Reporter
(Winnipeg Free Press, 12 January 1997)
Doreen Demas was supposed to be relaxing on a Mexican beach today, but her winter trip was scuttled at the last second by a Cancun hotel manager who barred her guide dog from his posh hotel.
"I'm really disappointed," Demas said yesterday. "I worked hard for this vacation and I was looking forward to it. I'm supposed to be packing now and it's just sinking in."
Demas, who is visually impaired booked the week-long trip with a friend who is also blind last September through Thomas Cook and Signature Vacations. Right from the start, the tour company and Continental Plaza Hotels were aware Demas' guide dog vixen would be coming on the trip.
Then on Friday, a fax from the hotel manager arrived at the travel agent's desk, saying the black lab wasn't welcome at the four star hotel.
"it was a shock and I felt really horrible about it," agent Elaine Furukawa said. "It's like the manager had no idea what a guide dog is. He didn't understand it at all."
A rep from Signature Vacations in Cancun was dispatched to the hotel to plead with the manger to change his mind, but to no avail.
"He didn't budge," Furukawa said. "We tried to find another hotel, but at this time of year, Cancun is all booked up."
Signature's director of sales said last night that Demas will get a full refund and the company hopes to help her plan her next vacation.
"To be honest, it's one of the first times we've run into a situation like this, with a seeing-eye dog," said Pat Rachey, adding that some places are not as sensitive to the needs of the handicapped.
Another hotel in Cozumel was willing to accept the dog, Rachel said, but Demas turned it down because it wasn't the same caliber of hotel.
Now Demas is left wondering if she'll ever get a winter holiday.
"This has never happened to me before and I've traveled all over," she said. "I assumed everything would be checked out. Now it seems everyone is just pleading ignorance."
Dean Cousens, executive director of the Canadian National Institute for the Blind's Manitoba division, said he was shocked by the hotel manager's uncaring attitudes.
"My experience is that very, very seldom do you hear these stories," he said. "Most people are very accommodating, but there's still an awful lot of work still to be done."
Commentary: Doreen Demas is a former CCD Executive member. The Manitoba League of Persons with Disabilities appointed Doreen to the CCD Council. CCD's Transportation Committee works to overcome barriers in the transportation system.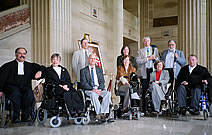 CCD wins VIA Rail case at the Supreme Court of Canada on March 23, 2007.