Act Now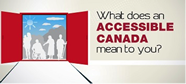 Empower U: Learn to Access Your Disability Rights Training on Canadian Human Rights, the Convention on the Rights of Persons with Disabilities (CRPD) and its Optional Protocol (OP) training aims to increase awareness of how to address discrimination using more familiar Canadian human rights laws such as Human Rights Codes and the newer international Convention on the Rights of Persons with Disabilities (CRPD). This is training for persons with disabilities by persons with disabilities. The training is part of a project funded by Employment and Social Development Canada and implemented by the Council of Canadians with Disabilities (CCD) in collaboration with Canadian Multicultural Disability Centre Inc. (CMDCI), Citizens With Disabilities – Ontario (CWDO), Manitoba League of Persons with Disabilities (MLPD) and National Educational Association of Disabled Students (NEADS). Read more.
Sign Up for our monthly digest
A monthly newsletter from CCD about what is happening in the community
Presentation to Senate Committee on Transport and Communications (Special study connected and automated vehicles)
By
Bob Brown
Chairperson CCD Transportation Committee
September 2017
The Council of Canadians with Disabilities (CCD) is a national human rights organization of people with disabilities that works for an accessible and inclusive Canada.
CCD's members are provincial/territorial cross-disability, consumer-controlled, human rights organizations and national uni- and cross-disability, consumer-controlled, human rights organizations. The members are:
Disability Alliance BC
Voice of Albertans with Disabilities (VAD)
Saskatchewan Voice of People with Disabilities (SVOPD)
Manitoba League of Persons with Disabilities (MLPD)
Citizens with Disabilities — Ontario (CWD-O)
Confédération des Organismes de Personnes Handicapées du Québec (COPHAN)
Nova Scotia League for Equal Opportunities (NSLEO)
PEI Council of People with Disabilities
Coalition of Persons with Disabilities--NFLD and Labrador (COD)
NWT Disabilities Council
Alliance for Equality of Blind Canadians
Canadian Association of the Deaf (CAD)
DisAbled Women's Network Canada (DAWN Canada)
National Educational Association of Disabled Students (NEADS)
National Network for Mental Health (NNMH)
People First of Canada
Thalidomide Victims Association of Canada
In every decade since the 1970s, CCD has played a crucial role in advancing the status of Canadians with disabilities. CCD has played the role of:
CONVENOR - bringing together the disability community, governments and others to remove barriers and create greater inclusion;
INNOVATOR – informing and facilitating understanding of access and inclusion as it has evolved over the decades; and
CONSENSUS BUILDER - developing a shared vision that facilitates progress and change.
(Please see appendix for highlights of CCD's work on accessible transportation.)
For people with disabilities, there are both advantages and disadvantages to automated cars and commercial vehicles.
Numerous issues come to mind concerning the vehicles, infrastructure and policy implications. For example, vehicles that are designed or adapted for persons with disabilities need to be designed according to the principles of universal design. Universal design means that the vehicle must be designed for everyone to use.
People using mobility devices would need to be secured in the vehicle by a restraint system – either an existing restraint system or a new type of restraint system to be designed in the future. Securing a passenger with a disability by a vehicle restraint system usually requires the assistance of a nondisabled person, a robotic device or a standardized restraint system.
In the instance of a shared ride system, there are issues concerning payment and how some people with disabilities who experience barriers related to independently completing a payment transaction would be accommodated. For example, some people who have dexterity problems that affect their ability to handle money or credit cards need to have assistance with these tasks.
There needs to be infrastructure to allow for the operation of charging systems at designated parking spots for persons with disabilities who are the users of wheelchairs and other types of mobility devices. This infrastructure needs to be designed with persons with disabilities in mind.
When self-serve gas stations came into widespread use, persons with disabilities had great difficulty finding service stations that could assist them to refuel their vehicles. This is still the case.
As I started to mention, commercial vehicles like rideshare for commercial or city buses may be problematic. People would need assistance to be secured in the vehicle or to lift up a bus seat. Again, I reiterate, payment could be an issue for some.
The social and economic effects will be felt widely with this technology when persons with disabilities are able to use the technology. One of the first things people need is housing. The second need is transportation to get to jobs, education and other social events in order to participate in society.
If this technology is designed correctly to be useable by people with disabilities, it will enable people with disabilities to get to employment and work in the community. Other pacing technologies such as GPS apps for visually impaired or blind individuals enable them to do their own wayfinding in unfamiliar surroundings.
Again, the technology must be designed to know when an extra-wide parking space is required by wheelchair or walker users. It must ensure that no one is permitted to block the vehicle entrance. Alternatively, it needs to be designed to back the vehicle out to a place where the person is able to enter and exit the vehicle.
I want to reiterate the importance of universal accessibility in the design of the vehicles and interfaces. It is necessary for inputting an address into the system. Also, it must be flexible enough for add-ons and future technologies such as a mobile phone app to operate the system.
Appendix
CCD has demonstrated leadership on accessible and inclusive transportation including:
Providing expert testimony in the Clariss Kelly v. VIA Rail case decided by the Canadian Transportation Commission in 1979;
Participating in the Roadcrusier project which made accessible intercity buses a reality in Canada;
Providing expert testimony on accessibility to the Parliamentary Committee on the Status of the Disabled and the Handicapped, which led to important recommendations concerning transportation in the Obstacles Report;
Being consulted by the Transport Minister during the development of the National Policy on Accessible Transportation in 1981;
Participating in research and development projects with the Transportation Development Center;
Being consulted by the Government of Canada in the development of the National (now Canada) Transportation Act 1987;
Co-chairing the Ministerial Advisory Committee on Accessible Transportation;
Publishing Moving Backwards: Canada's State of Transportation Accessibility in an International Context (2005);
Removing undue obstacles to mobility through litigation: CCD v. VIA Rail and CCD v. Air Canada & WestJet;
Initiating a conversation in the disability community about the need for the Minister of Transport to develop accessibility regulations for the federally regulated modes of transportation and 45 disability organizations added their voices to CCD's call for regulation.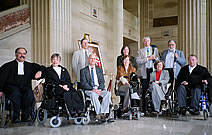 CCD wins VIA Rail case at the Supreme Court of Canada on March 23, 2007.