Act Now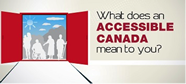 Empower U: Learn to Access Your Disability Rights Training on Canadian Human Rights, the Convention on the Rights of Persons with Disabilities (CRPD) and its Optional Protocol (OP) training aims to increase awareness of how to address discrimination using more familiar Canadian human rights laws such as Human Rights Codes and the newer international Convention on the Rights of Persons with Disabilities (CRPD). This is training for persons with disabilities by persons with disabilities. The training is part of a project funded by Employment and Social Development Canada and implemented by the Council of Canadians with Disabilities (CCD) in collaboration with Canadian Multicultural Disability Centre Inc. (CMDCI), Citizens With Disabilities – Ontario (CWDO), Manitoba League of Persons with Disabilities (MLPD) and National Educational Association of Disabled Students (NEADS). Read more.
Sign Up for our monthly digest
A monthly newsletter from CCD about what is happening in the community
Letter to Hon. Jean Lapierre, Minister of Transport
January 6, 2005
Hon. Jean Lapierre
Minister of Transport
House of Commons
Ottawa, Canada
K1A 0A6
Mr. Minister:
At your Advisory Committee on Accessible Transportation (ACAT) meeting in November 2004, CCD informed you that we intended to withdraw from participation in ACAT unless we received a positive response from you by the end of November on:
a willingness to move from voluntary codes of compliance to regulation,
increased support for the Accessible Transportation unit,
agreement to work on a new policy on transportation access for Canadians with disabilities
While it is your prerogative to remove us from the Committee, CCD has not resigned. Our decision was to suspend our participation in ACAT. This decision was reached by the CCD Board of Directors after careful consideration. CCD did not take this decision without giving it due consideration. In our 29 year history we have never before felt compelled to take such action.
You were informed in advance of the concerns giving rise to this decision. Pat Danforth, Chair of CCD's Transportation Committee and Laurie Beachell, our National Coordinator, met with you in Victoria on September 8th and provided you with an advance draft copy of a report CCD had produced, which documented both how transportation accessibility in Canada has been regressing since 1993, and how at the same time other developed countries were moving forward towards barrier free transportation systems.
Prior to your appearance at the ACAT meeting, we ensured that word of CCD's decision was transmitted to you through your Ministry staff. No media or opposition politicians were alerted to our decision. Every courtesy was shown to ensure you were neither surprised nor embarrassed. CCD decided that as Canada's national disability organization action was required, and that our decision should be communicated directly to you. In order to ensure you recognized the importance of this issue, we made certain that not only Ms. Danforth, our regular representative to ACAT, but also myself as National Chairperson, Mr. Beachell, our National Coordinator and Mr. David Baker, the researcher on the accessibility study were present so that questions about the research, and CCD's position could be fully answered. While you and your staff chose to maintain a "no comment" stance, we were pleased with the questions, informed comment and support from ACAT members.
Our actions are a direct outcome of what we see as a significant erosion of access for Canadians with disabilities traveling on federally regulated carriers. As you know our substantive concerns relate to:
VIA Rail's purchase of inaccessible passenger rail cars and their continued fight to keep these cars in service, even though the CTA has identified 14 barriers for persons with disabilities,
the decision by airlines and the government to subvert the "one person one fare" principle that has been a cornerstone of accessibility in Canada for 25 years,
recent moves by Air Canada on many routes to use smaller jets and turbo prop planes that either eliminate access totally or create new barriers for persons with disabilities,
and the ineffectiveness of the CTA complaint mechanism in removing barriers.
We are not moving forward; we are moving backward, and CCD finds its time and energy has to be spent challenging these actions through complaints and in the courts.
At the ACAT meeting, in response to our position you appeared surprised and defensive and indicated that you could not be held responsible for your predecessor's decisions. Yet you specifically opened the meeting asking to know of our concerns. Clearly you can reverse decisions of your predecessor; you could provide VIA Rail the resources to retrofit the Renaissance cars to make them accessible; you could introduce regulations to ensure that all know what standards must be met and make it understood that providing access is not a choice or something to be "volunteered," but rather it is mandatory. With an ageing population and thus growing incidence of disability, access will become an issue for an ever larger portion of the Canadian population. An accessible federal transportation system should be a priority for you and the Government of Canada.
CCD remains committed to working with the Government of Canada on issues of importance to Canadians with disabilities. We are working with Minister Dryden, Minister Goodale, Minister Ianno, Minister Alcock and others to advance the full inclusion of Canadians with disabilities.
We are withdrawing from participation in ACAT because at the present time we time do not see it as a vehicle that is advancing the full inclusion of persons with disabilities. We do not do this frivolously. CCD has been involved with ACAT since 1979, and for many of those years, representatives of our association provided considerable leadership to ACAT. We remain open to discussions with you and your officials, but at this point participation in ACAT is not a good use of our time and resources. CCD asked for a response from you to our concerns by the end of November. We have heard nothing from your department, thus CCD withdraws from further ACAT discussions. Pat Danforth, the current Chairperson of ACAT and representative of CCD, will withdraw from further participation in ACAT meetings.
Sincerely,
Marie White
National Chairperson
Cc: Members of ACAT
Rt. Hon. Paul Martin
Hon. Ken Dryden MP
Mr. Ken Boschkoff MP
Mr. Peter Julian MP
Mr. Steven Fletcher MP
Ms. Bev Dejarlais MP
Rt. Hon. Paul Martin
Prime Minister
House of Commons
Ottawa, Ontario
K1A 0A6
Hon. Ken Dryden, MP
House of Commons
Ottawa, Ontario
K1A 0A6
Mr. Ken Boschkoff, MP
House of Commons
Ottawa, Ontario
K1A 0A6
Mr. Peter Julian, MP
House of Commons
Ottawa, Ontario
K1A 0A6
Mr. Steven Fletcher, MP
House of Commons
Ottawa, Ontario
K1A 0A6
Ms. Bev Dejarlais, MP
House of Commons
Ottawa, Ontario
K1A 0A6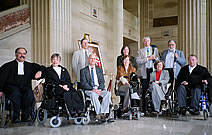 CCD wins VIA Rail case at the Supreme Court of Canada on March 23, 2007.