Act Now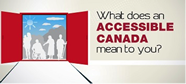 Empower U: Learn to Access Your Disability Rights Training on Canadian Human Rights, the Convention on the Rights of Persons with Disabilities (CRPD) and its Optional Protocol (OP) training aims to increase awareness of how to address discrimination using more familiar Canadian human rights laws such as Human Rights Codes and the newer international Convention on the Rights of Persons with Disabilities (CRPD). This is training for persons with disabilities by persons with disabilities. The training is part of a project funded by Employment and Social Development Canada and implemented by the Council of Canadians with Disabilities (CCD) in collaboration with Canadian Multicultural Disability Centre Inc. (CMDCI), Citizens With Disabilities – Ontario (CWDO), Manitoba League of Persons with Disabilities (MLPD) and National Educational Association of Disabled Students (NEADS). Read more.
Sign Up for our monthly digest
A monthly newsletter from CCD about what is happening in the community
Supreme Court of Canada to Rule on Access Rights of Persons with Disabilities
For Immediate Release
May 17, 2006
The leadership of Canada's disability community will be in the Supreme Court of Canada at 9:30 am on May 19th, where the community's access rights will be interpreted by the country's highest court for the first time. In October 2003 the Canadian Transportation Agency [CTA] ordered VIA Rail to make its recently purchased rail cars accessible to persons with mobility and vision disabilities. In March 2005 the Federal Court of Appeal overturned this decision, saying people with disabilities who can't use the new trains will have to find other means of transportation.
Before the trains were purchased, using 100% taxpayer money, former Liberal Transport Minister David Collenette promised the trains would meet the CTA's train accessibility standards. When told the trains were inaccessible Collenette washed his hands of the matter, suggesting VIA seek the CTA's guidance on the issue. VIA refused. Faced with Canada being the only developed country in the world where new inaccessible trains could be brought into service, and with the CTA unable to act on its own initiative, the Council of Canadians with Disabilities (CCD), on behalf of it broad membership, applied to the CTA for a ruling on whether or not the trains were legal.
"First we were lied to, then we were left to bear the unbelievable costs of litigating against a crown corporation which seems willing to spend more on legal fees than the CTA found it would cost to make the trains accessible", said Pat Danforth, chair of the CCD Transportation Committee.
VIA boasts of having achieved an "incredible bargain" by outbidding Iraq and Morocco, for trains by paying slightly more than their scrap value. Competitive bidders were scarce for these trains. They could not have been brought into service in the United States, Britain or France for their laws enforce access.
In addition to the access problems identified by the CTA, Transport Canada has ruled the trains do not meet Canadian safety standards.
"Having saved hundreds of millions of dollars by buying inaccessible trains we believe Canadian equality rights law, prohibiting discrimination on the basis of disability, compels VIA to give back a small portion of that amount to make the trains accessible".
This is the issue to be decided by the Supreme Court of Canada.
For Further Information Contact:
Pat Danforth, CCD Transportation Committee Chairperson - Ph. 250-208-6720 Cell
Ron Ross, CCD Transportation Committee Member - Ph. 807-935 2028
Laurie Beachell, CCD National Coordinator Ph. 204 947-0303 wk or 204 981-6179 cell
Backgrounder
April 2000 Government of Canada announces funding to VIA for purchase of new passenger rail cars. Minister Collenette assures disabled community anything purchased will be accessible.
November 2000 disability community invited to view cars and identify a number of barriers.
December 2000 CCD asks CTA to determine if the cars create new barriers to Canadians with disabilities. CCD informed that VIA has already purchased the cars.
December 2000 VIA requests disabled community put up a security equivalent to the purchase price of the rail cars to protect VIA should it need to break its contract with Alstom.
January 2001 Minister of Transport's Advisory Committee on Accessible Transportation told by Minister that cars can be retrofitted for access.
February 2001 CTA asks VIA to provide plans for making cars accessible.
April 2001 VIA goes to Federal Court to challenge CTA's authority to rule on CCD complaint.
May 2001 Federal Court of Appeal dismissed VIA's application for leave to appeal CTA decision that it had the jurisdiction to review the proposed design for the Renaissance cars. Court awarded costs to CCD.
May 2001 the remainder of the purchased cars arrive in Canada. Bombardier in Thunder Bay given contract to retrofit the cars.
September 2001 Representatives of disability community allowed to view cars again and once again significant barriers are found.
February 2002 CCD submits final brief to CTA. VIA indicates it is putting some cars into service.
December 2002 CCD marks anniversary of two year old complaint, CTA standard is that complaints be handled within 120 days.
March 2003 CTA rules that the Renaissance cars do not meet the Agency's voluntary Rail Code and present serious obstacles to the mobility of Canadians with disabilities.
October 2003 CTA orders VIA to make substantive modifications to ensure access for travelers with disabilities.
November 2003 VIA announces decision to appeal CTA ruling to Federal Court of Appeal.
March 2004 Federal Court of Appeal agrees to hear VIA appeal.
June 2004 CTA awarded CCD the Centennial Commemorative Award acknowledging CCD's ongoing contribution to Canada's national transportation system.
March 2005 Federal Court of Appeal decision does not dispute the fact that the Renaissance cars are inaccessible. Court rules that CTA did not look at the entire VIA network and determine whether access could be achieved by using other options. Federal Court suggests that an accessible train once a week might be sufficient or VIA could use other means of transporting people for point A to B such as taxis etc.
April 2005 CCD seeks Leave to Appeal Federal Court Decision to Supreme Court of Canada.
November 2005 Supreme Court of Canada grants CCD leave to appeal and orders VIA to pay CCD for their Leave to Appeal costs.
April 2006 Canadian Human Rights Commission, and Ontario, Manitoba and Quebec provincial Human Rights Commissions, DisAbled Womens Network, Canadian Association of Independent Living Centres, TransAction Now, Canadian Hard of Hearing Association, Alliance for Equality of Blind Canadians, Canadian Association for Community Living, all are granted intervener status and support the position of CCD.
May 19 2006 Supreme Court of Canada hears CCD's complaint against VIA Rail.
Other Facts:
No contract was ever tendered by VIA for purchase of new rail cars.
Bombardier in Montreal builds some of the most accessible passenger rail cars in the world. These cars are fully accessible and are being purchased by the United States because their law requires access.
VIA's 50 year old passenger rail cars are more accessible than the new cars purchased.
CCD focused primarily on wheelchair access to the coach car but these cars present other barriers to persons who are blind and the sleeper cars and service car present a number of other barriers.
The passenger cars purchased would not be granted a license to operate in the United States, Britain or Europe because they do not meet access standards.
Canada was once a leader in accessible transportation but is no longer seen that way.
The Charter of Rights and Freedoms prohibits discrimination on the basis of disability.
Canadians with disabilities comprise approximately 12% of the Canadian population. Incidence of disability increases with age and Canada is an aging society. Ensuring access is not only a matter of equality but also a matter of good business.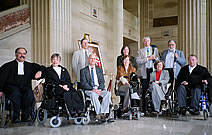 CCD wins VIA Rail case at the Supreme Court of Canada on March 23, 2007.