Act Now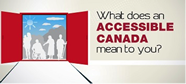 The Government of Canada is leading consultations to inform planned accessibility legislation.
In-person sessions are coming soon to your community. Now is the chance to have your say. Read more.
Sign Up for a Voice of Our Own
A quarterly newsletter from CCD.
Board
CCD refers to its Board of Directors as the National Council of Representatives. The National Council of Representatives elects the CCD Executive Committee. The current CCD Executive Committee includes:
Chairperson: Jewelles Smith
1st Vice Chairperson: Pat Danforth
2nd Vice Chairperson: John Rae
Secretary: Roxana Jahani Aval
Treasurer: (Vacant)
Member-at-Large on Executive: Frank Folino
The National Council of Representatives:
Jewelles Smith
Pat Danforth (DABC)
Ian Young (ACCD)
Kathleen Thompson (SVOPD)
Eva Beaudoin (MLPD)
Terry Green (CWDO)
Monique Beaudoin (COPHAN)
Deborah Wood Salter (PEI Council)
Alexander Peeler (NSLEO)
Emily Christy (COD - NL)
Denise McKee (NWTDC)
Vangelis Nikias (AEBC)
Frank Folino (CAD)
Kathy Hawkins (DAWN-RAFH)
Roxana Jahani Aval (NEADS)
Ellen Cohen (NNMH)
Kory Earle (PFC)
Gregor Wolbring (TVAC)
Natalie Spagnuolo
John Rae
Executive Committee Bios
Jewelles Smith is a strong voice for human rights in Canada. She is a feminist disability activist, scholar, writer and artist. Jewelles has received training in human rights monitoring, women's human rights justice, and methods in using legislation, policy and human rights treaties to challenge inequality. She is a PhD candidate the University of British Columbia, Okanagan Campus and resides in British Columbia with her service dog, DaVinci.
Pat Danforth has more than 30 years of governance and board experience in a wide variety of government and not for profit sectors. She is committed to embracing and leading change that makes a difference.
Pat has worked on rights based issues since becoming reliant on a wheelchair in 1970. She has taken a leadership role with the Council of Canadians with Disabilities (CCD). She represents the Disability Alliance BC on CCD's board. She also volunteers on CCD's Transportation Committee and is a member of its Human Rights Committee.
She is a founding mother of the DisAbled Women's Network (DAWN). Pat's career includes work for provincial and federal governments, Saskatchewan Human Rights Commission, as well as the Canadian Labour Congress. Her varied background includes the Saskatchewan Public Service Commission Board of Commissioners, Regina Health District Board, National Transportation Agency and CUPE National's Disability Working Group. She has specialist knowledge of rights and disability issues, policies and programs.
Pat currently serves on a variety of committees including:
• BC Ferries Accessibility Advisory Committee
• Chair, Disability Alliance BC
• Transportation Committee and human rights committee
• Council of Canadians with Disabilities
• Working Group for development of Saanich Accessibility Committee
Past committee work includes Vice Chair, Accessible Transportation Advisory Committee, BC Transit and Member, Advisory Design Panel, District of Saanich.
Pat recognizes that volunteer work is essential in making a difference to the lives of people living with disabilities.
John Rae
John Rae brings a broad combination of community, government and union involvements to all of his varied activities.
John took early retirement from the Ontario Public Service in 2005 after a 24-year career, during which time he was a Consultant with the Centre for Disability and Work, an Education Officer with the Employment Equity Commission, and prior to retirement a Program Officer with the Accessibility Directorate of Ontario.
John brought his community perspective to the Canadian labour movement where he served in elective positions at the local, provincial and national levels. Following his retirement, John remained involved as an active member of OPSEU's Disability Rights Caucus until the end of 2016.
During the past 43 years, John has been a board member of many human and disability rights organizations, including Co-chair of the Coalition on Human Rights for the Handicapped, which secured the first human rights coverage for persons with disabilities in Ontario. John is a Past President of the Alliance for Equality of Blind Canadians (AEBC), the Canadian Legal, Advocacy, Information and Research Association of the Disabled (CLAIR), and PAL Reading Service.
John is currently a member of the Council of Canadians With Disabilities National Council, Chair of its Social Policy Committee, and a member of its Human Rights and National Accessibility and Inclusion Act Committees.
John is also a member of the Boards of Directors of Injured Workers' Consultants Legal Clinic and the Alliance for Equality of Blind Canadians. He is also a member of the Canadian Museum on Human Rights' Inclusive Design & Accessibility Council, the Ontario Network of Injured Workers' Groups Action Research Committee, and the Steering Committee of the ODSP Action Coalition.
In June, 2016, John was awarded the Cruickshank Medal from the Ontario Historical Society in recognition for his work in promoting greater access and inclusion in museums and art galleries.
John is also interested in building community, world travel, history, live theatre, visiting museums and art galleries, music and he writes and speaks frequently on a broad range of disability and other human rights issues.
E-mail: thepenguin@rogers.com
Roxana Jahani Aval
Roxana Jahani Aval is the Acting Chair and Ontario Director of the National Educational Association of Disabled Students. Serving as the NEADS representative to CCD, she also serves as the Secretary for the Council of Canadians with Disabilities. Roxana graduated from York University in Toronto, Ontario in 2017 with a Bachelor of Arts in Psychology. She is currently pursuing a second Bachelor of Arts Degree in Human Rights and Equity Studies, concentrating on Disability Rights and Law. She wishes to pursue Law School in the years to come. During Roxana's time in university, she has been the founder and president of two leader based clubs on campus at York University. She sat on council for the Community Safety Council of York, and currently sits on the AccessYork committee, along with the Petitions Committee with the Faculty of Liberal Arts and Professional Studies.
Frank Folino
Frank Folino was born Deaf and is a lifelong Toronto resident. He is currently President of the Canadian Association of the Deaf-Association des Sourds du Canada (CAD-ASC), a not-for-profit organization that promotes the rights of Deaf Canadians who use American Sign Language (ASL) and langue des signes québécoise (LSQ). CAD-ASC is affiliated with the World Federation of the Deaf (WFD), and CAD-ASC is a United Nations-accredited Non-Governmental Organization (NGO) to the Convention on the Rights of Persons with Disabilities.
Frank served as member of the Interim Board of Directors for the Canadian Administrator of Video Relay Services, the new not-for-profit corporation that was mandated by the Canadian Radio-Television and Telecommunications Commission (CRTC) to design, implement and oversee the delivery of Video Relay Service (VRS) in Canada.
He currently serves in professional and leadership roles on numerous federal advisory groups in Canada. Frank represents the CAD-ASC with the Association of Visual Language Interpreters of Canada and the Council of Canadians with Disabilities. In addition, he sits on the North America Advisory Committee for the World Association of Sign Language Interpreters. He has been representing Canada at the international level with organizations such as the World Federation of the Deaf and has attended many meetings related to the United Nations on Convention on the Rights of Persons with Disabilities (CRPD).
Currently, Frank is elected as Member at Large on Executive Committee where he will bring with his diverse skills, knowledge and abilities including community outreach and engagement, advocacy, governance, change management and strategic planning and he continues to be involved with CCD's International Committee.
Frank has received several awards over the years, from Festivals and Events of Ontario (FEO) in 2009, an organization that promotes economic tourism in Ontario; the Ontario Volunteer Service Award from the Ontario Ministry of Citizenship and Immigration in 2010, recognizing his volunteer contributions in the Province of Ontario. His most recent honour was the Queen Elizabeth II Diamond Jubilee Medal in December 2012 in Canada.
Frank Folino holds an Honours Bachelor of Arts (BA) in Political Science from York University. His research fields focused on the political economy and political power in Canadian federalism.
Council Member Bios
Vangelis Nikias
Vangelis Nikias has been active in human rights and disability issues for many years. A few years ago, he worked for the Council of Canadians with Disabilities (CCD) to raise awareness on the content of the Convention on the Rights of Persons with Disabilities (CRPD). During the United Nations (UN) negotiations of CRPD, Vangelis represented the Dept. of Human Resources and Social Development Canada (HRSDC) on the official Canadian delegation as content expert.
In the 1990's, Vangelis chaired CCD's Human Rights Committee and served on the Social Policy Committee.
He has a background in adjudication - having served for nine years as vice-chair of the Ontario Social Assistance Review Board (SARB)
Vangelis has a firm human-rights orientation and believes that the implementation of CRPD can contribute to the attainment of an inclusive and accessible Canada. This can be achieved on the basis of genuine collaboration between Canadian governments and an aware and mobilized disability community.
He believes that the strengthening of the self-representation of persons with disabilities remains today as critical as ever. In this context, CCD's capacity-building efforts and leading presence takes on added significance.
Currently, Vangelis works for the Government of Canada in digital policy and accessibility.
My experience includes participation on local board, provincial boards, national boards and committees. Using an intersectional lens my participation on this committee will highlight the impact of psycho/social disabilities across the whole disability community.
I have worked in the mental health field with consumer led organizations over two decades as an experienced facilitator and coordinator. Working in the capacity of consultant, I was developing workshops in all areas of nonprofit management and leadership, based on the individual needs of the consumer organizations.
The skills I bring are:
Provided expertise and support in the development of programs, and infrastructures for grassroots organizations;
Developed and delivered workshops, training modules and educational resources in all areas of nonprofit management and leadership.
Supported the implementation and policy development of a provincial strategy for mental health reform,
Facilitated the development and coordination of a regional network for grassroots mental health organizations in Northeast Ontario.
I am passionate about change, and looking into the future for the CCD and all of the consumer organization. I am very excited about the future and what is in store. I would like to play a larger part along the path of our community going forward. I am confident that my knowledge and experience in community development, capacity building, networking and organizational development will be an asset to the CCD executive team.
I am the National Coordinator of the National Network for Mental Health.
Natalie Spagnuolo
Natalie is active in the disability movement at the local and national level and through CCD's Social Policy Committee. Much of her advocacy and policy work has focused on experiences of disability and migration, intellectual disability, and women with disabilities. She has served as managing editor for health and disability-related peer review journals and has contributed research on a range of disability issues, producing articles, book chapters, reports, and pieces for popular publications. Over the past few years, Natalie has organized conferences, working groups, and community-based workshops. She is currently co-director of Memory, Witness and Hope/Mémoire, témoignages et espoir, a participatory, multi-modal project where English and French-speaking survivors of regional centres access supports to tell their stories with peers and the community at large.
See past Annual Reports .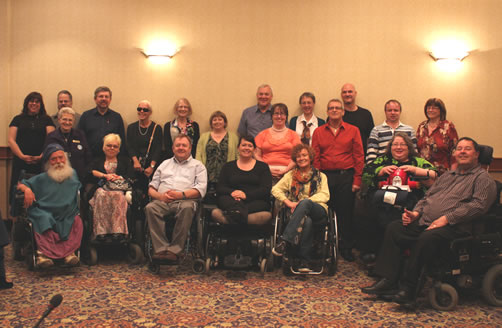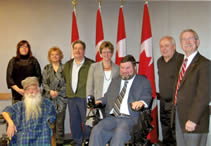 CCD shares its views on policy reform with Federal Ministers. For example, in January 2011, CCD, along with others in the disability community met with Minister Diane Finley and Minister Steven Fletcher. From left to right: Jim Derksen (CCD), Shelly Rattai, Rose Flaig, John Young, Minister Finley, Minister Fletcher, Ross Young and Ken Burford.