Act Now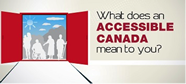 The Government of Canada is leading consultations to inform planned accessibility legislation.
In-person sessions are coming soon to your community. Now is the chance to have your say. Read more.
Sign Up for a Voice of Our Own
A quarterly newsletter from CCD.
Board
#CCD refers to its Board of Directors as the National Council of Representatives. The National Council of Representatives elects the CCD Executive Committee. The current CCD Executive Committee includes:
The National Council of Representatives:
Jewelles Smith
Tony Dolan
Pat Danforth (DABC)
Ian Young (ACCD)
Kathleen Thompson (SVOPD)
Eva Beaudoin (MLPD)
Terry Green (CWDO)
Monique Beaudoin (COPHAN)
Deborah Wood Salter (PEI Council)
Alexander Peeler (NSLEO)
Emily Christy (COD - NL)
Denise McKee (NWTDC)
Alan Conway (AEBC)
Frank Folino (CAD)
Carmela Hutchison (DAWN-RAFH)
Roxana Jahani Aval (NEADS)
Ellen Cohen (NNMH)
Kory Earle (PFC)
Gregor Wolbring (TVAC)
Natalie Spagnuolo
Executive Committee Bios
Jewelles Smith is a strong voice for human rights in Canada; she is a feminist disability activist, scholar, writer, and artist. Smith has received specific training in human rights monitoring, women's human rights justice, and methods for using legislation, policy and human rights treaties to challenge inequality. She is passionate about leadership and mentors a number of young women in Canada.
Jewelles is Chairperson of the Council of Canadians with Disabilities and is on the board of directors for the National Educational Association of Disabled Students. Currently a PhD student at the University of British Columbia Okanagan, her dissertation will document narratives of disabled mothers in Canada from a human rights perspective.
Smith has published articles on women, mothering, and disability in academic journals, mainstream magazines, and newspapers. She has presented at numerous conferences and events on these topics, and participated in countless radio interviews. She works as a disability consultant, researcher and public speaker.
Tony Dolan is the Past Chairperson of the Council of Canadians with Disabilities (CCD). He was appointed to CCD by the PEI Council of People with Disabilities.
Tony immigrated to Canada from Ireland, where he trained as a classical French chef.
In Canada, Tony worked in the nonprofit sector and then for various Federal Government departments, including the Federal Public Service Commission and Veterans Affairs.
Tony has made an impressive contribution to the voluntary sector, advancing the goals of an accessible and inclusive Canada. In addition to his work with CCD and the PEI Council, Tony has held leadership positions with Spinal Cord Injury Canada, the Canadian Council on Rehabilitation and Work and many other organizations.
Pat Danforth has more than 30 years of governance and board experience in a wide variety of government and not for profit sectors. She is committed to embracing and leading change that makes a difference.

Pat has worked on rights based issues since becoming reliant on a wheelchair in 1970. She has taken a leadership role with the Council of Canadians with Disabilities (CCD). She represents the Disability Alliance BC on CCD's board. She also volunteers on CCD's Transportation Committee and is a member of its Human Rights Committee.

She is a founding mother of the Disabled Women's Network [DAWN]. Pat's career includes work for provincial and federal governments, Saskatchewan Human Rights Commission, as well as the Canadian Labour Congress. Her varied background includes the Saskatchewan Public Service Commission Board of Commissioners, Regina Health District Board, National Transportation Agency and CUPE National's Disability Working Group. She has specialist knowledge of rights and disability issues, policies and programs.

Pat currently serves on a variety of committees including:
BC Ferries Accessibility Advisory Committee
Chair, Disability Alliance BC
Transportation Committee and human rights committee
Council of Canadians with Disabilities
Working Group for development of Saanich Accessibility Committee
Past committee work includes Vice Chair, Accessible Transportation Advisory Committee, BC Transit and Member, Advisory Design Panel, District of Saanich.

Pat recognizes that volunteer work is essential in making a difference to the lives of people living with disabilities.
Carmela Hutchison is 57 years old and lives with her husband, Bob, in Irricana, Alberta. Having graduated in 1983 with a diploma in nursing from Mount Royal College, Carmela has a background as a registered nurse who specialized in Mental Health. She has worked in long-term, acute, adolescent and community mental health and psychiatric settings. In 1990, Carmela sustained injuries in a rollover car accident. In 1991, she went on long-term disability after receiving a diagnosis of multiple personality (now called dissociative identity disorder or DID), depression, and post-concussion syndrome. She also lives with numerous physical conditions and uses a wheelchair. Her husband Bob lives with attention deficit hyperactivity disorder and seasonal affective disorder. In 1996, the year that people with disabilities finally achieved protection under the Alberta Human Rights, Citizenship and Multiculturalism Act, Carmela became involved in the mental health consumer movement.
She is President of the Disabled Women's' Network of Canada (DAWN-RAFH Canada, www.dawncanada.net). Carmela is a Secretary of the Executive Committee of the Council of Canadians with Disabilities (www.ccdonline.ca).
Carmela is President of the Alberta Network for Mental Health (www.anmhf.ca) and the Vice-Chair/Treasurer of the Alberta Alliance on Mental Illness and Mental Health (www.aamimh.ca). She is member of the Alberta Disabilities Forum (ADF).
Carmela has received the 2007 Council of Canadians with Disabilities Award Contribution to the Disability Rights Movement in Canada and the 2003 Nadine-Sterling Award for Self-Disclosure and Commitment to Consumer Based Initiatives.
Carmela presents educational workshops on mental illness and disability and assists in facilitating support groups. She has made numerous media appearances; on Jun 22, 2017 Carmela was featured in 150 Canadians who STAND OUT in Standout Publications and in the 2017 film entitled Not a One-Way Street by Eva Colmers and Dr. Heidi Janz to be aired on BravoFACTUAL in 2018.
Dr. Kathleen Thompson manages her own health policy consulting company serving, primarily, the legal cannabis sector. In 2015, she founded the Cannabis Regulatory Research Group, an international consortium of regulatory exports in the global cannabis industry. Kathleen consults on cannabis policy to governments, industry, entrepreneurs and civil society. The focus of her work in the cannabis sector is to support all levels of government in Canada in developing legalization policies and regulations which ensure that vulnerable and marginalized Canadians, particularly people living with disabilities, have access to quality, affordable, tested cannabis within the new legalized framework. Kathleen consults and speaks on Cannabis and the Workplace with a focus on how the legalization of cannabis may impact persons living with disabilities who benefit from cannabis consumption. Additionally, she is partnering with Indigenous businesses in Western Canada on becoming Licensed Producers (LPs) of medicinal and recreational cannabis and hemp.
Since 1999, Kathleen has consulted on health policy initiatives to the mental health, disability and corrections sectors. She was the lead researcher for DISC, the Disability Income Support Coalition from 2010 – 2015. DISC consulted with the Government of Saskatchewan in implementing SAID, Saskatchewan Assured Income for Disability. Kathleen co-chaired the joint Government / DISC Evaluation and the Benefits committees. She is the Vice President of Saskatchewan Voice of People with Disabilities. Also, she is a long-standing Board Member with IHRAAM, the International Human Rights Association for American Minorities. IHRAAM is in consultative status with the United Nations and provides Alternative Reporting to the UN UPR on CERD, the Committee for the Elimination of Racial Discrimination. Kathleen has represented IHRAAM at UN events in Geneva and New York.
Council Member Bios
My experience includes participation on local board, provincial boards, national boards and committees. Using an intersectional lens my participation on this committee will highlight the impact of psycho/social disabilities across the whole disability community.
I have worked in the mental health field with consumer led organizations over two decades as an experienced facilitator and coordinator. Working in the capacity of consultant, I was developing workshops in all areas of nonprofit management and leadership, based on the individual needs of the consumer organizations.
The skills I bring are:
Provided expertise and support in the development of programs, and infrastructures for grassroots organizations;
Developed and delivered workshops, training modules and educational resources in all areas of nonprofit management and leadership.
Supported the implementation and policy development of a provincial strategy for mental health reform,
Facilitated the development and coordination of a regional network for grassroots mental health organizations in Northeast Ontario.
I am passionate about change, and looking into the future for the CCD and all of the consumer organization. I am very excited about the future and what is in store. I would like to play a larger part along the path of our community going forward. I am confident that my knowledge and experience in community development, capacity building, networking and organizational development will be an asset to the CCD executive team.
I am the National Coordinator of the National Network for Mental Health.
See past Annual Reports .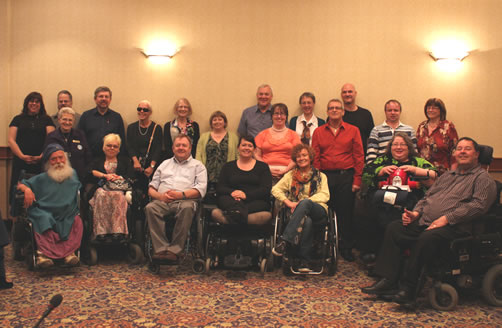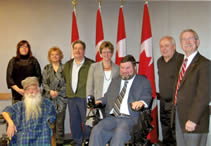 CCD shares its views on policy reform with Federal Ministers. For example, in January 2011, CCD, along with others in the disability community met with Minister Diane Finley and Minister Steven Fletcher. From left to right: Jim Derksen (CCD), Shelly Rattai, Rose Flaig, John Young, Minister Finley, Minister Fletcher, Ross Young and Ken Burford.