Act Now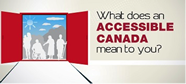 Empower U: Learn to Access Your Disability Rights Training on Canadian Human Rights, the Convention on the Rights of Persons with Disabilities (CRPD) and its Optional Protocol (OP) training aims to increase awareness of how to address discrimination using more familiar Canadian human rights laws such as Human Rights Codes and the newer international Convention on the Rights of Persons with Disabilities (CRPD). This is training for persons with disabilities by persons with disabilities. The training is part of a project funded by Employment and Social Development Canada and implemented by the Council of Canadians with Disabilities (CCD) in collaboration with Canadian Multicultural Disability Centre Inc. (CMDCI), Citizens With Disabilities – Ontario (CWDO), Manitoba League of Persons with Disabilities (MLPD) and National Educational Association of Disabled Students (NEADS). Read more.
Sign Up for our monthly digest
A monthly newsletter from CCD about what is happening in the community
Honorary Members
Jim Derksen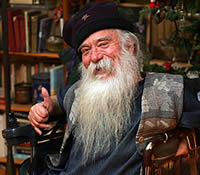 During the June 2009 meeting of CCD's National Council, Jim Derksen became an Honorary Member of the organization. For CCD, Jim has been a true visionary leader, identifying emerging trends and helping our organization meet new challenges in a principled manner consistent with our human rights philosophy. CCD made Jim an Honorary Member in recognition of the significant contribution that Jim has made to the development of an accessible and inclusive Canada.
At an early stage in his life, Jim began to work on removing barriers to the full and equal participation of people with disabilities. At the University of Winnipeg, where he was a student, he met other students with disabilities different from his own and learned about the barriers they encountered. Always a problem solver, he began a service transcribing books onto audiotape, providing vision impaired students and others access to print material.
Jim joined the Company of Young Canadians learning community development skills, which he transferred to the disability rights movement. He played key roles in the development of the Manitoba League of Persons with Disabilities (MLPD), the Council of Canadians with Disabilities (CCD), Disabled Peoples' International (DPI) and the Canadian Disability Rights Council (CDRC). Jim served as Chief Executive Officer of various voluntary organizations: MLPD, E-Quality Employment Inc., and CCD. Jim was Chief Development Officer for DPI. Through this work, he became an expert on disability public policy: human rights, employment, accessible transportation, international development, to name only a few areas where Jim has in-depth knowledge, which he generously shares with CCD and other organizations.
In 1980, the Council of Canadians with Disabilities, which was then known as the Coalition of Provincial Organizations of the Handicapped (COPOH), seconded Jim to the Special Parliamentary Committee on the Disabled and the Handicapped. This took him to Ottawa when the Canadian Charter of Rights and Freedoms was being developed. Jim successfully persuaded politicians on both sides of the House as well as Department of Justice officials that people with disabilities should be included in Section 15 of the Charter. Canada was the first country to provide constitutional protection for the rights of persons with disabilities and Jim had a very large role in bringing about this historic first.
The Canadian Human Rights Commission, the Canadian Council on Welfare, the United Nations and the Government of Canada have consulted with Jim on disability issues. He co-chaired the Federal Minister of Transportation's Advisory Committee on Transportation of the Handicapped and served on the Canada Employment and Immigration Advisory Council.
In 1986, Jim joined the Manitoba public service, pioneering many new initiatives. As Coordinator for the Decade of Disabled Persons, he implemented the Manitoba Plan of Action for the Decade of Disabled Persons, a provincial strategy on disability. His last assignment with the Manitoba Government was as Executive Director of the Disability Issues Office. Jim retired from the provincial government in 2004.
Although Jim retired from his position with the Provincial Government, his volunteer work commitments continue to be extensive. He is on three CCD committees: Human Rights, International Development and Ending of Life Ethics. Jim also assists CCD with our work in support of the Canadian Museum for Human Rights. In February of this year, Jim appeared in CCD's first YouTube video, where he discussed the key points of the End Exclusion National Action Plan. He is a frequent, and very welcome, visitor to the CCD office. During these visits, Jim generously shares his knowledge and insights with CCD staff on current projects.
Jim is one of CCD's longest serving and most dedicated volunteers. In making Jim an Honorary Member, the National Council acknowledged Jim's phenomenal contribution to CCD.
David Baker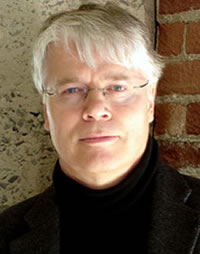 In June 2007 at CCD's celebration of our victory in the VIA Rail case, CCD bestowed Honorary Membership on David Baker for his outstanding contribution to the disability rights movement in Canada.
David's history of support of CCD is quite incredible. He was legal counsel in such fundamental cases as: Bhinder, O'Malley, Andrews, Grismer, Lovelace, Chesters, Eldridge, Rodriguez, Gibbs, McKay-Panos, One Person/One Fare, and, of course, VIA Rail.
David was also Executive Director of ARCH when other legal counsel at ARCH represented CCD in cases such as Granovsky, Wignall, Council of Churches, and Thwaites. David played a pivotal role at ARCH and helped to build a strong organization that assisted CCD in its legal work. While at ARCH, David created the Dickson Circle, a pool of top legal talent willing to offer pro bono support to disability rights cases. This is where CCD found Bob Richards who ably represented CCD as legal counsel in the long and difficult Latimer case.
David has a willingness to share his knowledge for the advancement of the disability rights movement in general. He has spoken at numerous conferences and written many articles that get the consumer message out into legal circles. Through David we have a respected professional carrying our message forward to a powerful sector of society—the legal community.
Beyond legal representation, David researched and wrote CCD's first paper on Tax Reform in 1988, our brief on the 1986 Post Censal Survey, our 1999 position paper on a Canadians with Disabilities Act and our 2003 paper on transportation access.
When David left ARCH to establish his own law firm, bakerlaw, one of his prime considerations was whether the disability community would continue to work with him. He has repeatedly shown long-term commitment to disadvantaged groups and, in particular, to the concerns of Canadians with disabilities. CCD has frequently called on David's skill over the years.
David has been legal counsel, advisor, friend and financial supporter of CCD. His record of support is long, substantive and steadfast. He is principled in his approach and fully supports consumer direction and control. His contributions to CCD are not complete and this award does not allow for retirement but rather obligates the individual to support CCD for life. CCD is pleased to recognize and honor David Baker's long-term contribution, principled support and excellent work by awarding him an Honorary Membership in CCD.
Irene McGinn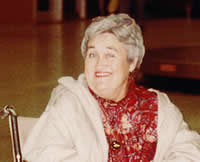 Irene was a CCD Vice Chair and assisted CCD with its work on accessible transportation. In particular, Irene devoted a great deal of time and energy to the Roadcruiser Demonstration Project, which put an accessible intercity bus on the road in Newfoundland. Irene was also a chairperson of CCD's Newfoundland Labrador member group, COD. In addition to her work in the disability community, Irene was also active in local politics and was elected as the mayor of her community. Irene appeared before the Special Parliamentary Committee on the Disabled and the Handicapped as a representative of the Canadian Federation of Municipalities. Irene was also a board member of Marine Atlantic and worked to improve the accessibility of ferries.
Peggy Allan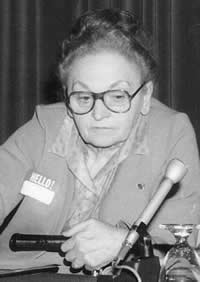 Working at the local, provincial and national levels, Peggy Allan (1913-1996) was a pioneer who worked for improved accessibility for Canadians with disabilities. Peggy, who had multiple sclerosis for over 40 years, was determined that barriers would not stop her from making a contribution to the community. A resident of Ottawa, Ontario, Peggy, along with others, helped develop the city's parallel transportation system, now known as Para Transpo. Peggy's work focused on accessible transportation, integration and independent living for persons with disabilities.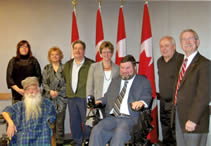 CCD shares its views on policy reform with Federal Ministers. For example, in January 2011, CCD, along with others in the disability community met with Minister Diane Finley and Minister Steven Fletcher. From left to right: Jim Derksen (CCD), Shelly Rattai, Rose Flaig, John Young, Minister Finley, Minister Fletcher, Ross Young and Ken Burford.