We Need Your Support
Donations are tax deductible and you will receive a charitable tax receipt for 100% of your gift.
Support CCD's work on the Carter case: Help To Live Not Die.
Act Now
You Presence is requested at CASHRA2013.ca Early bird registration ends April 18, so register online. Read more.
Sign Up for a Voice of Our Own
A quarterly newsletter from CCD.
Promoting Human Rights
CCD's involvement in human rights and the Canadian Charter of Rights and Freedoms has been long-standing. CCD has played a leading role in consultations with government on Constitutional and human rights reform.
Recent Work
May 11, 2013
Along with others, some members of the CCD Human Rights Committee share their views on the impact of the Moore case. Read more.
January 29, 2013
"The exciting thing for people with disabilities is not only that a space is being created for a new understanding of human rights, but that it will also be fully accessible," Laurie Beachell, CCD national coordinator said. "As our understanding of human rights evolves, so will our understanding of access and inclusive design. The disability community is pleased to be part of something that can raise awareness about what inclusion really means." Read more.
April 17, 2012
"CCD celebrates the anniversary of the Charter and all those who have been using it to remove barriers to the full and equal participation of people with disabilities," states Tony Dolan, CCD Chairperson. "April 17 is an important anniversary which we must celebrate every year."
More on Promoting Human Rights
March 23, 2012
March 21, 2012
May 16, 2011
March 8, 2011
October 13, 2009
July 27, 2009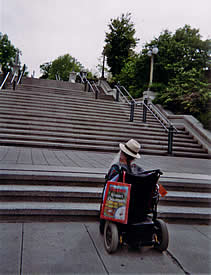 Jim Derksen views inaccessible York Street Steps in Ottawa. CCD intervened in the Brown Case, which challenged an inadequate accommodation developed for the Steps.
The Latimer case directly concerned the rights of persons with disabilities. Mr. Latimer's view was that a parent has the right to kill a child with a disability if that parent decides the child's quality of life no longer warrants its continuation. CCD explained to the court and to the public how that view threatens the lives of people with disabilities and is deeply offensive to fundamental constitutional values. Learn more.