Act Now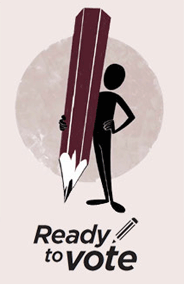 Get ready to vote in 2015.
Read more.
Sign Up for a Voice of Our Own
A quarterly newsletter from CCD.
Ending of Life Ethics
CCD seeks to focus attention on and prevent private and societal actions that make people with disabilities die prematurely. Death-making is rooted in fear, prejudice and negative perceptions about life with a disability.
Recent Work
January 29, 2016
The Supreme Court of Canada in Carter emphasized that there needs to be a balanced system that both enables access by patients to physician-assisted suicide and voluntary euthanasia (PAD/VE), and protects persons who are vulnerable and may be induced to commit suicide. The Council of Canadians with Disabilities (CCD) strongly believes that a minimal but mandatory vulnerability assessments, an independent review process with prior authorization, along with Criminal Code protection of the vulnerable are essential for this purpose. Read more.
January 28, 2016
Today, the Special Joint Committee on Physician Assisted Dying hears from Rhonda Wiebe and Dean Richert, who co-chair CCD's Ending of Life Ethics Committee. Read more.
January 15, 2016
The Council of Canadians with Disabilities (CCD) was disappointed by today's Supreme Court of Canada (SCC) decision in the Carter case, because the SCC granted a four, as opposed to the requested six, month extension for Parliament to develop a system for physician-assisted suicide and the SCC granted an exemption from the extension to Quebec, where an assisted suicide law came into force on December 10, 2015. Read more.
More on Ending of Life Ethics
January 12, 2016
July 21, 2015
February 6, 2015
February 6, 2015
February 4, 2015
October 14, 2014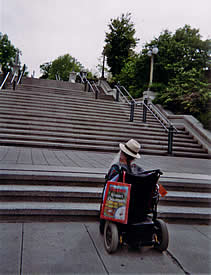 Jim Derksen views inaccessible York Street Steps in Ottawa. CCD intervened in the Brown Case, which challenged an inadequate accommodation developed for the Steps.
The Latimer case directly concerned the rights of persons with disabilities. Mr. Latimer's view was that a parent has the right to kill a child with a disability if that parent decides the child's quality of life no longer warrants its continuation. CCD explained to the court and to the public how that view threatens the lives of people with disabilities and is deeply offensive to fundamental constitutional values. Learn more.