Act Now
Write to your Member of Parliament in support of an accessible and inclusive postal service. Read more.
Sign Up for a Voice of Our Own
A quarterly newsletter from CCD.
Ending of Life Ethics
CCD seeks to focus attention on and prevent private and societal actions that make people with disabilities die prematurely. Death-making is rooted in fear, prejudice and negative perceptions about life with a disability.
Recent Work
October 14, 2014
The Supreme Court of Canada will hear the appeal in the Carter case October 15th in which it is being asked to strike down these protections, but only for disabled people. The Council of Canadians with Disabilities (CCD) and the Canadian Association for Community Living (CACL) are the organized voice of Canada's disabled citizens. They will appear in court to oppose efforts to legalize assisted suicide and euthanasia. Read more.
October 9, 2014
How can an online survey of ninety-four, self-selected people with disabilities be interpreted to say 85% of Canadians with disabilities "support medically assisted dying? Read more.
September 9, 2014
CCD/CACL want the public to understand the concerns of the community AS/E is said to benefit. To learn more you can access the CCD/CACL factum submitted to the Supreme Court, at www.ccdonline.ca or www.cacl.ca or contact: Read more.
More on Ending of Life Ethics
September 5, 2014
April 10, 2014
January 16, 2014
January 2, 2014
January 2, 2014
January 2, 2014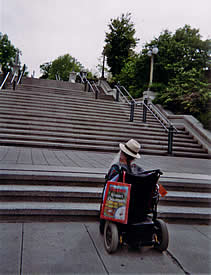 Jim Derksen views inaccessible York Street Steps in Ottawa. CCD intervened in the Brown Case, which challenged an inadequate accommodation developed for the Steps.
The Latimer case directly concerned the rights of persons with disabilities. Mr. Latimer's view was that a parent has the right to kill a child with a disability if that parent decides the child's quality of life no longer warrants its continuation. CCD explained to the court and to the public how that view threatens the lives of people with disabilities and is deeply offensive to fundamental constitutional values. Learn more.