Act Now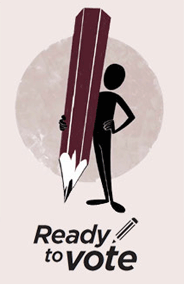 Get ready to vote in 2015.
Read more.
Sign Up for a Voice of Our Own
A quarterly newsletter from CCD.
Ending of Life Ethics
CCD seeks to focus attention on and prevent private and societal actions that make people with disabilities die prematurely. Death-making is rooted in fear, prejudice and negative perceptions about life with a disability.
Recent Work
July 21, 2015
CCD and CACL are pleased that the Government of Canada will be soliciting the views of interveners in the Carter case and respect the decision to appoint a panel of experts in law and ethics to consider options. We will bring forward to the panel proposed principles and guidelines for a safeguarding system and hope that our views and concerns will be given a fair hearing in this most important of policy decisions. Read more.
February 6, 2015
Today's decision of the Supreme Court fundamentally alters end-of-life for all Canadians. The Council of Canadians with Disabilities (CCD) and the Canadian Association for Community Living (CACL) are profoundly disappointed by today's ruling and extremely concerned about the implications of the ruling. Read more.
More on Ending of Life Ethics
February 4, 2015
October 14, 2014
October 9, 2014
September 9, 2014
September 5, 2014
April 10, 2014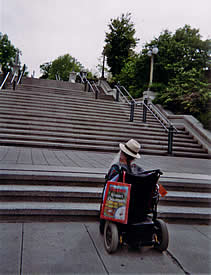 Jim Derksen views inaccessible York Street Steps in Ottawa. CCD intervened in the Brown Case, which challenged an inadequate accommodation developed for the Steps.
The Latimer case directly concerned the rights of persons with disabilities. Mr. Latimer's view was that a parent has the right to kill a child with a disability if that parent decides the child's quality of life no longer warrants its continuation. CCD explained to the court and to the public how that view threatens the lives of people with disabilities and is deeply offensive to fundamental constitutional values. Learn more.