We Need Your Support
Donations are tax deductible and you will receive a charitable tax receipt for 100% of your gift.
Support CCD's work on the Carter case: Help To Live Not Die.
Act Now
Write to your Member of Parliament in support of an accessible and inclusive postal service. Read more.
Sign Up for a Voice of Our Own
A quarterly newsletter from CCD.
Resources
The Charter establishes the rights and freedoms Canadians believe are necessary in a free and democratic society.
The Canadian Human Rights Commission administers the Canadian Human Rights Act and ensures compliance with the Employment Equity Act.
The Supreme Court of Canada is Canada's final court of appeal for both individuals and governments.
This virtual exhibit offers a look into the history of the disability rights movement in Canada and how it changed the Canadian Charter of Rights and Freedoms.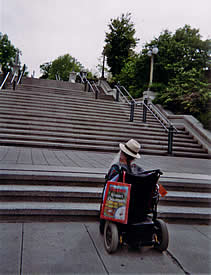 Jim Derksen views inaccessible York Street Steps in Ottawa. CCD intervened in the Brown Case, which challenged an inadequate accommodation developed for the Steps.
The Latimer case directly concerned the rights of persons with disabilities. Mr. Latimer's view was that a parent has the right to kill a child with a disability if that parent decides the child's quality of life no longer warrants its continuation. CCD explained to the court and to the public how that view threatens the lives of people with disabilities and is deeply offensive to fundamental constitutional values. Learn more.