Act Now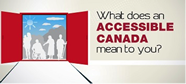 The Government of Canada is leading consultations to inform planned accessibility legislation.
In-person sessions are coming soon to your community. Now is the chance to have your say. Read more.
Sign Up for a Voice of Our Own
A quarterly newsletter from CCD.
Fundamental Disability Rights Case Goes to Supreme Court of Canada
For Immediate Release
May 17, 2011
On May Tuesday May 17th the Supreme Court of Canada will be asked to consider whether people with intellectual disabilities should be allowed to testify in court. Specifically, the question before the Court is whether people with intellectual disabilities are required to demonstrate an understanding of the concept of a "promise to tell the truth" in order to be permitted to testify.
The Council of Canadians with Disabilities (CCD) has been granted intervener status in this case. The CCD will argue that courts should not impose a test to allow people with disabilities to testify that is not imposed on others. Courts should focus scrutiny on the testimony given by individuals not the individuals themselves. "Courts do not test non-disabled persons' ability to tell the truth, it is only biases and myths that suggest persons with disabilities have any less capacity to determine the truth than others." said Yvonne Peters, legal advisor to CCD.
"To exclude persons with intellectual disabilities from testifying in court is profoundly discriminatory," said Anne Levesque, Co-Chair of CCD's Human Rights Committee. "It is ironic that we have strengthened Criminal Code protections for the assault of vulnerable persons and then we would disallow these same persons to testify in court," stated Levesque.
CCD also seeks, for the first time, through this case, the Supreme Court's understanding of Canada's obligations having ratified the United Nations Convention on the Rights of Persons with Disabilities (CRPD). This is the first case where relevant sections of the CRPD are being presented as an interpretive tool.
"CCD is committed to ensuring the equal protection and benefit of the law for Canadians with disabilities. That protection includes the ability of all persons, regardless of disability, to have their day in court when their rights have been violated," said Peters.
-30-
Contacts :
Yvonne Peters - 204 832-0681
Anne Levesque - 613 237-4740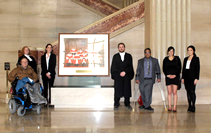 Some members of the CCD team at the Supreme Court of Canada on April 25, 2018 to intervene in S.A. v. Metro Vancouver Housing Corporation. (L. to R. Bob Brown, CCD Human Rights Committee member, Dianne Wintermute, legal counsel (ARCH), Dahlia James, a second year JD candidate at U. of Ottawa and Prof. Ravi Malhotra's Research Assistant and Luke Reid, legal counsel (ARCH) , and Prof. Ravi Malhotra, a member of the Human Rights Committee, Prof. Anne Levesque, Chair of the Human Rights Committee, and Erin Carr, a second year JD candidate.
The Latimer case directly concerned the rights of persons with disabilities. Mr. Latimer's view was that a parent has the right to kill a child with a disability if that parent decides the child's quality of life no longer warrants its continuation. CCD explained to the court and to the public how that view threatens the lives of people with disabilities and is deeply offensive to fundamental constitutional values. Learn more.