Act Now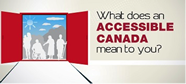 The Government of Canada is leading consultations to inform planned accessibility legislation.
In-person sessions are coming soon to your community. Now is the chance to have your say. Read more.
Sign Up for a Voice of Our Own
A quarterly newsletter from CCD.
Annual Reports
CCD's Annual Report provides a summary of the activities undertaken during the fiscal year, lists the members of the National Council of Representatives, the members of the CCD Committees, CCD Award winners and staff and presents the audited financial statement.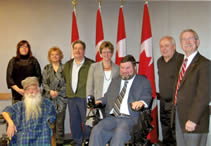 CCD shares its views on policy reform with Federal Ministers. For example, in January 2011, CCD, along with others in the disability community met with Minister Diane Finley and Minister Steven Fletcher. From left to right: Jim Derksen (CCD), Shelly Rattai, Rose Flaig, John Young, Minister Finley, Minister Fletcher, Ross Young and Ken Burford.