Act Now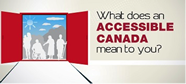 The Government of Canada is leading consultations to inform planned accessibility legislation.
In-person sessions are coming soon to your community. Now is the chance to have your say. Read more.
Sign Up for a Voice of Our Own
A quarterly newsletter from CCD.
International Development Committee
The International Development Committee:
Provides advice and leadership on international issues that effect persons with disabilities
Identifies international issues of concern to persons with disabilities
Provides advice to CCD National Council on reforms that would improve the affect of Canada's foreign aid and policy on persons with disabilities.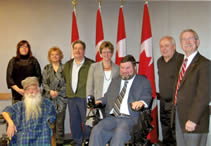 CCD shares its views on policy reform with Federal Ministers. For example, in January 2011, CCD, along with others in the disability community met with Minister Diane Finley and Minister Steven Fletcher. From left to right: Jim Derksen (CCD), Shelly Rattai, Rose Flaig, John Young, Minister Finley, Minister Fletcher, Ross Young and Ken Burford.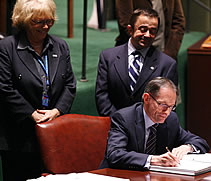 Canada signs the Declaration on the Rights of Persons with Disabilities at the United Nations. Members of the Canadian Delegation Steve Estey, Chair of CCD's International Committee, and Dulcie McCallum observe Canada's ambassador make this historic commitment.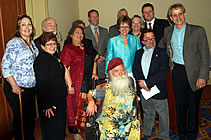 HRSDC Minister Diane Finley, Defense Minister Peter MacKay, NDP Disability Critic Judy Wasylycia-Leis, Liberal MP Mike Savage, Liberal MP the Hon. Carolyn Bennett and Bloc MP Yves Lessard joined leaders from the disability community at a CCD celebration of Canada's ratification of the CRPD.