Act Now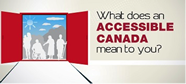 Empower U: Learn to Access Your Disability Rights Training on Canadian Human Rights, the Convention on the Rights of Persons with Disabilities (CRPD) and its Optional Protocol (OP) training aims to increase awareness of how to address discrimination using more familiar Canadian human rights laws such as Human Rights Codes and the newer international Convention on the Rights of Persons with Disabilities (CRPD). This is training for persons with disabilities by persons with disabilities. The training is part of a project funded by Employment and Social Development Canada and implemented by the Council of Canadians with Disabilities (CCD) in collaboration with Canadian Multicultural Disability Centre Inc. (CMDCI), Citizens With Disabilities – Ontario (CWDO), Manitoba League of Persons with Disabilities (MLPD) and National Educational Association of Disabled Students (NEADS). Read more.
Sign Up for our monthly digest
A monthly newsletter from CCD about what is happening in the community
Remembering...
30 October 1996—More than any other event, Tracy Latimer's murder prompted Canadians with disabilities to advocate the protection of our most fundamental human right—the right to live. In 1995, the community began to hold vigils for Tracy. While remembering Tracy, it became painfully obvious that Tracy's murder was not the exception. Too many people with disabilities have been killed needlessly.
In Flin Flon, Manitoba in 1992 John Nazar, 68, shot and killed his son James, a quadriplegic. The father, James' primary care giver, had been diagnosed as terminally ill.
Ryan Wilkieson, 16, was the victim of a murder-suicide perpetrated by his mother Cathy Wilkieson in Hamilton, Ontario. Ryan had CP.
Canadians' perceptions about disability have also been affected by the following highly publicized deaths:
"Nancy B." who was disabled by Guillain-Barre syndrome, received the court's permission to have her respirator turned off. Many in the community of persons with disabilities believe that Nancy B., who was institutionalized, did not have an opportunity to make an informed choice about dying as she lacked independent living experience.
Sue Rodriguez's doctor assisted suicide occurred outside the law and was presided over by Svend Robinson, a Member of Parliament. Robinson subsequently introduced a Private Member's bill supporting assisted suicide. Rodriguez had ALS.
Canadian Austin Bastable fell victim to the death making ideology of Jack Kevorkian, Michigan's Doctor Death. Bastable had MS. Kevorkian equipped with his suicide machine, continues to prey upon vulnerable people with disabilities.
On 30 September 1996, the media began to report the case of Katie Lynn Baker,10, who starved to death in British Columbia. Katie Lynn had Rett Syndrome which causes eating problems. In severe cases, these problems can be corrected by a feeding tube. Dr. Henry Dunn, who had had discussions with Katie Lynn's mother Cheryl reported in the Winnipeg Free Press that, "With this particular case the mother seemed to be of the opinion that the outlook looked so grim that there was no use carrying on." (4 October 1996)
Cheryl, Katie Lynn's mother, told the media, "This was our way of helping her express her own issues. The kid had been through enough. Part of a person's right to die is to choose not to be force-fed. We were forcing her to eat. That's not respecting a person's right to die. My part in all of this was always to support my daughter." (Toronto Star, 30 September 1996) Katie Lynn weighed 22 pounds when she died.
Cheryl convinced social workers, who wanted to take Katie to hospital, that her daughter wanted to die. A coroner's investigation will begin 4 November 1996.
Katie Lynn's father, Dale Baker, is not convinced his daughter wanted to die. "I don't think I would have been able to sit there and have anyone ask Katie 'do you want to die?' and be confident that her response was 'Yes I want to die.' "(Winnipeg Free Press 4 October 1994)
One of the remarkable aspects of euthanasia cases is the public support for murderers of people with disabilities. RCMP spokesperson Wyman Sangster told the Winnipeg Free Press that John Nazar's known love and concern for his son altered the situation slightly.
Reacting to James Nazar's murder, John Lane, then Executive Director of the Canadian Paraplegic Association in Manitoba commented, "People seem to think killing someone because they're disabled makes it something less than murder. But the life of a disabled person can't be valued any less than another's. People seem to think that perhaps cripples are better off dead because they can't do as much." (26 January 1992 Winnipeg Free Press.)
Pejorative descriptions are avoided in writings about the killers of people with disabilities. For example, Canadian Press describes Cheryl Baker's actions in the following manner: "Rather than subject [Katie Lynn] to another round of painful surgery, [Cheryl] took her daughter to a favorite spot, the tranquil home of family friends in the Slocan Valley. Katie weighing just 22 pounds, died there four day later of malnutrition." (Toronto Star 30 September 1996) The article avoided any serious discussion of how a 10 year old child had been allowed to deteriorate to the point where she only weighed 22 pounds.
Media analyst Dick Sobsey, a professor at the University of Alberta compares the press's treatment of Robert Latimer with Susan Smith who drowned her two young sons. "Ironically, Susan Smith's photo appears along with Robert Latimer's on the front page of the November 5th Saskatoon Star Phoenix. Smith is bent in shame and covering her face. While Latimer appears calm and self-assured. The stories go on to tell how a woman outside the courthouse yelled 'you're a baby murderer' at Smith. While Latimer's friends and neighbors took up a collection for his defense," said Sobsey.
Articles which tacitly support euthanasia are driven by the assumption that the lives of people with disability are dominated by pain and suffering and that life with a disability is not worth living. This faulty assumption leads to the dangerous an wrong conclusion that in certain circumstances killing a person with a disability is appropriate.
The Council of Canadians with Disabilities is advocating that the media treat the murders of people with disabilities in a responsible manner. A hallmark of good reporting is to reveal all sides of a story. In a story involving the death of a person with a disability the voice of people with disabilities needs to be heard to counterbalance ablest prejudices which predominate in our society.
Media stories reporting on the atrocities of the Ku Klux Klan go beyond the Klan and their supporters for comment. The Klan's targets are sought out for their perspective. Any other type of reporting would not make it past a reputable editor's desk.
The media messages that bombard the public daily help to reinforce their attitudes. The portrayal of disability in the Latimer, and other highly publicized cases, has served to further devalue people with disabilities. "Robert Latimer killed Tracy when the publicity about Sue Rodriguez was at its peak and that Cathy Wilkieson murdered Ryan when publicity in the Latimer case was at its peak," said Gregor Wolbring at the Canadian Association of Community Living's National Conference.
As Robert Latimer's appeal case goes before the Supreme Court, the media treatment of this case will be cueing Canadians as to how they should be relating to people with disabilities. In 1994, Teresa Rojas told Macleans that if it were not for the existing Criminal Code she would murder her disabled daughter Tania . Like Tracy, Tania has cerebral palsy. (Macleans 28 November 1984)
CCD abhors the deliberate taking of a disabled person's life and holds that such actions are properly defined as murder in the Criminal Code of Canada and must be treated in the same manner as any other murder.
To support the Tracy Fund, send donations to CCD, 926-294 Portage Ave., Winnipeg, MB., R3C 0B9.(Tel: 204-947-0303, FAX: 204942-4625, email: ccd@pcs.mb.ca).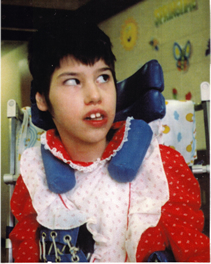 Tracy Latimer
The Latimer case directly concerned the rights of persons with disabilities. Mr. Latimer's view was that a parent has the right to kill a child with a disability if that parent decides the child's quality of life no longer warrants its continuation. CCD explained to the court and to the public how that view threatens the lives of people with disabilities and is deeply offensive to fundamental constitutional values. Learn more.