Act Now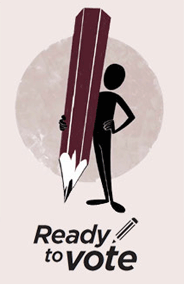 Get ready to vote in 2015.
Read more.
Sign Up for a Voice of Our Own
A quarterly newsletter from CCD.
Euthanasia/Assisted Suicide
CCD is committed to the principles of self-determination and the positive promotion of the image of Canadians with disabilities in society in a manner that is consistent with the principles of equality, personal security, freedom of conscience and human dignity.
CCD believes that the devaluation of the lives and experiences of persons with disabilities has been used to justify acts of violence against people with disabilities, including the murder of people with disabilities.
CCD opposes actions that may serve to further devalue the lives of people with disabilities in Canada or promote the negative stereotypes about people with disabilities as suffering individuals in need of state regulated assistance to end our lives.
CCD opposes any government action which denies people with disabilities their constitutional rights to equality, personal security, and human dignity.
CCD is committed to actions which promote a positive image of persons with disabilities.
CCD opposes government action to decriminalize assisted suicide because of the serious potential for abuse and the negative image of people with disabilities that would be produced if people with disabilities are killed with state sanction. (Policy statement passed by the CCD National Council of Representatives on June 8, 1996.)
Recent Work
October 14, 2014
The Supreme Court of Canada will hear the appeal in the Carter case October 15th in which it is being asked to strike down these protections, but only for disabled people. The Council of Canadians with Disabilities (CCD) and the Canadian Association for Community Living (CACL) are the organized voice of Canada's disabled citizens. They will appear in court to oppose efforts to legalize assisted suicide and euthanasia. Read more.
October 9, 2014
How can an online survey of ninety-four, self-selected people with disabilities be interpreted to say 85% of Canadians with disabilities "support medically assisted dying? Read more.
More on Euthanasia/Assisted Suicide
April 23, 2013
April 23, 2013
April 3, 2013
February 5, 2013
January 10, 2013
November 17, 2011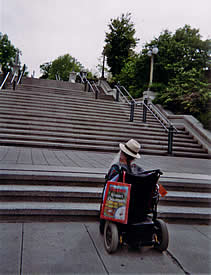 Jim Derksen views inaccessible York Street Steps in Ottawa. CCD intervened in the Brown Case, which challenged an inadequate accommodation developed for the Steps.
The Latimer case directly concerned the rights of persons with disabilities. Mr. Latimer's view was that a parent has the right to kill a child with a disability if that parent decides the child's quality of life no longer warrants its continuation. CCD explained to the court and to the public how that view threatens the lives of people with disabilities and is deeply offensive to fundamental constitutional values. Learn more.