Act Now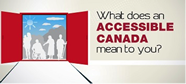 Empower U: Learn to Access Your Disability Rights Training on Canadian Human Rights, the Convention on the Rights of Persons with Disabilities (CRPD) and its Optional Protocol (OP) training aims to increase awareness of how to address discrimination using more familiar Canadian human rights laws such as Human Rights Codes and the newer international Convention on the Rights of Persons with Disabilities (CRPD). This is training for persons with disabilities by persons with disabilities. The training is part of a project funded by Employment and Social Development Canada and implemented by the Council of Canadians with Disabilities (CCD) in collaboration with Canadian Multicultural Disability Centre Inc. (CMDCI), Citizens With Disabilities – Ontario (CWDO), Manitoba League of Persons with Disabilities (MLPD) and National Educational Association of Disabled Students (NEADS). Read more.
Sign Up for our monthly digest
A monthly newsletter from CCD about what is happening in the community
Andrea Halpin Murdered by Father
(21 November 1996) — On 14 November 1996, Andrea Halpin, 35, died as a result of a gun shot wound inflicted by her father Bernad Halpin, 75. Ms. Halpin had been labeled mentally handicapped. After he murdered Andrea, Bernard Halpin committed suicide. Andrea's mother died two years ago.
Prior to her death, Andrea Halpin shared an apartment in St. Laurent, Quebec with her father. She enjoyed eating out, trips to the mall and weekly appointments to have her hair done. Andrea attended the Peter Hall School and had been in a job-training program, until her father removed her from the program. Her name was also on a waiting list for accommodation in a group home.
Andrea Halpin's associates spoke well of her. She was friendly with neighbors and local business people.
Andrea Halpin had a life very similar to that of many Canadians; but it was unjustly taken from her. While we will never entirely know Bernard Halpin's motivation, it is certain that the devaluation of people with disabilities and paternalistic attitudes surrounding disability were a contributing factor to Andrea Halpin's murder.
The Montreal Gazette linked the Halpin murder to the Charles Blais murder which occurred last week. "The director of the CLSC St. Laurent said she is worried yesterday's events may have been triggered by last week's killing of 6 year old Charles Blais...'In some instances we see one dramatic incident, people in similar circumstances feel that these feelings are legitimized,' said Mariette Le Brun-Bohemier. 'There was a lot of publicity about the first case and this could have triggered this dramatic event'" ("Father, 75, kills handicapped daughter, self" Montreal Gazette, 14 November 1996.) (See Latimer Watch 30 Oct. 1996 for comments by Gregor Wolbring linking the murders of Tracy Latimer and Ryan Wilkieson to peak media coverage on the Rodriguez and Latimer court cases.)
The Blais and Halpin murders reinforce for CCD why it is imperative that Robert Latimer serve a full sentence for the murder of Tracy Latimer. Any other scenario would serve to further devalue people with disabilities.
Latimer will argue in the Supreme Court that his confession was mishandled and the jury selection process was improper. The Supreme Court of Canada has a range of options to select from when dealing with Robert Latimer's appeal.
The Court could dismiss the appeal and let the lower court conviction stand. This decision would send an unequivocal message to the community that the murder of a person with a disability in Canada will be treated with the full force of the law.
The Supreme Court could order a new trial which would further delay justice being served for Tracy Latimer.
Acquittal remains another possibility. An acquittal of Robert Latimer would put many vulnerable people with disabilities in greater jeopardy.
Will there be justice for people with disabilities?
Representatives of the Council of Canadians with Disabilities will be present in the Supreme Court of Canada observing the Court proceedings in the Latimer case on 27 November 1996.
CCD Representatives Available to Comment on Latimer Case
CCD has been an active participant in the Court proceedings surrounding Tracy Latimer's murder. CCD, along with the Saskatchewan Voice of the Handicapped, intervened when Latimer's appeal was heard by the Saskatchewan Court of Appeal. A number of CCD volunteers with disabilities are available to anyone who is preparing a media story on the Latimer case. Direct your questions to any of the following:
Hugh Scher—Mr. Scher, who has a law practice in Toronto, is a constitutional lawyer and the Chairperson of CCD's Human Rights Committee. Mr. Scher is an expert on equality rights and how the law impacts on persons with disabilities. (Tel: 416-515-9686)
Catherine Frazee—Ms. Frazee is a past Chief Commissioner of the Ontario Human Rights Commission and now she is engaged by the Ontario Workers Compensation Board. In addition to her involvement with CCD's Human Rights Committee, Ms. Frazee also serves on the Board of Directors of the Legal Education and Advocacy Fund, which launches legal challenges to advance women's equality rights. (Tel: 416-924-5502)
Jim Derksen—Mr. Derksen is a past Chairperson of CCD and has worked extensively at both the national and international level to advance the human rights of persons with disabilities. Mr. Derksen worked for the Special Parliamentary Committee on the Disabled and the Handicapped which produced the Obstacles Report. This was a watershed event which changed the course of public policy on disability issues in Canada. (Tel:204-947-0303 (days) 204-786-7937 (evening))
Pat Danforth—Ms. Danforth is a former Provincial Coordinator of the Saskatchewan Voice of Persons with Disabilities and she is a past Commissioner of the National Transportation Agency. She has had extensive involvement in disabled women's issues and helped found the disabled Women's Network Canada. Currently Ms. Danforth is employed by the Saskatchewan Human Rights Commission and she serves on a Regina hospital board. (Tel: 306-787-2530)
Laurie Beachell—Mr. Beachell is CCD's National Coordinator and he is also available for comment (204-947-0303), as are all CCD's member groups: BCCPD (604-875-0188), ACCD (403-488-9088), SVOPD (306-569-3111), MLPD (204-943-6099), COPHAN (514-943-3995), NSLEO (902-455-6942), PEICOD (902-892-9149), CODNFLD&LB (709-722-7011), CAD (613-526-4785), DAWN Canada (604-873-1564), NEADS (613-526-8008), NNMH (613-567-4494) TVAC (519-681-0357), PF (416-920-9530).
Activity Update
The following are examples of activities that groups may want to undertake in their own communities:
The Saskatchewan Voice has organized a memorial service to commemorate Tracy Latimer's life.
The MLPD will be announcing the community's plans to establish a memorial monument for Tracy Latimer in Winnipeg.
ACCD and the PEI Council are circulating CCD's Open Letter at public events they are holding.
COD is organizing a media blitz to educate the public about the issues raised by the Latimer appeal.
For more information or to contribute to the Tracy Fund contact: CCD, 926-294 Portage Ave, Winnipeg MB, R3C 0B9 (Tel: 204-947-0303, Fax: 204-942-4625) The Latimer Watch is also available on the World Wide Web at (http://www.pcs.mb.ca/~ccd).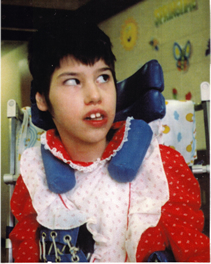 Tracy Latimer
The Latimer case directly concerned the rights of persons with disabilities. Mr. Latimer's view was that a parent has the right to kill a child with a disability if that parent decides the child's quality of life no longer warrants its continuation. CCD explained to the court and to the public how that view threatens the lives of people with disabilities and is deeply offensive to fundamental constitutional values. Learn more.