Act Now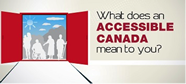 Empower U: Learn to Access Your Disability Rights Training on Canadian Human Rights, the Convention on the Rights of Persons with Disabilities (CRPD) and its Optional Protocol (OP) training aims to increase awareness of how to address discrimination using more familiar Canadian human rights laws such as Human Rights Codes and the newer international Convention on the Rights of Persons with Disabilities (CRPD). This is training for persons with disabilities by persons with disabilities. The training is part of a project funded by Employment and Social Development Canada and implemented by the Council of Canadians with Disabilities (CCD) in collaboration with Canadian Multicultural Disability Centre Inc. (CMDCI), Citizens With Disabilities – Ontario (CWDO), Manitoba League of Persons with Disabilities (MLPD) and National Educational Association of Disabled Students (NEADS). Read more.
Sign Up for our monthly digest
A monthly newsletter from CCD about what is happening in the community
Have We Lost the Liberal Party's Support on Fundamental Human Rights?
(20 December 1996) — At the Federal level, Canada's Liberals have been initiating activities which make the community of persons with disabilities question whether Liberals have turned their back on fundamental human rights. There is a Liberal Bill in the Senate, making it easier for health care professionals to withhold life sustaining treatment and the Liberal Party has passed a resolution decriminalizing assisted suicide.
On 3 December 1996, Bill S-13, an Act to amend the Criminal Code (protection of health care providers) which was moved by Senator Carstairs and seconded by Dr. Wilbert Kent, a Senator and heart surgeon, moved into second reading.
Michelle MacDonald of Senator Carstairs' office reports that several Senators have indicated that they wish to speak on the Bill, so it is anticipated that second reading will be completed after Christmas. Following second reading, the Bill will go to Committee. To become law, the Bill would have to be passed by the House of Commons.
Bill S-13 is intended to implement recommendations made by the Special Senate Committee on Euthanasia and Assisted Suicide in
Chapters IV and V of their report Of Life and Death tabled in the Senate on 6 June 1995. The recommendations on pain control and the withholding and withdrawal of treatment were unanimously supported by all Committee members when the report was tabled.
The Backgrounder to Bill S-13 explains that, "This Bill clarifies the Criminal Code by protecting health care providers from criminal liability when they a) withhold or withdraw life-sustaining medical treatment at the request of a patient or the patient's representative; or b) administer pain relieving medication to alleviate a patient's physical pain in dosages which may shorten life."
The Bill contains one clause which would add a new section 45.1 to the Criminal Code. The result would be the provision that no health care provider is guilty of an offense under the Code by reason only that they withhold or withdraw life-sustaining medical treatment from a competent person who requests the treatment to be withheld or withdrawn.
Subsection 45.1(2), (3) and (4) clarify when treatment can be withheld or withdrawn. Qualifying circumstances include: that an advance written directive made under the laws of a province will always take precedence; where there is no advance directive, an informal written directive or a verbal or signed request made immediately before or, while life-sustaining treatment is in place in the presence of at least one witness; if the patient is "incompetent" and if there is no advance directive and no legal representative in place, then a request can come from a proxy (i.e., spouse, companion, or relative who is most intimately associated with the person.)
Ms. Carstairs' Bill has sparked a great deal of concern within the community of persons with disabilities; because it provides no protection to vulnerable people. Indeed Bill S-13 is completely silent on the matter of safeguards.
Liberal Party Supports Doctor Assisted Suicide
The Liberal Party of Canada has passed the following resolution on Assisted Suicide. "This resolution establishes doctors as the gatekeepers for assisted suicide and I have to remind people that it was doctors that organized and legitimized Nazi Germany's euthanasia programs which began with disabled people and later targeted other devalued groups," stated Jim Derksen. "Today doctors are the ones allocating ever decreasing health care resources; so it seems foolish in the extreme to put them in the drivers seat with regard to assisted suicide. It is turning a blind eye to history." When people with disabilities require medical care, our access to services is sometimes limited by negative attitudes. For example, an Albertan with Down's Syndrome was initially refused a heart transplant because they had a disability.
Liberal Resolution: 4. To Repeal s.241(b) of the Criminal Code (Doctor Assisted Suicide)
Whereas Canadians have guaranteed protection by the Charter of Rights and Freedoms from cruel and unusual punishment; Whereas individual self determination is the most fundamental right in a liberal democracy; Whereas Canadians have the right to make choices concerning their own body; Whereas terminally ill patients are often unable to enjoy the fruits of life, and are often in unending discomfort and pain;
BE IT RESOLVED that the Liberal government commit itself to the repeal of section 241(b) of the Criminal Code and allow doctor assisted suicide for terminally ill patients subject to the following guidelines:
(1) The patient must have at least two doctors sign an affidavit stating that they have examined the patient; that he/she is terminally ill, and that he/she has the necessary mental competency to fully understand the ramifications of any procedure he/she might request.
(2) The patient must state by affidavit that she/he wishes to have a doctor help her/him terminate her/his life.
(3) There must be a waiting period of at least one month during which the patient must not change her/his mind even once.
(4) The aforementioned affidavits must be presented in an application to the appropriate medical board of the province, which shall rule as to whether all the above mentioned conditions have been met.
(5) Strict penalties should be imposed to individuals guilty of trying to unduly influence a person to take away his or her life.
CCD's Council opposes the decriminalization of assisted suicide. At its June Council meeting, the Council took the position that, "The CCD opposes any government action to decriminalize assisted suicide because of the serious potential for abuse and the negative image of people with disabilities that would be produced if people with disabilities are killed with state sanction."
To present concerns about this resolution write to: Senator Dan Hays, President, Liberal Party of Canada, 200 Laurie Avenue W., Suite 200, Ottawa ON, K1P 6M8. As we may already have lost the Liberal Party on this issue, it may be time to approach politicians from other parties to seek protection for the fundamental human rights of persons with disabilities. Some contacts to make are: Hon. Jean Charest (613-943-1106) (charej@parlgc.ca); Hon. Bill Blaikie (613-995-6339) (blaikb@parl.gc.ca) and any other member who has a positive record on civil liberties.
To help promote the fundamental human rights of persons with disabilities, contribute to the Tracy Fund. (CCD, 926-294 Portage Ave., Winnipeg MB, R3C 0B9.)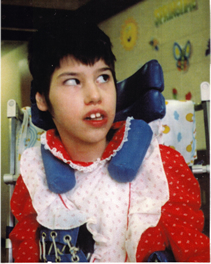 Tracy Latimer
The Latimer case directly concerned the rights of persons with disabilities. Mr. Latimer's view was that a parent has the right to kill a child with a disability if that parent decides the child's quality of life no longer warrants its continuation. CCD explained to the court and to the public how that view threatens the lives of people with disabilities and is deeply offensive to fundamental constitutional values. Learn more.