Act Now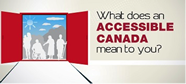 Empower U: Learn to Access Your Disability Rights Training on Canadian Human Rights, the Convention on the Rights of Persons with Disabilities (CRPD) and its Optional Protocol (OP) training aims to increase awareness of how to address discrimination using more familiar Canadian human rights laws such as Human Rights Codes and the newer international Convention on the Rights of Persons with Disabilities (CRPD). This is training for persons with disabilities by persons with disabilities. The training is part of a project funded by Employment and Social Development Canada and implemented by the Council of Canadians with Disabilities (CCD) in collaboration with Canadian Multicultural Disability Centre Inc. (CMDCI), Citizens With Disabilities – Ontario (CWDO), Manitoba League of Persons with Disabilities (MLPD) and National Educational Association of Disabled Students (NEADS). Read more.
Sign Up for our monthly digest
A monthly newsletter from CCD about what is happening in the community
Eric Norman Speaks Out: CCD Chairperson's Viewpoint on Latimer Case
[11 September 1997]
Why is CCD involved in the Latimer case?
CCD is involved in the Latimer case because CCD is one of the strongest national voices of people with disabilities and it has a responsibility to make their viewpoints known. In this situation, public opinion leans heavily toward the notion that "compassionate" killing of a person with a disability is somehow a lesser crime than murder. People with disabilities are feeling highly vulnerable and so CCD sees this as a high priority involvement.
What will CCD do if Robert Latimer is acquitted or given a minimal sentence?
Certainly, we won't be able to let it drop, especially if he is acquitted. There is not much that CCD can do directly in the courts. I am not a lawyer, but it seems that the legal route would have been followed to its end. Afterall it has gone through the court system once, there has been an appeal and now there is a second trial.
What we could do is to continue to publish the Latimer Watch, follow up on other murders that have taken place, pursue our media work, and do the legal research that is necessary. Through our Human Rights Committee, we will continue to advocate and to educate people who make decisions in Ottawa and in the provincial governments—attorneys generals, ministers of justice—on the issue of appropriate and inappropriate responses to murder.
How do we address pro-Latimer feelings?
We have to indicate that we too feel a degree of empathy for Bob Latimer. We should not let ourselves be portrayed as nonthinking automatons responding simply according to the law in this situation. We do understand that there are difficulties in families when there is a member who has a disability. There are troubles, rough times, traumatic situations. Sometimes there is a desperation that there is no answer to. We do empathize and we do understand but none of this justifies in any way the classification of his actions as anything but murder.
We are well aware that there is no way that any legislation can protect through a set of safeguards or any other kind of review the decision to take a life. That brings us into the euthanasia and the assisted suicide part of the issue.
Could there be real safeguards?
There was a time when we were more pollyannish and thought that in this society it would be possible to have absolute safeguards so that something like this could never happen again. Upon reflection, many of us have come to the conclusion that no matter how well thought out the safeguards are and no matter how closely they are monitored that sooner or later someone with a disability who doesn't want to die, is going to die, at the hand of someone who has responsibility for that person, a care giver or a relative, and that is not acceptable to CCD.
When we follow that line of reasoning back, if that can happen, then there can be no safeguards. I think that is where we part company with someone like Svend Robinson—as well meaning as he is—who believes he has an answer to a major problem for people with disabilities. I am not convinced that there ever can be safeguards.
What is the impact of the Latimer case?
Looking back on my own experience here in the Forties and early Fifties, there were mysterious deaths of people with disabilities. They were probably helped to their deaths by someone who had gotten to a point of desperation. It is logical to think that it happened before and that it will happen again; but to sanction it and to say it is okay, makes it more likely to happen.
I had an experience when I was doing an on-air question and answer show on CBC radio. I had a call from a woman who said she had a daughter who had cerebral palsy. It was pretty much a similar situation to Latimer's. She told me that although her daughter was not in very much pain that caring for her had more or less ruined her marriage, had ruined her life and that she had now decided, having heard the story from Saskatchewan about Latimer and what had happened there, that she too was going to carry the thing through—that she was, in effect, going to murder her daughter. That is a terrible thing to say on the air. She said that if she couldn't do it in Canada, she would go to Europe, where she could do it. The curious thing about that was that the moderator didn't see that there was any responsibility there to follow up on that particular threat.
Since Latimer has killed Tracy and the positive response to him has been made public across Canada, there have been more people who have decided to take similar action. If he is acquitted or given a minimum sentence, there will be more and more of them.
I was just listening to "Morning Dove". It was on the radio again. It just won an international award in New York for radio drama. In the last part Kirk says "You are not going to kill me too, are you?" And he keeps saying that over and over to the man who is playing the role of the father. That fear is going to be all too real among people with disabilities.
How has COD, CCD's Newfoundland member group, organized around the Latimer issue?
They have a coalition that will work with the other disability groups to ensure there is a lot of public education going on in October.
What is the public education message?
The message won't be just you should hang the son of the gun but the law should be carried out, regardless of the nature of the victim. There will be a lot of things centered around Tracy herself. It will take a lot of education and information to change public attitudes.
Biographical Note
Mr. Eric Norman is CCD's Chairperson. He lives in Gander, Newfoundland and is a past Chairperson of COD (Coalition of Persons with Disabilities Newfoundland and Labrador).
Mr. Norman is also chairperson of the Federal Transport Minister's Advisory Committee on Accessible Transportation.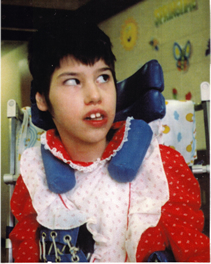 Tracy Latimer
The Latimer case directly concerned the rights of persons with disabilities. Mr. Latimer's view was that a parent has the right to kill a child with a disability if that parent decides the child's quality of life no longer warrants its continuation. CCD explained to the court and to the public how that view threatens the lives of people with disabilities and is deeply offensive to fundamental constitutional values. Learn more.