Act Now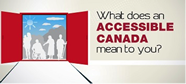 Empower U: Learn to Access Your Disability Rights Training on Canadian Human Rights, the Convention on the Rights of Persons with Disabilities (CRPD) and its Optional Protocol (OP) training aims to increase awareness of how to address discrimination using more familiar Canadian human rights laws such as Human Rights Codes and the newer international Convention on the Rights of Persons with Disabilities (CRPD). This is training for persons with disabilities by persons with disabilities. The training is part of a project funded by Employment and Social Development Canada and implemented by the Council of Canadians with Disabilities (CCD) in collaboration with Canadian Multicultural Disability Centre Inc. (CMDCI), Citizens With Disabilities – Ontario (CWDO), Manitoba League of Persons with Disabilities (MLPD) and National Educational Association of Disabled Students (NEADS). Read more.
Sign Up for our monthly digest
A monthly newsletter from CCD about what is happening in the community
One of Our Children is Dead
[31 October 1997]
by Cheryl M. Eckstein (This article previously appeared in Abilities Magazine, Vol. 5 No. 2 Winter 1996/97.)
On October 24, 1993, Tracy Latimer was lifted up from her warm bed and carried out into the crisp autumn air and placed into the front seat of her father's truck. After her father propped her up with some old rags he had taken from his storage shed, he closed the doors. What once was a vehicle that took her to school and camping, was now temporarily refurbished as a gas chamber.
So it happened that while her mother and siblings were sitting in pews at a church service, Robert Latimer sat in the back of his truck and watched his daughter being poisoned with carbon monoxide for at least thirty minutes. He carried her corpse to the farm house and placed her back in bed. Later, Laura Latimer returned home and made lunch She went to her daughter's room and found Tracy dead.
In November, 1994, Latimer received a life sentence with no chance of parole for 10 years. He appealed. On November 27, 1996, the Supreme Court of Canada heard Robert Latimer's appeal for a new trial [and subsequently granted it]. This has reopened unhealed wounds.
The murder of healthy children always evokes nation-wide outrage. When a parent kills their own child we are grieved and shocked by the heinous crime, feeling everything but sympathy for the murderer. On October 25, 1994, three year old Michael Smith and his fourteen month old brother Alexander, were drowned by their mother. It was reported as the "unthinkable crime" and that "a town and a nation reel[ed] in anguish". When Susan was arrested, angry and tearful mobs gathered outside the courtroom. Thirteen months later, Susan received a life sentence with no chance of parole until 2024. Many, including the children's father, had hoped for the death penalty.
However, since Robert Latimer was convicted, he has spent only one day in jail. Incredibly, he has also received large sums of financial support from strangers to help him pay his legal costs. At each step of the way, Robert Latimer is featured as a loving father who appraised Tracy as being better off dead. Why? Because Tracy was disabled with cerebral palsy. Robert Latimer's reaction to the Supreme Court hearing was simply, "We've always known we've done what was best for her, regardless of what or who says differently." In fact, since his confession of murder, he has maintained that he did "nothing wrong".
Imagine for a moment, instead of this lead line appearing in the news, "Robert Latimer, the Saskatchewan father, is seeking to have the second-degree murder conviction he received for killing his severely disabled daughter quashed", the following emerged instead: "A Canadian father is seeking to have the second-degree murder conviction he received for killing his genius daughter, who was a concert violinist, quashed." It doesn't take a lot of thinking to imagine how many groups of citizens would spring into action and demand justice for the child.
Robert Latimer has gained sympathetic support from some Canadians only because Tracy Latimer is consistently tagged as being severely disabled. Such sympathy sparked Reuter journalist Mark MacKinnon to spotlight Robert Latimer as "a lightning rod in the mercy-killing debate in Canada." Instead of outrage, an epidemic of bigotry has surfaced.
Misinformation about Tracy, unfortunately, prevails. Transcripts from the trial verify that Tracy Lynn Latimer was not in a "terminal" condition and that she was denied her right to have surgery and proper pain relieving medication by her own father. A permanent replacement home was available for Tracy, but her father denied her that option as well.
According to the court transcripts, Latimer had considered overdosing her with Valium and burning her body. By his act, he deprived this child of life, laughter and love. Tracy Latimer deserves and has every right, as all human beings do, to justice, albeit, post mortem. Tracy's death was ruled a homicide. But if Tracy's death is not treated as a homicide, because she was severely disabled, why should the murder of any other child be treated as a homicide?
If society accepts the father's motive as a 'loving'-killing to spare her suffering and pain, why then should not other children, arbitrarily, be likewise spared from suffering unto natural death?
Tracy Latimer seems to be the one on trial, based on her degree of disability. Exempting Robert Latimer from the punishment due him for the act of homicide, based on pseudo compassion, will rob Tracy of justice. But before she can be robbed of her right to justice, she must be arbitrarily stripped of equality and value, and thus sub-humanized.
For example, the media has made a fine case of her inability to ever toilet independent of parental or caregiver assistance. Tracy is consistently depicted as hopelessly flawed, and hopelessly ill:
Justice for Tracy looks bleak. The courts have consistently excused parents who have murdered children with disabilities. A woman in Wisconsin escaped sentencing after admittedly starving her son with cerebral palsy to death. She said she was responding to family pressure and the message of a TV show on euthanasia. A west coast mother recently killed her brain injured non-verbal teenage daughter. The judge said her actions were understandable, that other parents could be expected to react in the same way. He sentenced her to community service.
Whether parents, medical profession, or medicine fail to relieve pain and suffering, does not justify killing the child. Not everyone is swayed by lies and bigotry couched in endearing terms such as 'mercy' and 'compassion', certainly not 11-year-old Teague Johnson. Teague wrote a letter to the Vancouver Sun expressing his horror over the death of Tracy. Teague said he also has "really severe cerebral palsy". "I can't walk or talk or feed myself, but I am not 'suffering from cerebral palsy.' Life is a precious gift. It belongs to the person to whom it was given. Not to her parents, nor to the state. Tracy's life was hers to make of it what she could." Teague recognized that life is a splendid gift of undiminished and inestimable value, and that dignity is an invisible possession; all of which, as Teague so poignantly illuminates, "belongs to the person to whom it was given."
Biographical Note—Cheryl Eckstein is the founder and president of the Compassionate Healthcare Network (CHN), an international nonprofit anti-euthanasia organization. (CHN, PO Box 62548-12874 96th Ave., Surrey, BC, V3V 2V4).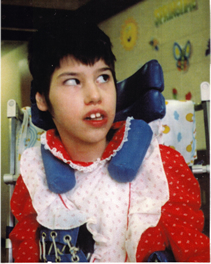 Tracy Latimer
The Latimer case directly concerned the rights of persons with disabilities. Mr. Latimer's view was that a parent has the right to kill a child with a disability if that parent decides the child's quality of life no longer warrants its continuation. CCD explained to the court and to the public how that view threatens the lives of people with disabilities and is deeply offensive to fundamental constitutional values. Learn more.