Act Now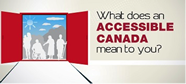 Empower U: Learn to Access Your Disability Rights Training on Canadian Human Rights, the Convention on the Rights of Persons with Disabilities (CRPD) and its Optional Protocol (OP) training aims to increase awareness of how to address discrimination using more familiar Canadian human rights laws such as Human Rights Codes and the newer international Convention on the Rights of Persons with Disabilities (CRPD). This is training for persons with disabilities by persons with disabilities. The training is part of a project funded by Employment and Social Development Canada and implemented by the Council of Canadians with Disabilities (CCD) in collaboration with Canadian Multicultural Disability Centre Inc. (CMDCI), Citizens With Disabilities – Ontario (CWDO), Manitoba League of Persons with Disabilities (MLPD) and National Educational Association of Disabled Students (NEADS). Read more.
Sign Up for our monthly digest
A monthly newsletter from CCD about what is happening in the community
A Perspective on Children's Rights: Eileen O'Brien Speaks Out
[13 October 1997]
What alarms you most about the Latimer case?
It is society's approval of the ownership of children. For the general public, the sentiment is it is okay that Latimer can decide for his child in terms of quality of her life or her death solely because the child has a disability. Another component is society's approval, and even in some areas of our own community, people's misguided empathy for Robert Latimer at his having to put up with a child with a disability. It is very disturbing how the public easily accepts that it is a father's right to determine his disabled child's life and death, and that they see this as a loving act. We must examine the complex discrimination and paternalism that lies behind this attitude. We are all at risk when this is not challenged.
What message do you convey to people when discussing the Latimer case?
First I say imagine being a child in the Latimer family or any other family and wondering what your father is going to decide about you. Secondly, I worry about the kids with disabilities or their siblings who have internalized the message that this murder is okay. What must they think about their right to life and participation in society? When society does not care for and provide support for all children and this responsibility is left to individual parents (alone), then the nuclear family can be an unsafe place for children. Raising all children is a social and community responsibility.
Support for kids and parents must be provided before families reach an irreversible crisis. This reminds me of the place women were in before there were social supports and public education about women's rights. In some ways, children are the most isolated in our society and children with disabilities are more at risk due to their lack of recognition as valued people with the full protection of society.
What needs to be done to improve the situation for children with disabilities?
Any nuclear family benefits from accountability to and greater involvement in society. Children with disabilities have to be seen as not only the individual responsibility of their parents, but of the community and of society. Society must welcome them in and not depend on the parent to fight for integration into community programs that are available to children without disabilities. This integration is our right guaranteed under the Canadian Charter of Rights and Freedoms and must be supported at every level of government. Necessary social supports, like extra supervision, respite, accessible transportation, attendant care, or whatever, that make this possible, must become accepted as necessary accommodation. Opportunities to be with other children with and without disabilities separate from the parents and home care givers is necessary to decrease isolation and dependency and from what we've learned about violence against children with disabilities, this will decrease their risk of victimization. I would also like to see a Canadian with Disabilities Act where children with disabilities, their parents, teachers and friends could take pride in society's respect for and accommodation of diversity. These things may or may not have saved Tracy from the violence of her father, however, I would be willing to bet that society's understanding of Tracy's rights would eliminate or greatly reduce society's support of this kind of violence against children and people with disabilities.
How have the media covered this issue?
The media has leaned toward supporting Robert Latimer and sanctioning the murder of Tracy Latimer by portraying him as a normal family guy who did what any other father would do under the circumstances. They have not focused on the school and community life or the life taken away from Tracy. The press miss the vital understanding of the value and rights of people with disabilities when they resort time and again to the dangerously discriminatory stereotypical "mercy" "charity" "pathetic" view of disability. Tracy is not seen as a person equal to all others with the same rights and protections under the law as any non disabled adult or child. Robert Latimer, as the accepted "head" of the family may be seen as relieving society, himself and the child herself of the burden of disability not as a child murderer. Murder of a child with a disability is therefore not seen as a murder of a child.
Why do you think there has been such an outpouring of public support for Robert Latimer?
The public has listened to the limited and discriminatory reporting of the media. For the reasons I've stated before many people see the murder of Tracy Latimer not as murder but as a "mercy killing" of an undesirable and suffering non-person. It is horrifying to imagine that this attitude exists solely because this little girl had a disability. They saw what the press has showed them. They did not hear from Tracy's teachers about the 7 hours a day Tracy spent at school with her siblings, or the way she responded to and enjoyed music and her family nor did they hear from any of those who had a positive relationship with Tracy. (They in fact led us to believe there were no positive aspects to her life. This was, we found out later, just not true.) For me, there is an absolute confusion about diversity in community and the rights of people with disabilities in society. It is ableism, oppression. It is discriminatory. Children with disabilities are more at risk than ever before until they are valued as people with the same rights and protections as any other member of society.
Who should be taking on the issues of children with disabilities?
We should be as a disability movement. We have to educate children with disabilities by teaching them what we have learned. We can support their struggle for a place in society by involving them in our disability movement at every level. We include children like Tracy, who cannot advocate for themselves by working to support a cross disability structure within all of our groups. We can incorporate and identify children's issues in all our advocacy work. We have to facilitate their speaking for themselves. It is hard not to internalize the oppression we experience and we have found fighting for change to be empowering. Principals of independent living can be society's principals and actively taught by all of us.
Are Canadian groups doing this work?
DAWN Canada has a Girls and Young Women Committee. It is just beginning and we are hoping for more involvement. There may be more groups of people with disabilities doing this but I'm not aware of who they are.
Biographical Note
Eileen O'Brien is Chairperson of DAWN Canada and is Secretary of CCD's Executive Committee and a member of its Human Rights Committee.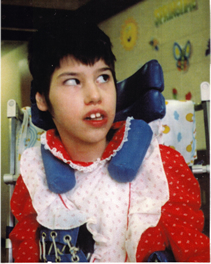 Tracy Latimer
The Latimer case directly concerned the rights of persons with disabilities. Mr. Latimer's view was that a parent has the right to kill a child with a disability if that parent decides the child's quality of life no longer warrants its continuation. CCD explained to the court and to the public how that view threatens the lives of people with disabilities and is deeply offensive to fundamental constitutional values. Learn more.