Act Now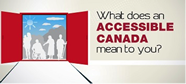 Empower U: Learn to Access Your Disability Rights Training on Canadian Human Rights, the Convention on the Rights of Persons with Disabilities (CRPD) and its Optional Protocol (OP) training aims to increase awareness of how to address discrimination using more familiar Canadian human rights laws such as Human Rights Codes and the newer international Convention on the Rights of Persons with Disabilities (CRPD). This is training for persons with disabilities by persons with disabilities. The training is part of a project funded by Employment and Social Development Canada and implemented by the Council of Canadians with Disabilities (CCD) in collaboration with Canadian Multicultural Disability Centre Inc. (CMDCI), Citizens With Disabilities – Ontario (CWDO), Manitoba League of Persons with Disabilities (MLPD) and National Educational Association of Disabled Students (NEADS). Read more.
Sign Up for our monthly digest
A monthly newsletter from CCD about what is happening in the community
Disabled Relieved With Decision To Appeal Latimer Sentence
For Immediate Release
December 17, 1997
News that the Saskatchewan Crown will appeal Robert J. Latimer's two year sentence for murder was welcomed by the Council of Canadians with Disabilities (CCD), according to its Human Rights Committee spokesperson, Jim Derksen of Winnipeg. Derksen says his group's interest in the appeal stems from fears that the particulars of this case could stand as a precedent endangering the lives of Canadians with disabilities.
"As much as we share everyone's wish to see some closure, we don't believe Judge Noble's sentence provided justice for Tracy Latimer," said Pat Danforth of the Saskatchewan Voice of People with Disabilities. Danforth expects Saskatchewan's Court of Appeal will find that the ten-year mandatory sentence for 2nd degree murder is not cruel and unusual punishment, and that the Charter's Section 15, guarantee of equal protection and benefit of the law for all, including Canadians with disabilities, will be upheld. "We look to the higher courts, to re-instate the spirit of the Charter's equality section and to apply the law equally to Mr. Latimer," Danforth said.
Hugh Scher, chair of CCD's Human Rights Committee says CCD is in the process of applying for intervenor status with the Saskatchewan Court of Appeal regarding the Latimer sentencing. Scher said CCD would continue to resist calls to amend the law to include a new offence of "compassionate homicide". Scher states there is nothing "compassionate" about homicide, he further states that a law creating a new offence of compassionate homicide would amount to state sanctioned killing of vulnerable individuals in our society.
-30-
Contacts:
Jim Derksen 204-947-0303 204-786-7937
Gregor Wolbring 403-686-6179 (h) 403-220-5448 (w)
Hugh Scher 416-515- 9686
Pat Danforth 306-787-2426
Laurie Beachell 204-947-0303
Catherine Frazee 416-924-5502
Mel Graham 204-947-0303
Ron Bort 306-569-3111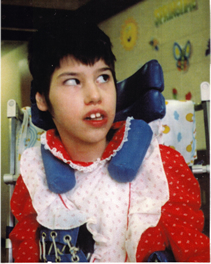 Tracy Latimer
The Latimer case directly concerned the rights of persons with disabilities. Mr. Latimer's view was that a parent has the right to kill a child with a disability if that parent decides the child's quality of life no longer warrants its continuation. CCD explained to the court and to the public how that view threatens the lives of people with disabilities and is deeply offensive to fundamental constitutional values. Learn more.