Act Now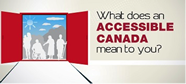 Empower U: Learn to Access Your Disability Rights Training on Canadian Human Rights, the Convention on the Rights of Persons with Disabilities (CRPD) and its Optional Protocol (OP) training aims to increase awareness of how to address discrimination using more familiar Canadian human rights laws such as Human Rights Codes and the newer international Convention on the Rights of Persons with Disabilities (CRPD). This is training for persons with disabilities by persons with disabilities. The training is part of a project funded by Employment and Social Development Canada and implemented by the Council of Canadians with Disabilities (CCD) in collaboration with Canadian Multicultural Disability Centre Inc. (CMDCI), Citizens With Disabilities – Ontario (CWDO), Manitoba League of Persons with Disabilities (MLPD) and National Educational Association of Disabled Students (NEADS). Read more.
Sign Up for our monthly digest
A monthly newsletter from CCD about what is happening in the community
Court Decision Threatens Equality Rights of Citizens with Disabilities
For Immediate Release
December 1, 1997
People with disabilities are expressing shock and anger over the constitutional exemption the Saskatchewan court granted Robert Latimer. Rather than serving the mandatory sentence for second degree murder (10 years without parole), Latimer will serve less than two years.
"The Council of Canadians with Disabilities views with alarm the decision to reduce the sentence for Robert Latimer from the mandatory 10 years," states Eric Norman, CCD Chairperson. "The victim's disability did not confer upon her father the right to end her life, nor should it now confer upon the court the right to reduce the mandatory sentence called for by the conviction."
"In reducing the sentence the court is clearly saying that it has sympathy for the convicted murderer, and to a chilling degree is validating similar actions against people with disabilities. It is also lending support to the notion that the killing of a person with a disability is different from the killing of any other person." stated Hugh Scher, Chairperson, CCD Human Rights Committee.
"The disability of the person murdered can not be allowed to become a factor in how we judge the actions of the murderer. This sentence must be appealed," said Pat Danforth, CCD Human Rights Committee member.
-30-
For more information contact:
Hugh Scher, 416-816-6115
Catherine Frazee, 416-924-5502
Pat Danforth, 306-787-2530
Dr. Gregor Wolbring, 403 220-5448 (w) 403-686-6179 (h)
Jim Derksen, 204-947-0303
Lucie Lemieux-Brassard, 514-943-3995
Paula Keirstead, 204-947-0194
Eileen O'Brien, 604-873-1564
Eric Norman, 709-256-8630
Laurie Beachell, 204-947-0303
Mel Graham, 204-947-0303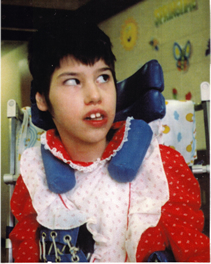 Tracy Latimer
The Latimer case directly concerned the rights of persons with disabilities. Mr. Latimer's view was that a parent has the right to kill a child with a disability if that parent decides the child's quality of life no longer warrants its continuation. CCD explained to the court and to the public how that view threatens the lives of people with disabilities and is deeply offensive to fundamental constitutional values. Learn more.