Act Now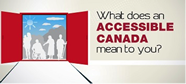 Empower U: Learn to Access Your Disability Rights Training on Canadian Human Rights, the Convention on the Rights of Persons with Disabilities (CRPD) and its Optional Protocol (OP) training aims to increase awareness of how to address discrimination using more familiar Canadian human rights laws such as Human Rights Codes and the newer international Convention on the Rights of Persons with Disabilities (CRPD). This is training for persons with disabilities by persons with disabilities. The training is part of a project funded by Employment and Social Development Canada and implemented by the Council of Canadians with Disabilities (CCD) in collaboration with Canadian Multicultural Disability Centre Inc. (CMDCI), Citizens With Disabilities – Ontario (CWDO), Manitoba League of Persons with Disabilities (MLPD) and National Educational Association of Disabled Students (NEADS). Read more.
Sign Up for our monthly digest
A monthly newsletter from CCD about what is happening in the community
The Euthanasia and Assisted Suicide Follies
by Judith Snow, MA
Chairperson, Ontario Advocacy Coalition
(October 22, 1998) — Jam packed into one week in October, yet once again Canadians are going to be treated to a media spectacle—the Euthanasia and Assisted Suicide Follies. The opening act will consist of a dramatic presentation on CBC starring the ghost of Sue Rodriguez. The main act will bring Robert Latimer back for an encore performance of "Killing Me Softly" performed with genuine Canadian empathy and compassion.
Meanwhile the majority of Canadians with disabilities will once again either seethe even more with rage or tremble even more with the anxiety that comes from knowing all too well that the bell does indeed toll for each and every one of us—we who are made more vulnerable everyday to this death sentence.
As I approach my fiftieth year I chalk up a long list of infirmities that I live with in an uneasy harmony or have actually overcome through ingenuity and considerable help. On my list are quadriplegia, 25% breathing capacity, inoperable fibroids, chronic kidney stones, hepatitis C, post-traumatic shock, osteoporosis, diabetes and a variety of food and drug allergies. At various times, sometimes for years at a stretch, I have lived with relentless pain, itch and/or depression. I have stared my own death in the eyes not less than six times in 49 years.
I know many other people, personally, who like Tracy Latimer do not share in words their appreciation for life or their own perceptions of the beauty and complexity of our world. Not speaking, but certainly not silent either, these people, fellow travelers of life have known the heights and depths of joy and suffering too.
If Sue Rodriguez had reviewed her life and her relations in the light of failing physical ability and privately decided to end it all—privately, I say—I would have not agreed but never complained. Many people believe that theyknow what disability is all about already. They never look closely at me, at my life, at my work, at my home and so they never can understand either how I actually live and do stuff, or appreciate why my life is so important to me and those who love and work with me. Not knowing—many, like Sue Rodriguez, like Robert Latimer, think that life with disability is not worth living. Thinking she knew how it would go Sue Rodriguez chose to die. Too bad for her!
My problem is that these death mongers won't keep their private ignorance and irrationality to themselves. Rather they firmly, publicly parade their death sentences around, drawing the comfort of assumed solidarity from convincing others that I should be dead too. Now I have to deal with a public that wonders why I want to live or if I should be allowed to.
With Robert Latimer, the media goes out of its way to paint large every negative shade of Tracy's life while turning its own blindness and deafness into deadly silence about all that was worthwhile in her life and her presence among us. Absent are the words and pictures about what could have been if true compassion and appreciation had been turned into an intentional search for ways to support, develop and contribute her gifts.
Just think, Tracy would have been celebrating her eighteenth birthday this month. What about some funky clothes—say some leggings, mini-kilt, some make-up, a stylin' purple streak in her hair to bring out her laughing eyes. How about a henna tattoo, and an accessible taxi to the school dance accompanied by some school chums to make sure that all goes well. Afterwards, some pizza and loud music in the rec room to round out a perfect birthday. It happens for girls like Tracy everywhere. It will never happen for Tracy.
Instead of parties and planning for a future that will be full of participation—instead the media concentrates on the pain and the daily struggles. Even worse, the pain and struggles are magnified with no questions asked: "Were there really no alternatives? No one else willing to step in?" In the last years of this millennium, with access to every medical system ever known to human beings, with millions of dollars going into human services in Canada, with every sort of innovation getting a test run in North America—no alternatives than death—really—really ?!? Give me an F...in' Break!!!
The very worst thing about being a Canadian with disabilities is the death sentence in our culture's eyes, the death sentence that stops every person without the courage from looking past the surface or thinking past the hype. People easily decide that I want to be, soon will be, should be, already am dead. Robert Latimer and his wife were handed an excuse by society that has already decided—helped in large part by the media that feed on the sensational and sentimental. The same media and society write the lines for Svend Robinson and Sue Rodriguez to faithfully parrot on the way to her grave—and beyond into prime time TV.
Save me from one thing and one thing alone. Save me from all those who would have me dead for my own good!
---
"My problem is that these death mongers won't keep their private ignorance and irrationality to themselves. Rather they firmly, publicly parade their death sentences around, drawing the comfort of assumed solidarity from convincing others that I should be dead too."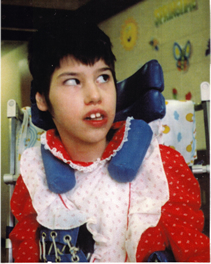 Tracy Latimer
The Latimer case directly concerned the rights of persons with disabilities. Mr. Latimer's view was that a parent has the right to kill a child with a disability if that parent decides the child's quality of life no longer warrants its continuation. CCD explained to the court and to the public how that view threatens the lives of people with disabilities and is deeply offensive to fundamental constitutional values. Learn more.