Act Now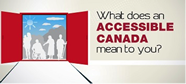 Empower U: Learn to Access Your Disability Rights Training on Canadian Human Rights, the Convention on the Rights of Persons with Disabilities (CRPD) and its Optional Protocol (OP) training aims to increase awareness of how to address discrimination using more familiar Canadian human rights laws such as Human Rights Codes and the newer international Convention on the Rights of Persons with Disabilities (CRPD). This is training for persons with disabilities by persons with disabilities. The training is part of a project funded by Employment and Social Development Canada and implemented by the Council of Canadians with Disabilities (CCD) in collaboration with Canadian Multicultural Disability Centre Inc. (CMDCI), Citizens With Disabilities – Ontario (CWDO), Manitoba League of Persons with Disabilities (MLPD) and National Educational Association of Disabled Students (NEADS). Read more.
Sign Up for our monthly digest
A monthly newsletter from CCD about what is happening in the community
MLPD Plans Monument for Tracy Latimer
[16 October 1998]
Why did the Manitoba League of Persons with Disabilities decide to establish a memorial monument to Tracy Latimer?
The Manitoba League has been working on issues arising from the Latimer case for a number of years now. A couple of years ago we started to think about something that we might be able to do to express our views on the Latimer case in a more permanent and tangible way than simply having a protest every now and then or writing the occasional article for the newspaper. A couple of us had seen a story on the CBC news about the way monuments for War Veterans—the many monuments that we have all across Canada for the various wars, the Korean War, the First and Second World Wars—had been developed. We were struck by the fact that these memorials were created by small groups of volunteers at the very grassroots level who wanted to commemorate the war in different ways in their community. This inspired us. As well in Winnipeg, the women's movement has a monument at the Manitoba Legislature grounds. It raises awareness about their community and violence against women, particularly motivated by the events in Montreal a number of years ago where 14 women were killed at a University. We saw those examples of community groups getting together and creating a symbolic monument to express their view and were excited and thought we could do something similar for our views and what has happened to Tracy.
What is the symbolism of the monument?
It took us a long time to figure out how we were going to do this. Finally, we were able to connect with a designer who was agreeable to helping us out to do the work at very low cost. He and his team designed a monument that is a little different than what we had envisioned. The best way to describe it is as a heart that is not quite complete and has been broken off at the top so it is not quite finished growing. Also it has been shattered down the middle. The shape of the monument that we are looking at building has that heart shape which has been broken. It struck a cord with us because we felt in many ways it conveyed what happened to Tracy. Also, if you look a bit broader at the whole disability community, it has had its heart broken to a certain degree around the events of the Tracy Latimer case.
What stage is the monument at?
We have raised over $3,000.00 for the monument. We have now finalized the design. We have agreed on some proposed wording for the monument as well. Right now we are at the stage where we need to continue to fund raise because the monument will cost more than what we have raised already. Plus, we need to find a suitable location for the monument.
At the present time we are trying to find a public area that would be able to be viewed by the public—maybe a park-like setting, possibly the Legislature Building or possibly a city park.
We are experiencing a bit of resistance to having it located at the Legislature Building. There is some concern that it might be too political of a monument for the Legislature grounds. But we are going to continue to pursue that as well as other ideas.
What is the wording that has been developed for the monument?
It reads: "This monument is raised in the spirit of justice. To remember all persons with disabilities who have been killed by people seeking to excuse their terrible acts with the mistaken notion of mercy. To reaffirm the capacity of all persons to respect others' equal rights to live their unique lives."
What are the fund raising plans for the monument?
We have made an appeal to our members for donations and we have received some donations that way. We have also appealed to members of the general public that we feel would have sympathy to this cause. We have received a number of donations from that. As well, we have even received donations from different places in Canada and one of the CCD affiliates even donated some money for the monument. That was very nice.
If readers of the "Latimer Watch" wanted to contribute to the monument would they receive a charitable tax receipt?
Yes.
What time line do you see this following?
Well, I wish I could know for sure. A lot of it depends on the finding of a location and raising the remainder of the money we have to raise. We are going to try to coordinate various activities around the upcoming court case, so we can take advantage of the suspected interest in the issue to raise some additional dollars, as well as to let the public see the artistic rendering of the monument. The public has not seen a very artistically presented image of what the monument would look like yet. But as far as the actual day when we have the monument up and in a location, I don't know for sure when that will be.
Have any politicians come on board to support the monument's installation on public grounds?
No, but we have not aggressively approached any particular politician yet. We have written to the provincial Minister of Government Services, but at the present time he is indicating concern about putting it on the grounds of the Legislature.
David Martin is Provincial Coordinator of the Manitoba League of Persons with Disabilities (MLPD) and MLPD's representative to CCD Council.
To make a contribution to the monument, send your donations to:
MLPD,
200-294 Portage Ave.,
Winnipeg, MB, R3C 0B9.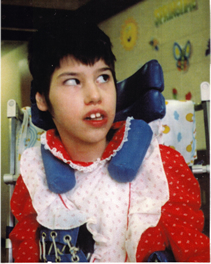 Tracy Latimer
The Latimer case directly concerned the rights of persons with disabilities. Mr. Latimer's view was that a parent has the right to kill a child with a disability if that parent decides the child's quality of life no longer warrants its continuation. CCD explained to the court and to the public how that view threatens the lives of people with disabilities and is deeply offensive to fundamental constitutional values. Learn more.