Act Now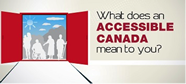 Empower U: Learn to Access Your Disability Rights Training on Canadian Human Rights, the Convention on the Rights of Persons with Disabilities (CRPD) and its Optional Protocol (OP) training aims to increase awareness of how to address discrimination using more familiar Canadian human rights laws such as Human Rights Codes and the newer international Convention on the Rights of Persons with Disabilities (CRPD). This is training for persons with disabilities by persons with disabilities. The training is part of a project funded by Employment and Social Development Canada and implemented by the Council of Canadians with Disabilities (CCD) in collaboration with Canadian Multicultural Disability Centre Inc. (CMDCI), Citizens With Disabilities – Ontario (CWDO), Manitoba League of Persons with Disabilities (MLPD) and National Educational Association of Disabled Students (NEADS). Read more.
Sign Up for our monthly digest
A monthly newsletter from CCD about what is happening in the community
Chilling Quotes
(15 October 1998) — Robert Latimer's October appeal to the Saskatchewan Court of Appeal will likely put this case in the news once again. Consequently, the Council of Canadians with Disabilities is intensifying its efforts to monitor public discourse on the Latimer case and to present the aspects of the case which would be absent without the involvement of persons with disabilities. It is people with disabilities who have been setting the record straight on the true definition of compassion. This was done succinctly on a placard at one consumer demonstration—"Disabled kids need hugs not coffins."
Without the public participation of people with disabilities in the Latimer case, Robert Latimer and his defense team would be left by default as the spokespeople for Tracy Latimer. Their message serves to reinforce ableist biases about disability. Some of these stereotypes are: a person with a disability is worth less than a person without a disability, disability means suffering unrelieved by other emotions or experiences, having a disability means having a low quality of life, it is preferable to die than to live one's life with a disability. These attitudes are very apparent in the quotes that are listed below. The CCD Latimer Watch is presenting these quotes as a reminder why it is important for disability rights activists to speak out once again on the issues in the Latimer case.
Excerpts from Letters to the Editor
"Disabled Canadians, just like all others, need to look at cases such as the Latimer trial on their own merits and not try to paint them as massive, societal assaults on the vulnerable." (Verne Clemence, Star Phoenix, 8 November 1997.)
"Bob Latimer showed compassion when he gassed his severely disabled daughter. Unfortunately, he ran into a doctor who wanted to play God and resuscitated his badly deformed daughter at birth, a gung ho police officer and a stupid prosecutor who was trying to make a make-work project out of the tragedy for himself." (David W. Shury, Star Phoenix, 8 November 1997.)
"[C] an we please get real? We are not talking about Rick Hansen who wheeled across Canada in aid of spinal cord research. We are not talking about Stephen Hawking ... We're talking about someone who was confined to a wheelchair and unable to communicate, who was facing a life not only of immobility and isolation but constant and severe pain despite her numerous operations ... It is foolish to believe her life could have somehow been less tragic had she lived." (David Cooper, Without Restraint, 1998.)
"Not a day goes by for the Latimers without the possible devastation of their family farm and their own futures. They have already lived an enclosed sentence for over 12 years, around the clock, for their severely disabled daughter Tracy. For that, they have never received any thanks from the authorities ... This is not a case of murder. Tracy's death was an act of LOVE, to release her from the most extreme form of unbearable pain." (Ron and Audrey Woodrow, Trina Woodrow, Joe Phelps, Margo Wachs, The News-Optimist, December 14, 1994.)
"I am in awe of the unbelievable act that Robert Latimer performed in sacrificing his needs for the living love of his daughter to the need to end her suffering." (Patrick Conroy. Macleans, December 12, 1994.)
"There are babies born who will always remain unable to run and play. Worse than that, they grow into adults. How can a mother care for a child who grows too heavy to carry? How sad it is that they are unable to enjoy life. ...do not judge the father he was only trying to save his family". (Dorothy Duncan, The News-Optimist, December 7, 1994.)
"Robert Latimer is a real Canadian hero in my book. I certainly hope he gets a competent lawyer when he next goes to trial. It's high time that our legal system loses the right to condemn the Tracy Latimers of this so-called civilized country to a life of pain and suffering."(Peter L. Cossingham, Winnipeg Free Press, February 13, 1997.)
Comments from An Ethicist
"Tracy would not have been in this situation if people had not used heroic means all along. Someone should have stopped along the way and asked, 'Should we be doing this?' By keeping her alive to face a declining quality of life, they were committing what ethicists call 'the injury of continuing existence.' In the end, the parents faced a situation in which they thought they had no choice." (Eike-Henner Kluge Ethicist at the University of Victoria, Macleans, November 28, 1994.)
Comments by Latimer Family
"They have no limits on how you can torture a person and they will carry forward with it. To me, they are a bunch of backwoods, bloodthirsty butchers," said Robert Latimer upon hearing the decision of the Supreme Court. (The Globe and Mail, February 7, 1997.)
Comments from the Judiciary
"The appellant [Robert Latimer] is a typical salt of the earth, 42 year old prairie farmer born and raised on a farm near Wilkie, Saskatchewan." (Chief Justice Bayda's dissenting opinion as quoted in Saturday Night, February 1996.)
"While the killing was a purposeful one, it had its genesis in altruism and was motivated by love, mercy and compassion or a combination of those virtues, generally considered by people to be life-enhancing and affirmative," said Chief Justice Edward Bayda. (Dale Eisler, "Latimer's Setback", Macleans, July 31, 1995.)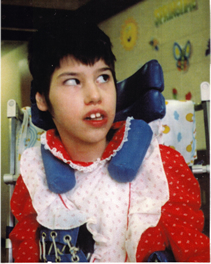 Tracy Latimer
The Latimer case directly concerned the rights of persons with disabilities. Mr. Latimer's view was that a parent has the right to kill a child with a disability if that parent decides the child's quality of life no longer warrants its continuation. CCD explained to the court and to the public how that view threatens the lives of people with disabilities and is deeply offensive to fundamental constitutional values. Learn more.