We Need Your Support
Donations are tax deductible and you will receive a charitable tax receipt for 100% of your gift.
Support CCD's work on the Carter case: Help To Live Not Die.
Act Now
You Presence is requested at CASHRA2013.ca Early bird registration ends April 18, so register online. Read more.
Sign Up for a Voice of Our Own
A quarterly newsletter from CCD.
Support the Tracy Fund
(28 December 1998) — CCD is seeking your support to continue working to protect the fundamental human rights of persons with disabilities.
Make a contribution to our work today!
CCD has undertaken the following activities in support of fundamental human rights:
Published 64 editions of the CCD Latimer Watch. CCD has been publishing the Latimer Watch since 1996.
Intervened in both Robert Latimer's appeals in the Saskatchewan Court of Appeal in 1995 and 1998.
In November 1995, hosted a community meeting to plan a litigation strategy to protect fundamental human rights.
Worked with its member groups to organize vigils for Tracy Latimer.
Supported the MLPD in its efforts to establish a Tracy Latimer Memorial Monument.
Through the work of the CCD Human Rights Committee shared our expertise on the Latimer case, and other cases, with the national medial
Worked with Vision TV to organize a lecture on eugenics by Catherine Frazee, a member of CCD's Human Rights Committee. Ms. Fazee's presentation will be televised in 1999.
Ensured that the perspective of people with disabilities is front and centre on fundamental human rights issues. Members of CCD's Human Rights Committee have been presenting a disability analysis of current issues via the Letters to the Editors columns of many Canadian newspapers.
Members of CCD's Human Rights Committee have made presentations to university classes on the Latimer case and have worked with the University of Manitoba to organize a summer institute on life and death issues which impact on persons with disabilities.
Worked with Members of Parliament and Senators to help them understand how legalized euthanasia would have a negative impact on persons with disabilities.
Developed public education material on the Latimer case.
Educated Canadians about how Do Not Resuscitate Orders impact on persons with disabilities.
Members of CCD Human Rights Committee, Executive Committee and our member groups have participated on radio call-in shows so that members of the general public have the opportunity to question us about our views on fundamental human rights issues.
Worked to ensure that Canadians understand the injustice that has been done to those who have been killed because they had a disability:

Tracy Latimer—killed by her father who used carbon monoxide poisoning.
Jim Nazar—shot to death by his father who also killed himself.
Ryan Wilkieson—killed with carbon monoxide poisoning by his mother who then committed suicide.
Charles Blais—drowned by his mother.
Andrea Halpin—shot to death by her father who then killed himself.
Katie Lynn Baker—starved to death by her mother.
Ronald Lambert—smothered to death by a staff person who worked in the institution where Ronald lived.
In the case of Tracy Latimer, this killing was viewed widely as a compassionate act. Charles Blais's killer was given a suspended sentence. It took 19 years for Ronald Lambert's killer to come to justice. Criminal charges were never brought against Katie Lynn Baker's mother. Jim Nazar's father was characterized by the media as a loving father. CCD has worked to ensure that the discriminatory nature of these responses are brought to the attention of Canadians.
In addition to making a financial contribution there are other ways to work to support the fundamental human rights of persons with disabilities:
Work within Canada's political parties to encourage them to adopt policies which support the fundamental human rights of people with disabilities.
Monitor your local media and send them feedback when their coverage discriminates against the fundamental human rights of persons with disabilities.
Send copies of discriminatory media coverage to CCD so that that we can continue to build our files.
Tell us your experiences with Do Not Resuscitate Orders.
Submit articles on fundamental human rights issues to local and community newspapers.
Count On Me!
Yes, I want to make a contribution to CCD's work on fundamental human rights.
Please find enclosed my cheque for:
$5.00 ( ), $10.00 ( ), $20.00 ( ) $50.00 ( )
$100.00 ( ). other ( )
Name:___________________________________
Address:_________________________________
City:_____________________________________
Province:__________________________________
Postal Code:________________________________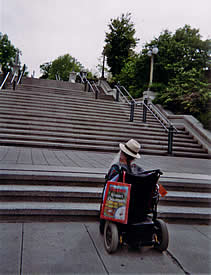 Jim Derksen views inaccessible York Street Steps in Ottawa. CCD intervened in the Brown Case, which challenged an inadequate accommodation developed for the Steps.
The Latimer case directly concerned the rights of persons with disabilities. Mr. Latimer's view was that a parent has the right to kill a child with a disability if that parent decides the child's quality of life no longer warrants its continuation. CCD explained to the court and to the public how that view threatens the lives of people with disabilities and is deeply offensive to fundamental constitutional values. Learn more.