Act Now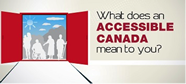 Empower U: Learn to Access Your Disability Rights Training on Canadian Human Rights, the Convention on the Rights of Persons with Disabilities (CRPD) and its Optional Protocol (OP) training aims to increase awareness of how to address discrimination using more familiar Canadian human rights laws such as Human Rights Codes and the newer international Convention on the Rights of Persons with Disabilities (CRPD). This is training for persons with disabilities by persons with disabilities. The training is part of a project funded by Employment and Social Development Canada and implemented by the Council of Canadians with Disabilities (CCD) in collaboration with Canadian Multicultural Disability Centre Inc. (CMDCI), Citizens With Disabilities – Ontario (CWDO), Manitoba League of Persons with Disabilities (MLPD) and National Educational Association of Disabled Students (NEADS). Read more.
Sign Up for our monthly digest
A monthly newsletter from CCD about what is happening in the community
Families across country feel Latimer ruling better protects life of people with disabilities
(15 February 1999) — In an action the Saskatchewan Association for Community Living (SACL), calls appropriate, the Saskatchewan Court of Appeal recently overturned a lower court's unprecedented two year sentence given to Robert Latimer for killing his daughter, Tracy, who had cerebral palsy. Latimer had been convicted of second-degree murder, but the judge created an exemption to the mandatory 10-year sentence and gave Latimer only two — only one of which to be served in prison. The move angered people with disabilities, families and advocacy groups across the country who said the ruling allowed people with disabilities to become an even more vulnerable class of citizens, devoid of protection under the law. The court overturned the two-year sentence and replaced it with the mandatory ten, the minimum by the Criminal Code of Canada. The move reaffirms the equality of people with disabilities in the eyes of the law, says SACL.
Barry Halliday, SACL president, felt his daughter Jamie was living in a safer society when he heard of the decision. The move is "the only right one" and while he understands the difficulties faced by the Latimer family as they coped with Tracy's disability, "the fact remains that Mr. Latimer intentionally took the life of his child. He performed an illegal act and our society determines the price for that," says Halliday. "I feel safer for Jamie. I feel confident that someone now will not feel protected if they decide to perform what they mistakenly view as a compassionate act, such as Mr. Latimer claims he did for Tracy."
CACL president Raffath Sayeed of Lloydminster was pleased by the ruling. The CACL, and a number of other disability-rights advocates, was granted joint intervenor status in the appeal proceedings. "This judgement is absolutely necessary to protect the rights of people with disabilities and to ensure that they are treated as equal citizens," says Sayeed. "As a parent and a physician, I am quite aware of the tremendous frustration and hardships that families experience because of the inadequate services for people with disabilities. However, dignity and compassion is certainly not achieved by killing people with disabilities and we denounce the idea that Latimer committed an act of mercy. Many families were also fearful that their disabled children, who are already extremely vulnerable position, would be further marginalized."
Halliday agrees that people with disabilities are already vulnerable and many literally depend on others for their lives. The decision by the Court makes it clear that people with disabilities are not a class of expendable citizens. Halliday calls for greater attention to the need for family support and respite options open to parents caring for sons and daughters with significant disabilities. The SACL has made family support and respite a priority focus for the past several years to reach families before a crisis develops and to support them during times of difficulty."Families may face pressures and strain as they live with a child who has a significant disability or medical complications," says Halliday. "Their response cannot be to kill their child." Halliday adds that he joins many other parents across the country and people who have disabilities who are "breathing a little easier because this decision reaffirms the belief that, in this society, each person's life is treated equally with equal protection."
"Having a daughter with disabilities that are similar to Tracy's, I am happy and relieved with the decision by the Saskatchewan Court of Appeal," says Barb Horner of Halifax, Nova Scotia. "Our family was very concerned with the public sympathy that has been expressed for Robert Latimer, which suggests that our daughter's life has less value than the life of a non-disabled child."
"I am relieved that the Court confirmed the legitimacy of the original conviction and sentence of Robert Latimer," says Linda Till of Sharon, Ontario, whose daughter Becky has an intellectual disability. "It will be a pleasure to tell Becky that the courts have kept her safe from people who see little value in her life."
SACL Executive Director Bob Pringle expects Robert Latimer's lawyer to now appeal to the Supreme Court of Canada.
(Reprinted with permission from SACL Dialect).
Latimer Files Leave to Appeal to Supreme Court
The following questions are being put to the Supreme Court by Robert Latimer in his application for leave to appeal
Issue #1 Did the Saskatchewan Court of Appeal err in law in the interpretation of the constitutent elements of the defence of necessity and in failing to consider whether the defence is to be determined on an objective, subjective or qualified objective basis?
Issue #2 Did the Saskatchewan Court of Appeal err in law in deciding that there is no obligation on a trial judge to rule on whether a defence has met the air of reality test and would be left with the jury prior to the address of counsel?
Issue #3 Although counsel may never inform a jury of the power to nullify and the court should never encourage nullification, can a judge provide an answer to jurors that would have the effect of misleading the jury as to the power of nullify?
Issue #4 Did the learned trial Judge err in law in not charging the jury that they could find that Robert Latimer had the legal right to decide to commit suicide for this daughter, by virtue of he and his wife being her surrogate decision makers for all other decisions?
Issue #5 Does the Charter allow for a constitutional exemption in mandatory minimum sentencing and if so, should a constitutional exempion have been granted in the Applicants circumstances?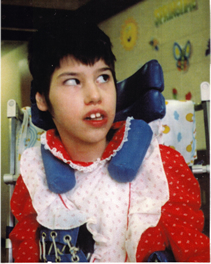 Tracy Latimer
The Latimer case directly concerned the rights of persons with disabilities. Mr. Latimer's view was that a parent has the right to kill a child with a disability if that parent decides the child's quality of life no longer warrants its continuation. CCD explained to the court and to the public how that view threatens the lives of people with disabilities and is deeply offensive to fundamental constitutional values. Learn more.