Act Now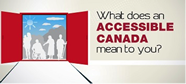 Empower U: Learn to Access Your Disability Rights Training on Canadian Human Rights, the Convention on the Rights of Persons with Disabilities (CRPD) and its Optional Protocol (OP) training aims to increase awareness of how to address discrimination using more familiar Canadian human rights laws such as Human Rights Codes and the newer international Convention on the Rights of Persons with Disabilities (CRPD). This is training for persons with disabilities by persons with disabilities. The training is part of a project funded by Employment and Social Development Canada and implemented by the Council of Canadians with Disabilities (CCD) in collaboration with Canadian Multicultural Disability Centre Inc. (CMDCI), Citizens With Disabilities – Ontario (CWDO), Manitoba League of Persons with Disabilities (MLPD) and National Educational Association of Disabled Students (NEADS). Read more.
Sign Up for our monthly digest
A monthly newsletter from CCD about what is happening in the community
Sharon Carstairs and Bill S-2
(26 November 1999) — On 13 October 1999, Bill S-2, "An Act to facilitate the making of legitimate medical decisions regarding life-sustaining treatments and the controlling of pain" had first reading in the Senate. The Honorable Senator Sharon Carstairs sponsored this Bill. The summary statement for this Bill explains that its purpose is as follows: "This enactment clarifies the law by protecting from criminal liability health care providers who act in accordance with their patients' wishes in the areas of life-sustaining medical treatment and the alleviation of physical pain. The enactment also provides the Minister of Health may, in cooperation with provincial authorities and associations of health care professionals, establish national guidelines in the areas of life-sustaining medical treatment, the controlling of pain and palliative care. The Minister of Health may also promote and encourage public education regarding controlling pain and increasing the training of health care professionals in this area and in the area of palliative care." Bill S-2 is a follow-up to the work of the Special Senate Committee on Euthanasia and Assisted Suicide which reported on 6 June 1995.
The Bill includes the following sections:
"2. No health care provider is guilty of an offense under the Criminal Code by reason only that the health care provider, for the purpose of alleviating the physical pain of a person but not to cause death, administers medication to that person in dosages that may shorten the life of that person.
3.(1) No health care provider is guilty of an offense under the Criminal Code by reason only that the health care provider withholds or withdraws life-sustaining medical treatment from a person who has made a request within the meaning of subsection (2) that the treatment be withheld or withdrawn.
(2) A request has been made for the purpose of this section
(a) when the person has, under the laws of a province, made a valid written directive that would in the relevant circumstances direct that life-sustaining medical treatment be withheld or withdrawn in the case of that person, or
(b) if there is no such valid written directive, when the person has, while competent, made in the presence of at least one witness who is not a health care provider a free and informed request, in writing or by words or signs, that the treatment be withheld or withdrawn.
(3) Where a person who is not competent and did not while competent make a request as described in subsection (2), the request may be made
(a) by a proxy appointed under the laws of a province to make health care decisions on the person's behalf, (b) if no proxy has been appointed, by a legal representative having the authority to make health care decisions on behalf of the person, or (c) if there is no proxy and no legal representative, by the spouse, companion or relative who is most intimately associated with the person."
This Bill assumes that it is health providers who need added legal protection. Within the disability rights movement, consumers have found that it is people with disabilities not health care providers who are vulnerable.
A good case in point is what happened to Mike Rosner. Ruth Enns in her book A Voice Unheard shares Mike's experiences. Enns writes, "In 1992 Mike Rosner was admitted to a Winnipeg hospital with severe pneumonia. Shortly after arriving at intensive care the doctors told him he had only hours, at most a few days to live. 'They inquired about whether I wanted them to treat me aggressively,' he said. Mike was surprised. He had assumed that aggressive treatment was the reason one goes to the hospital. About four or five doctors each tried to convince him 'that I ought to let nature take its course.' They told him if he did survive, his quality of life would be so poor as to not be worthwhile. 'They painted a very bleak picture.'"
In the end Mike overcame his illness, largely due to the aggressive interventions made by disability activists in the community. Unlike the doctors in question, the disability activists were not basing their decisions about Mike's future on the faulty assumption that a person is better of dead than disabled.
The negative assumptions that flourish in our society about disability are so strong that it is people with disabilities and not medical practitioners who are at risk in our present system of medical practice.
This is not the first time that Senator Carstairs has launched a Bill like S-2. Previous sessions of the Senate have received earlier versions of this Bill. Representatives of CCD's Human Rights Committee have met with Senator Carstairs to bring to her attention the disability community's concerns.
On numerous occasions, CCD Human Rights Committee member Jim Derksen has explained why Bills like S-13 and S-2 threaten the well-being of people with disabilities. "Since our sensibilities and perceptions are, of necessity, informed by experience, our concerns in this matter are perhaps best understood in light of our unique history as people with disabilities. Most disturbing is our widespread, and often repeated, experience of denial, deprivation, exclusion and harm at the hands of people naming their motivation as compassion, and claiming to act in our best interest," states Jim Derksen. Hence little comfort is delivered to our community by the Bill's provisions allowing for decision making by proxies, legal representatives, relatives, spouses and companions. We are all too well aware of the decision make by Robert Latimer for Tracy Latimer.
It should be noted that there are some differences between Bill S-13 and Bill S-2. Whereas Bill S-13. Under Bill S-13, requests could be made by competent person who (a) is suffering from a life-threatening conditions and understands the condition and its prognosis, the alternative courses of action and the foreseeable consequences of the decision or (b) anticipates a life-threatening condition, the alternative courses of action and the foreseeable consequences of the decision. Unlike S-13, Bill S-2 makes no reference to life threatening conditions or anticipated life threatening conditions.
"We are concerned that several measures within Bill S-2 will either permit cases of euthanasia by omission or weaken the current statutes that act to protect incompetent, elderly or disabled (vulnerable patients)," states the Euthanasia Prevention Coalition of Ontario. It believes that "there is no need for Bill S-2 and we question what the real agenda is for Senator Sharon Carstairs. Court decisions in Canada have already established that Canadians have the right to refuse or cease medical treatment that will prolong their life. There is no confusion about the right to refuse treatment and it is not necessary to define this right in legislation."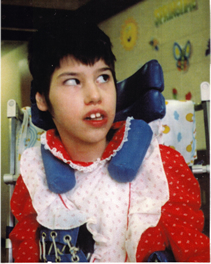 Tracy Latimer
The Latimer case directly concerned the rights of persons with disabilities. Mr. Latimer's view was that a parent has the right to kill a child with a disability if that parent decides the child's quality of life no longer warrants its continuation. CCD explained to the court and to the public how that view threatens the lives of people with disabilities and is deeply offensive to fundamental constitutional values. Learn more.