Act Now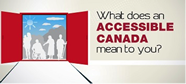 Empower U: Learn to Access Your Disability Rights Training on Canadian Human Rights, the Convention on the Rights of Persons with Disabilities (CRPD) and its Optional Protocol (OP) training aims to increase awareness of how to address discrimination using more familiar Canadian human rights laws such as Human Rights Codes and the newer international Convention on the Rights of Persons with Disabilities (CRPD). This is training for persons with disabilities by persons with disabilities. The training is part of a project funded by Employment and Social Development Canada and implemented by the Council of Canadians with Disabilities (CCD) in collaboration with Canadian Multicultural Disability Centre Inc. (CMDCI), Citizens With Disabilities – Ontario (CWDO), Manitoba League of Persons with Disabilities (MLPD) and National Educational Association of Disabled Students (NEADS). Read more.
Sign Up for our monthly digest
A monthly newsletter from CCD about what is happening in the community
Where's the Justice for Brandy?
(3 December 1999) — Lisa Thompson will not serve any jail time, despite the fact she attempted to kill Brandy, her six year old daughter who has Cerebral Palsy. Thompson will serve her sentence in the comfort of her home. Judge Forestell prohibited Thompson from having unsupervised visits with Brandy.
This type of lenient sentence for attempted murder puts the lives of children with disabilities in jeopardy. While working on the Latimer case, people with disabilities associated with CCD have been told by parents of children with disabilities that they are monitoring the court proceedings and will govern their own actions accordingly. "The sentence has to be fair and just," states Catherine Frazee, a member of CCD's Human Rights Committee, in the Toronto Star. "It doesn't mean we have to demonize the mother... but the court does have to be absolutely clear in its defense of the child." Catherine Frazee is a former Chief Commissioner of the Ontario Human Rights Commission and is currently working as a mediator and human rights consultant.
Thompson attempted to kill her daughter by administering a near fatal dose of medication through Brandy's feeding tube. When she thought Brandy was dead, Thompson then went to the Niagara Region police and confessed her crime. Emergency personnel were dispatched to the home and saved Brandy's life.
Brandy was then placed in foster care, where she is now doing well. Entered into evidence in court were a number of photographs showing a smiling Brandy. These photos were taken since her placement in a foster family. The Crown reports that Brandy is now "flourishing." Obviously, death was not the only option for Brandy.
The Euthanasia Prevention Coalition of Ontario is requesting that the Attorney General of Ontario review the sentence that was handed down to Lisa Thompson. "We are requesting a review of the judicial decision based on the concern that this decision establishes precedent for other cases of neglect, abuse, murder or attempted murder of dependent or disabled persons," states Alex Shadenberg, Executive Director of the London-based group.
"Furthermore, Section 15 (1) of the Canadian Charter of Rights and Freedoms states, 'Every individual is equal before and under the law and has the right to the equal protection and equal benefit of the law without discrimination and, in particular, without discrimination based on race, national or ethnic origin, color, religion, sex, age or mental or physical disability.' Would the sentence have been as lenient had Brandy been an able-bodied child?"
Academic researchers suggest that when the victim of a crime is a person with disabilities, the perpetrator tends to receive a lesser sentence. The electronic news service ICAD reports the following, "The sentencing in this case follows a discriminatory pattern where crimes against people with disabilities are viewed as less serious. Our project at the University of Alberta in conjunction with Temple University is currently analyzing 1000 cases worldwide of homicidal events committed against people with developmental disabilities....While analysis is not complete, an overwhelming pattern of leniency and non-sentencing suggests gross discrimination. Simply stated, people with developmental disabilities are among the most frequent victims of violence and crimes against them appear to result in much lighter sentences."
Disability was a factor in the decision making that was done by the court. The Toronto Star reports the following comments made by Judge Forestell during sentencing of Thompson: "This court has the greatest respect for persons with physical handicaps and delays...and their need for protection. There is also a consideration that must be given to caregivers."
"This is such a disturbing trend in sentencing," said Tracy Walters, National Director of the Canadian Association of Independent Living Centres (CAILC), in the Toronto Star. "The courts are sending a message that this is okay to do and that it's less of a crime because disabled people are less of a person."
The Judge also indicated that in his sentencing he had taken into consideration the fact that the mother was under stress and had been denied access to crisis intervention services. This is not the first time that access to services has been raised in a fundamental human rights case. "The idea of a caretaker killing a disabled person because of the stress and inadequate services and supports does not always appear on the surface as a hostile thought toward people with disabilities; however, it operates as a 'Killing Idea'. It sounds as if the mother, Lisa Thompson is the victim, rather than six year old Brandy whom she tried to kill. Her victim status is further confirmed by this most lenient sentence amounting to no time in jail. It almost sounds as if the child is the guilty one being the origin of the 'stress and distress' that pushed her mother to murder. Let us be clear that Brandy is not guilty. Her mother is certainly guilty, perhaps services and institutions that failed to help are guilty, perhaps we are all collectively guilty, but Brandy Thompson is not guilty," states Jim Derksen.
CCD has been working to defend the fundamental human rights of persons with disabilities since the public outpouring of support for Robert Latimer who killed his daughter Tracy, another little girl with Cerebral Palsy. Since the Latimer case began, CCD has been speaking out against lenient sentences for those who commit crimes against people with disabilities. The importance of the deterrent factor cannot be under-estimated.
"Failure to provide equal protection of the law is the worst form of discrimination. People with disabilities need the same protection as everyone else. After studying crimes against people with disabilities since 1986, I believe that giving any lesser penalty will put thousands of people with disabilities in greater danger of death and violence," states Professor Dick Sobsey, a researcher at the University of Alberta. "As a society we may choose to excuse and endorse such actions. If we do, the price will be paid in the lives of children with disabilities. I think even one would be too many."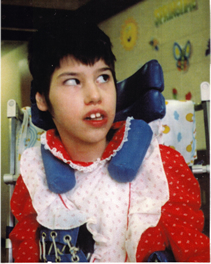 Tracy Latimer
The Latimer case directly concerned the rights of persons with disabilities. Mr. Latimer's view was that a parent has the right to kill a child with a disability if that parent decides the child's quality of life no longer warrants its continuation. CCD explained to the court and to the public how that view threatens the lives of people with disabilities and is deeply offensive to fundamental constitutional values. Learn more.