Act Now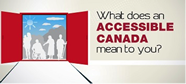 Empower U: Learn to Access Your Disability Rights Training on Canadian Human Rights, the Convention on the Rights of Persons with Disabilities (CRPD) and its Optional Protocol (OP) training aims to increase awareness of how to address discrimination using more familiar Canadian human rights laws such as Human Rights Codes and the newer international Convention on the Rights of Persons with Disabilities (CRPD). This is training for persons with disabilities by persons with disabilities. The training is part of a project funded by Employment and Social Development Canada and implemented by the Council of Canadians with Disabilities (CCD) in collaboration with Canadian Multicultural Disability Centre Inc. (CMDCI), Citizens With Disabilities – Ontario (CWDO), Manitoba League of Persons with Disabilities (MLPD) and National Educational Association of Disabled Students (NEADS). Read more.
Sign Up for our monthly digest
A monthly newsletter from CCD about what is happening in the community
Who's in the Community Coalition
(29 March 2000) — A coalition of disability organizations have come together to intervene in Robert Latimer's Supreme Court Appeal which will be heard on 14 June 2000. Legal counsel for the intervention is Bob Richards of MacPherson, Leslie and Tyerman, Barristers and Solicitors. This coalition also intervened in Latimer's second appeal to the Saskatchewan Court of Appeal. The coalition consists of the Council of Canadians with Disabilities, the Canadian Association for Community Living, the DisAbled Women's Network Canada (DAWN Canada), People First, Saskatchewan Voice of People with Disabilities, People in Equal Participation. Each coalition member appoints a representative to serve on a committee which advises on the preparation of the documents prepared for the Court. The Court Challenges Program has contributed funding to support the coalition's work.
Council of Canadians with Disabilities (CCD)
CCD is a national cross disability advocacy organization of persons with disabilities. CCD's motto is a "A VOICE OF OUR OWN." CCD is the secretariat for the coalition. "CCD is involved in the Latimer case because CCD is one of the strongest national voices of people with disabilities and it has a responsibility to make their viewpoints known. In this situation, public opinion leans heavily toward the notion that "compassionate" killing of a person with a disability is somehow a lesser crime than murder. People with disabilities are feeling highly vulnerable and so CCD sees this as a high priority involvement," states Eric Norman, CCD Chairperson.
Canadian Association for Community Living (CACL)
CACL is a national organization dedicated to improving the quality of life of people who have a mental handicap. Its programs include: advocacy, research, training, prevention, reference services, public education, family support. Speaking out on the Latimer case, CACL's Julie Stone has stated, "We do not underestimate the difficulties parents and families across the country face in attempting to ensure that their sons and daughters with disabilities have rights, opportunities and an acceptable quality of life. We cannot condone the murder of individuals with disabilities under any circumstances. To do so would create a dangerous precedent. Tracy, a young disabled person, became a victim, at the hands of her father. We cannot allow other individuals with disabilities to be at similar risk."
DisAbled Women's Network Canada (DAWN Canada)
DAWN Canada is a national organization formed to address the needs of women with disabilities in Canada. Commenting on the case, Eileen O'Brien, a past chair of DAWN Canada stated, "It is very disturbing how the public easily accepts that it is a father's right to determine his disabled child's life and death, and that they see this as a loving act. We must examine the complex discrimination and paternalism that lies behind this attitude. We are all at risk when this is not challenged."
People First
People First works to develop and promote community recognition of persons who have been labeled mentally handicapped with a view to encouraging recognition and appreciation for the rights, abilities and strengths of persons who have been labeled mentally handicapped. "What scares me about the public reaction to the Latimer case is that they see no value in someone who verbally cannot communicate or appears to be very disabled. They just write them off. They just write off most people who are labeled any way, whether they can verbally speak or not. People with disabilities are seen as perpetually child-like people who will never grow up," states Paul Young of People First.
Saskatchewan Voice of People with Disabilities
The Voice, a CCD Member Group, works to achieve the following objectives: to promote awareness of the needs of people with disabilities, to create amongst the general public an awareness of the barriers which hinder people with disabilities from living a full life and strive for the development of a stable environment in which persons with disabilities will be given the fullest opportunities to participate in any and all activities of work, leisure and recreation in the community; to foster and encourage the personal involvement of persons with disabilities in measures aimed at the removal of social and physical barriers to full participation in the mainstream of society; to serve at the community, provincial and national level as an advisory and consultative body to reflect and promote the interests of persons with disabilities in our society. Pat Danforth, a member of the Saskatchewan Voice, serves on CCD's Human Rights Committee. "A powerful emotion comes into play when we know that someone has committed a premeditated murder. To me that is the worst crime imaginable. The way that we have defined in Canada to deal with murder is to put the murderer away from the public in jail. In this case, you are dealing with someone who is unrepentant that he killed his daughter," states Danforth.
People in Equal Participation (PEP)
PEP is a local Winnipeg organization which works to promote the integration of persons with disabilities in cultural and religious activities. PEP spokesperson Theresa Ducharme plans to attend the proceedings at the Supreme Court of Canada and has already reserved a place with Court officials. PEP intervened on its own in Latimer's first appeal to the Saskatchewan Court of Appeal. Lawyer, Grant Mitchell was counsel for PEP in their first intervention. "Perhaps the most touching event of my involvement in the case involved my meeting with a woman named Charlotte Cooper, who had attended the trial and appeal with her 14 year old severely disabled daughter, Angela. Charlotte attended the trial to show an approach to caring for a disabled child different from the Latimers... Angela is atheroid (floppy) where Tracy was spastic (stiff). If Tracy conveyed an image of pain, Angela looks totally relaxed at all times.... When Charlotte and Angela were leaving the courthouse in Regina, they had to be accompanied through a labyrinth of passages to an elevator, due to poor access. A sheriff's officer accompanied them. When they got to the elevator, the official turned to Charlotte and said to her, 'I know what position you are taking in this case, but still, there must be times when you just wish it were all over.' Charlotte replied, 'Never! No more than you would wish that for any of your children.' Here, there was no image of pain (the great excuse for Latimer); just disability. The attitude was the same. The disabled child's life has no value; caring for her must be a great burden." By being in the court, Ms. Ducharme and other people with disabilities will demonstrate that life with a disability has value.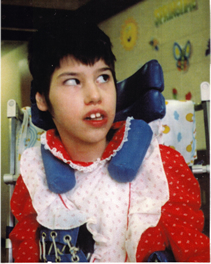 Tracy Latimer
The Latimer case directly concerned the rights of persons with disabilities. Mr. Latimer's view was that a parent has the right to kill a child with a disability if that parent decides the child's quality of life no longer warrants its continuation. CCD explained to the court and to the public how that view threatens the lives of people with disabilities and is deeply offensive to fundamental constitutional values. Learn more.