Act Now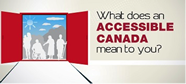 Empower U: Learn to Access Your Disability Rights Training on Canadian Human Rights, the Convention on the Rights of Persons with Disabilities (CRPD) and its Optional Protocol (OP) training aims to increase awareness of how to address discrimination using more familiar Canadian human rights laws such as Human Rights Codes and the newer international Convention on the Rights of Persons with Disabilities (CRPD). This is training for persons with disabilities by persons with disabilities. The training is part of a project funded by Employment and Social Development Canada and implemented by the Council of Canadians with Disabilities (CCD) in collaboration with Canadian Multicultural Disability Centre Inc. (CMDCI), Citizens With Disabilities – Ontario (CWDO), Manitoba League of Persons with Disabilities (MLPD) and National Educational Association of Disabled Students (NEADS). Read more.
Sign Up for our monthly digest
A monthly newsletter from CCD about what is happening in the community
Who Was Tracy Latimer?
(7 April 2000) — Because she was murdered by Robert Latimer, Tracy Latimer will never have the opportunity to tell the world what her life was really like. Tracy's communication books, in which her mother and others recorded the events of her life, tell the story of a happy young girl, who participated in the same kinds of activities that other Canadians, both those with and without disabilities, experience. Evidence was introduced at Robert Latimer's trial that demonstrates that Tracy's life was more than just pain and suffering.
DAILY PLEASURES
Like other people Tracy enjoyed tasty food. In her mother's own words we hear that, "Tracy ate a good supper and had meat and potatoes at bed time." (22 October 1992) Like lots of children dessert was a favorite part of meal time. "She...ate a very good supper, especially enjoyed lemon pie for dessert." (23 May 1993) Tracy also had food preferences, "When I got home Tracy had spaghetti for supper, she ate it, but so slowly. I think she was wishing for meat and potatoes." (5 May 1993)
HOLIDAY HAPPINESS
Tracy engaged in the seasonal pastimes that are typical childhood activities that provide a break from the childhood routine of home and school activities. Laura Latimer reports, "Tracy is going to be a princess for Halloween." (29 October 1992) "Lindsay wrote a letter to Santa for Tracy," stated Mrs. Latimer. (15 December 1992) Tracy participated in family gatherings with the Latimer's extended family. "We spent most of Easter at Tracy's cousin Lynn's place." (11 April 1993)
PLAYING DRESS UP
What little girl doesn't like to play the grown-up? Tracy was no exception. "Lindsay painted Tracy's nails. Tracy chose red, as usual," wrote Laura Latimer.
RELATIONSHIPS WITH SIBLINGS
Like any sister, Tracy sometimes did things that got her brother in trouble with his mom. Mrs. Latimer wrote, "She loves the bells. I gave Brian heck, because I thought he was hitting his glass with a pen. We laughed when we realized that it was Tracy and her bells."
VISITS WITH GRANDMA AND GRANDPA
What little kid doesn't love visits with their grandparents? Tracy enjoyed being a granddaughter, in addition to being a daughter, a sister, a cousin, a school chum, a student. Tracy had many roles in life, just like other Canadians. "Tracy had a good weekend, sat on the deck lots. Grandma and grandpa came yesterday, she was happy to see grandma," wrote her mother. (23 May 1993)
SLEEPOVERS
What little girl ever got much sleep at a sleepover? Not many, as there is just too much excitement in the air. Like other pre-teens Tracy enjoyed the silly activities that are the hallmark of every sleepover. "Tracy was the worst little girl at the sleep-over, up at ten to seven, laughing and vocalizing. She was really good the rest of the day. Lindsay read to her," wrote her Mom.
GROUP HOME OUTINGS
From time to time Tracy lived at a group home and participated in recreational and other events with other residents. "Theresa Huyghebaert knew Tracy from her periods of respite in a group home. According to her...Tracy enjoyed outings, one of which was to the circus where she smiled when the horses went by. She also responded to visits by her family, smiling and looking happy to see them." (Paragraph 11, Crown's Factum, 2000)
ACTIVITIES AT THE DEVELOPMENTAL CENTRE
Tracy received her schooling at a Developmental Centre, where she engaged in the activities that were offered to students. The court heard from workers at the Developmental Center who knew Tracy. Their portrayal shows a little girl actively involved in the life of the Centre:
"Irene Fraess was a supervisor of the Developmental Centre to which Tracy traveled in her chair on a school bus five days a week from 8:40 AM to 3:15 PM. She worked with Tracy every day in the two weeks before her death. She described a switch attached to Tracy's wheelchair. When Tracy touched the switch, it activated a radio giving her a bit of enjoyment because she loved music and had more control over her immediate environment. Ms. Fraess felt Tracy also enjoyed visits with other students at the school to which the Developmental Centre was attached. She appeared to relax and did not appear uncomfortable." (Paragraph 13, Crown's Factum, 2000)
"Ms. Fraess said that Tracy could not communicate verbally but you could tell by the expressions on her face when she was uncomfortable and when she was relaxed and happy. You could tell she liked the interaction of being held and rocked by the relaxed look and the little smiles on her face." (Paragraph 13, Crown's Factum, 2000)
PLANNING FOR ADULTHOOD
When they become adults, people with disabilities, like Tracy's, often move away from home to live with their peers in group homes. Planning for this type of future had been going on for Tracy. The court records show that, "In early October 1993, Laura Latimer applied to have Tracy permanently placed in a group home. In the section of the application referring to habits and patterns she wrote that Tracy '...usually sleeps in the night, though also naps a couple of times in the day...' and '...likes to sit by the bonfire and likes to be rocked.'" (Paragraph 16, Crown's Factum, 2000) Group home residents have relationships with their peers, develop friendships, go to church if they wish, participate in vocational activities, do sports and lead lifestyles which are very similar to those of many other Canadians.
These accounts written by Laura Latimer and given by others in court demonstrate that Tracy was much more than the suffering being portrayed in the media. Like other Canadian girls her age, Tracy liked red nail polish, sleepovers, her grandmother and bonfires. Robert Latimer took all this away from Tracy.
Correction
People in Equal Participation (PEP) was inadvertently omitted from the list of organizations participating in the community intervention in the Latimer case appeal which will be heard at the Supreme Court of Canada on 14 June 2000 (Latimer Watch, 30 March 2000). Apologies are extended to Mrs. Theresa Ducharme, the PEP membership and the readers of the Latimer Watch for any inconvenience which this error caused.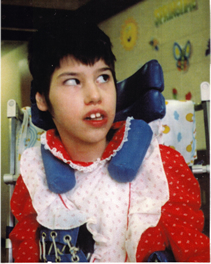 Tracy Latimer
The Latimer case directly concerned the rights of persons with disabilities. Mr. Latimer's view was that a parent has the right to kill a child with a disability if that parent decides the child's quality of life no longer warrants its continuation. CCD explained to the court and to the public how that view threatens the lives of people with disabilities and is deeply offensive to fundamental constitutional values. Learn more.