Act Now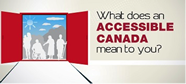 The Government of Canada is leading consultations to inform planned accessibility legislation.
In-person sessions are coming soon to your community. Now is the chance to have your say. Read more.
Sign Up for a Voice of Our Own
A quarterly newsletter from CCD.
Latimer Appeal to Supreme Court Watched by Disabled Canadians
For Immediate Release
June 12, 2000
On June 14th the Supreme Court will hear Robert Latimer's appeal of his conviction of second-degree murder of his 12-year-old daughter Tracy. The Council of Canadians with Disabilities along with five other organizations has jointly received intervenor status in the Court. CCD and its members have followed this case with considerable concern since Tracy's murder in 1993. Robert Latimer has twice been convicted and had his appeals denied by the Saskatchewan Court of Appeal, this appeal to the Supreme Court is the final step.
Canadians with disabilities have been alarmed both with Robert Latimer's claim that he should be excused for killing his daughter and with the public sympathy expressed for him. Mr. Latimer argues that this was not murder but "mercy killing" and as such he should not receive the mandatory sentence of 10 years without parole. CCD holds that to grant a lesser sentence is to put people with disabilities at risk and to deny them equal protection and benefit of the law.
CCD strongly believes that arguments advanced on behalf of Mr. Latimer in this case involve a threat to the lives and security of people with disabilities. CCD respectfully urges the Court to resolve this appeal in a fashion, which confirms the fundamental rights of persons with disabilities. "Tracy's disability cannot be used as justification for departing from fundamental constitutional values. She was a person first and that fact must not be obscured by the detail of her medical circumstance," states the Coalition's factum.
For more information, contact:
Hugh Scher, Chairperson CCD Human Rights Committee, Tel: 416-515-9686
Lucie Lemieux-Brassard, CCD Executive Member, Tel: 514-943-3995
Jim Derksen, Member CCD Human Rights Committee, Tel: 204-786-7937
Gregor Wolbring, Member CCD Human Rights Committee, Tel: 403-220-5448
Bev Prescott,Saskatchewan Voice of People with Disabilities, Tel: 306-569-3111
Laurie Beachell, National Coordinator CCD, Tel: 204-947-0303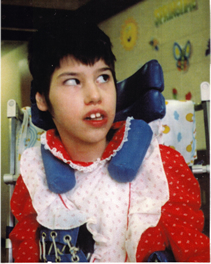 Tracy Latimer
The Latimer case directly concerned the rights of persons with disabilities. Mr. Latimer's view was that a parent has the right to kill a child with a disability if that parent decides the child's quality of life no longer warrants its continuation. CCD explained to the court and to the public how that view threatens the lives of people with disabilities and is deeply offensive to fundamental constitutional values. Learn more.