Act Now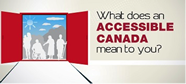 Empower U: Learn to Access Your Disability Rights Training on Canadian Human Rights, the Convention on the Rights of Persons with Disabilities (CRPD) and its Optional Protocol (OP) training aims to increase awareness of how to address discrimination using more familiar Canadian human rights laws such as Human Rights Codes and the newer international Convention on the Rights of Persons with Disabilities (CRPD). This is training for persons with disabilities by persons with disabilities. The training is part of a project funded by Employment and Social Development Canada and implemented by the Council of Canadians with Disabilities (CCD) in collaboration with Canadian Multicultural Disability Centre Inc. (CMDCI), Citizens With Disabilities – Ontario (CWDO), Manitoba League of Persons with Disabilities (MLPD) and National Educational Association of Disabled Students (NEADS). Read more.
Sign Up for our monthly digest
A monthly newsletter from CCD about what is happening in the community
The Toll Mounts: Another Child Killed
(26 March 2001) — Chelsea Craig, a 14 year old Point Claire, Quebec high school student with disabilities has been killed and her mother is being accused of the crime. Prior to her death, Chelsea attended Lindsay Place high school. In the Montreal Gazette, Darelene Berringer, director of Giant Steps school in Westmount said, "For us, [Chelsea] was a delightful child who wanted to learn and develop and grow and was open to all kinds of new things. Our eyes light up when we think of her." (Montreal Gazette, 21 March 2001)
Chelsea is described in the media as having been "intellectually handicapped" and having a "seizure disorder". Reports indicate that Chelsea had difficulty with communication, mobility and feeding herself. At one time she attended a school for children who have Rett Syndrome.
Media reports indicate that Chelsea's mother, Rachel Craig allegedly administered a lethal cocktail of drugs to her daugher and then injested some herself. The pair were found by James Craig, Chelsea's father. An ambulance was called to the Point Claire home but Chelsea was pronounced dead. Mrs. Craig survived her suicide attempt. Media reports indicate that police intend to charge Rachel Craig with first degree murder.
Chelsea's name must be added to the CCD Latimer Watch's too long list of names of people who have been put to death because they have had a disability: Ronald Lambert, Jim Nazar, Tracy Latimer, Ryan Wilkieson, Katie Lynn Baker, Charles Blais, Andrea Halpin.
This is the third time that the CCD Latimer Watch has reported upon the killing of a person with disabilities by a parent in Quebec. Charles Blais and Andrea Halpin are other Quebecers with disabilities killed by their parents.
In November 1996, Danielle Blais drowned her 6-year old son Charles, who had autism. On 8 November 1996, the Montreal Gazette reported that Blais had been charged with murder. On 2 July 1997, Blais recieved a 23-month suspended sentence for manslaughter. Blais did not go to prison and part of her sentence was to be served in a Montreal halfway house. On 14 November 1996, Andrea Halpin was shot to death by her father, who then killed himself.
These cases were preceeded by the death of Katie Lynn Baker who was starved to death in British Columbia. Like Chelsea, Katie Lynn had Rett's Syndrome. Despite the fact that a coroner's inquest ruled Katie Lynn's death a homicide, no charges were laid in this case.
When cases such as these arise, discussions often turn to an examination of the services that were made available to the families. During the Blais case, Jim Derksen stated, "The unmet service needs of people with disabilities are always an issue—a very important issue for the living. However, we must be very vigilant when we relate that issue to the murder of people with disabilities, such as Latimer, Wilkieson, Blais, or Baker, that we do not allow the possibility of anyone misunderstanding the need for services as justifying the murder in any way or degree."
Media reports suggest that Chelsea's mother was depressed when the killing took place. It is recognized that being a care giver is a very difficult role and it may lead to psychological problems in some individuals. CCD's expectation is that due process will be followed. CCD is working to ensure that the legal system does not operate in a discriminatory manner in cases where victims of murder are people with disabilities.
The Supreme Court ruling in Latimer's last appeal made comments relevant to this case:
"His [Latimer's] care of his daughter for many years was admirable. His decision to end his daughter's life was an error in judgement. The taking of another life represents the most serious crime in our criminal law."
"We are mindful of Mr. Latimer's good character and standing in the community, his tortured anxiety about Tracy's well-being, and his laudable perseverance as a caring and involved parent...we cannot find that the personal characteristics and particular circumstances of this case displace the serious gravity of the case."
In a presentation before the Senate Subcommittee to Update of Life and Death, Hugh Scher, the Past Chair of CCD's Human Rights Committee, questionned why the disability of a murder victim is not considered an aggrevating factor for the purpose of charging and sentencing. He stated,
"[T]wo years ago I was here talking to a Senate Committee and to the Parliamentary Justice Committee about a new offense that was being added to the Criminal Code relating to the sexual touching of people with disabilities... and how we and the Committee were concerned about the fact that people with disabilities are disportionately victimized in these kinds of crimes. We acknowledged that disability is an aggravating factor that must be considered when we look at charging and sentencing someone of this kind of crime. When we talk about murder, why do we not also look at disability as an aggravating factor?"
In disregard to the Supreme Court's statements on the denunciatory function of the law, some people are calling for leniency for Robert Latimer. The Latimer case is not unusual. A Univeristy of Alberta homicide data base contains 110 fathers who have been implicated in the killings of their developmentally disabled children.
With the killing of another child with a disability, CCD must emphasize the importance of the Supreme Court statement on denunciation:
"...we are mindful of the important role that the mandatory minimum sentence plays in denouncing murder. Denunciation of unlawful conduct is one of the objectives recognized in s.718 of the Criminal Code. As noted by the Court... 'The objective of denunciation mandates that a sentence should communicate society's condemnation of that particular offender's conduct. In short a sentence with a denunciatory element represents a symbolic, collective statement that the offender's conduct should be punished for encroaching on our society's basic code of values as enshrined within our substantive criminal law.'"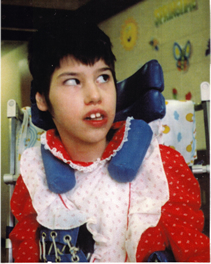 Tracy Latimer
The Latimer case directly concerned the rights of persons with disabilities. Mr. Latimer's view was that a parent has the right to kill a child with a disability if that parent decides the child's quality of life no longer warrants its continuation. CCD explained to the court and to the public how that view threatens the lives of people with disabilities and is deeply offensive to fundamental constitutional values. Learn more.