Act Now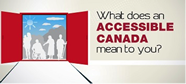 Empower U: Learn to Access Your Disability Rights Training on Canadian Human Rights, the Convention on the Rights of Persons with Disabilities (CRPD) and its Optional Protocol (OP) training aims to increase awareness of how to address discrimination using more familiar Canadian human rights laws such as Human Rights Codes and the newer international Convention on the Rights of Persons with Disabilities (CRPD). This is training for persons with disabilities by persons with disabilities. The training is part of a project funded by Employment and Social Development Canada and implemented by the Council of Canadians with Disabilities (CCD) in collaboration with Canadian Multicultural Disability Centre Inc. (CMDCI), Citizens With Disabilities – Ontario (CWDO), Manitoba League of Persons with Disabilities (MLPD) and National Educational Association of Disabled Students (NEADS). Read more.
Sign Up for our monthly digest
A monthly newsletter from CCD about what is happening in the community
Action Alert Re: United Church Observer
(18 October 2002) — At least one component of the United Church remains supportive of clemency for Robert Latimer, as is demonstrated by a July/August 2002 article entitled "Delegates Back Latimer Clemency". This article has been included here for your information, as you may want to send a letter to the Observer's editor presenting a disability rights critique of the position presented in the article. Clare Simpson, Chairperson of the Manitoba League of Persons with Disabilities has written to the Observer raising the MLPD's concerns. The MLPD letter has been included here for your information.
July/August 2002 United Church Observor
Delegates Back Latimer Clemency
by Deana Driver
Praying to a God of Justice, compassion and mercy, while concerned about the rights of the disabled, delegates to Saskatchewan Conference's annual meeting this spring in Swift Current approved a resolution asking the government of Canada to grant executive clemency to Robert Latimer. It also urges "General Council, through the Moderator and whatever other means it deems appropriate be proactive in this instance."
This resolution came before the Annual meeting after a year of reflection. Saskatchewan conference earlier asked Rev. Chris Lind of St. Andrew's College in Saskatoon to develop a process for considering the resolution; each of Saskatchewan's seven Presbyteries spent time discussing the ethical questions and facts related to the case.
Twelve-year old Tracy Latimer had cerebral palsy and was a quadriplegic when her father killed her on Oct. 24 1993, by carbon monoxide poisoning. Robert Latimer initially denied killing her but then confessed and was convicted of second-degree murder in November 1994. A second trial in November 1997 convicted him again, granting a constitutional exemption from the mandatory minimum life sentence with no chance of parole for 10 years. That exemption was overturned a year later and he began serving his sentence. He is currently in jail at Bowden, AB, and can apply for parole in six years.
Craig Neely, Saskatchewan Conference's solicitor, told the annual meeting that the Governor General can grant clemency, erasing all or part of Latimer's sentence.
The resolution asking for clemency states, among other things, that Latimer acted out of a parent's compassion and sense of responsibility over Tracy's pain, which he believed could not be adequately controlled or mitigated, and that he does not pose a threat to society. The resolution also acknowledges how the case became immediately publicized, thus making the case less about persons and more about causes."
"[We} believe one tragedy is not in any way made less by creating new tragedies," the resolution states, adding, "we believe that Christ of the Gospels stands with people in their extremity and weeps with us in all our hopelessness and pain."
Delegates asked the Conference president to write a pastoral letter to all congregations to explain the decision and some of the rationale behind it. They also asked the Conference in the next year to "find ways for the Conference to listen to those who are concerned about the implications for the security of the disabled in the Conference action for asking for clemency for Robert Latimer."
Rev. Louise Robson of Unity Sask., informed Robert Latimer's wife, Laura, of the Conference action. Unity is near Wilkie (Sask.) United, where the Latimers worship.
Robson later said she is concerned that some people will not understand the decision or see all the "hours of debate, prayer, and reflection" that went into it. "It's really hard for people to hear our intention of compassion and mercy for Robert Latimer and his family now. It's not our intention whatsoever to cheapen human life. We grieve that their family was placed in a position where such a decision was made."
Robson said Laura Latimer reacted with gratitude and told her husband about the resolution later that evening by telephone. "He was really, really moved," Laura Latimer said. She added that she hadn't been aware the resolution was coming.
I know there had been discussions about it the year before but there was no motion made last year. I never dreamed it would be on the table again this year. "It just helps to know that you're not walking alone. It helps to know that there are others with you. There have been lots of prayers said on our behalf. It still gives a person hope even though nothing in the justice system seems to give you hope.
Letter to the United Church Observer
Dear Editor
I was very disappointed, both as a person with a disability and as a member of the United Church of Canada, to read in the Observer that the Saskatchewan Conference has taken a position supporting a reduced sentence for Robert Latimer who murdered his daughter Tracy. The Observer's coverage of this matter was unacceptably weak from two points of view: firstly, in demonstrated a facile understanding of the function of the law in society and secondly, it was weak from a theological point of view.
One of the functions of the law is deterrence and the article failed to address deterrence. Latimer's sentence sends a critical message to parents of children with disabilities. People with disabilities have been participating in many public forums on the Latimer issues and some of our representatives have been told by parents of children with disabilities that they were monitoring the Latimer case and would make their own decisions about euthanasia of their disabled child based upon the sentence received by Latimer. Deterrence continues to play an important role in our society.
The Observer's article covered the Latimer story in a manner similar to mainstream journalism. There was little reference to theology in this article. Would it not have been helpful for a publication like the Observer to have explored the implications of New Testament references such as the following on the Latimer case: healing of the sick (Gospel of John), to the abhorrence of harm to children (harsh instructions to disciples in Matthew), the instructions in the Sermon on the Mount to care for the sick, and the imperative in Luke, "what you do to the least you do to me".
I was also concerned about the letter to the editor that the Observer published in response to the article. While shortfalls in services make the lives of people with disabilities and their caregivers difficult, a lack of services must never be used as a justification for the murder of a person with a disability.
Sincerely,
Clare Simpson
Chairperson
Manitoba League of Persons with Disabilities Inc. (MLPD)
To promote our fundamental human rights, contribute to the Tracy Fund. (CCD, 926-294 Portage Ave., Winnipeg MB, R3C 0B9.)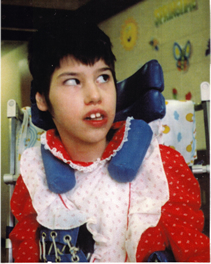 Tracy Latimer
The Latimer case directly concerned the rights of persons with disabilities. Mr. Latimer's view was that a parent has the right to kill a child with a disability if that parent decides the child's quality of life no longer warrants its continuation. CCD explained to the court and to the public how that view threatens the lives of people with disabilities and is deeply offensive to fundamental constitutional values. Learn more.