Act Now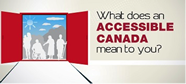 Empower U: Learn to Access Your Disability Rights Training on Canadian Human Rights, the Convention on the Rights of Persons with Disabilities (CRPD) and its Optional Protocol (OP) training aims to increase awareness of how to address discrimination using more familiar Canadian human rights laws such as Human Rights Codes and the newer international Convention on the Rights of Persons with Disabilities (CRPD). This is training for persons with disabilities by persons with disabilities. The training is part of a project funded by Employment and Social Development Canada and implemented by the Council of Canadians with Disabilities (CCD) in collaboration with Canadian Multicultural Disability Centre Inc. (CMDCI), Citizens With Disabilities – Ontario (CWDO), Manitoba League of Persons with Disabilities (MLPD) and National Educational Association of Disabled Students (NEADS). Read more.
Sign Up for our monthly digest
A monthly newsletter from CCD about what is happening in the community
Disabled: Latimer acquittal would signal grave danger
by Anne Kyle
Leader Post (27 November 1996)
Tracy Latimer couldn't walk, talk or feed herself, but the tragic death of the 12-year old Wilkie girl has come to symbolize the very essence of life.
On Tuesday, two dozen people joined members of the Saskatchewan Voice of People with Disabilities at a special memorial service at the Core Ritchie Centre to commemorate Tracy's life and to reaffirm the value of life.
"The service is a celebration of life," said Pat Danforth, a well-known advocate for people with disabilities.
The service was held the day before Tracy's father, Robert, who was convicted of murdering his handicapped daughter, was to appear before the Supreme Court of Canada.
Latimer is asking Canada's highest court to quash his second-degree murder conviction on the grounds police breached his constitutional rights when obtaining a confession.
Latimer told police he killed his daughter, who died Oct. 24, 1993 of carbon monoxide poisoning, to end her suffering from cerebral palsy.
He says when police visited his farm near Wilkie they did not tell him he was under arrest, that he could refuse to speak or that free legal advice was available.
The Supreme Court of Canada, which was to hear the appeal today, could acquit Latimer or order a new trial.
The Court has already conceded Latimer deserves a new trial because police questioned potential jurors on issues including euthanasia, abortion and religion.
The Supreme Court is not dealing with the complex issues of mercy killing or euthanasia, but simply whether Latimer was legally charged or there was jury tampering. Danforth said.
"Society must reaffirm the value of human life and acknowledge that we all have a responsibility to take care of the most vulnerable," she said.
It has become painfully clear, she added, that since Tracy's death many other people with disabilities have been killed.
"Value and protecting life needs to apply to all equally. If the life of a disabled person is perceived to be of less value, others could find themselves in the same situation as Tracy. For this reason, we as a society must keep reaffirming the value of human life." Danforth said.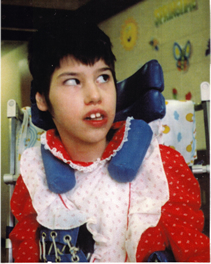 Tracy Latimer
The Latimer case directly concerned the rights of persons with disabilities. Mr. Latimer's view was that a parent has the right to kill a child with a disability if that parent decides the child's quality of life no longer warrants its continuation. CCD explained to the court and to the public how that view threatens the lives of people with disabilities and is deeply offensive to fundamental constitutional values. Learn more.