Act Now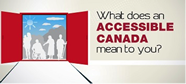 Empower U: Learn to Access Your Disability Rights Training on Canadian Human Rights, the Convention on the Rights of Persons with Disabilities (CRPD) and its Optional Protocol (OP) training aims to increase awareness of how to address discrimination using more familiar Canadian human rights laws such as Human Rights Codes and the newer international Convention on the Rights of Persons with Disabilities (CRPD). This is training for persons with disabilities by persons with disabilities. The training is part of a project funded by Employment and Social Development Canada and implemented by the Council of Canadians with Disabilities (CCD) in collaboration with Canadian Multicultural Disability Centre Inc. (CMDCI), Citizens With Disabilities – Ontario (CWDO), Manitoba League of Persons with Disabilities (MLPD) and National Educational Association of Disabled Students (NEADS). Read more.
Sign Up for our monthly digest
A monthly newsletter from CCD about what is happening in the community
Euthanasia on trial? Supreme Court to hear Latimer appeal today
by Kevin Connor
The Winnipeg Sun (27 November 1996)
If Canada's top court doesn't put away a man who killed his disabled child as an act of mercy, euthanasia could start to become a trend, local disability advocates say.
Today the Supreme Court of Canada will hear the appeal of Saskatchewan's Robert Latimer who was convicted of murdering his daughter Tracy, who suffered from cerebral palsy. At issue is how police obtained a confession from Latimer.
Latimer admits to killing his 12-year old daughter in Oct. 1993 with carbon monoxide to end her suffering. He was found guilty of second-degree murder and was sentenced to life in prison without eligibility for parole for 10 years.
Parents don't have the right to perform mercy killing on their children just because they are disabled says Jim Derksen, a Winnipeg human rights activist.
"Anything less than a conviction will send a dangerous public method," Derksen said.
"If he's acquitted for any reason, the Supreme Court is saying it has sympathy for him. It would be validating hostile attacks on disabled people."
The Council of Canadians with Disabilities is only looking for justice for Tracy, said Hugh Scher, chairman of the CCD human rights committee.
"We have no direct interest in the elements the court is specifically considering—the admissibility of Latimer's confession and the allegation of alleged jury tampering." Scher said.
If Latimer is acquitted the CCD wants it to be on technicalities.
"Otherwise they will be saying a life with a disability isn't worth living," said Winnipeg's Laurie Beachell, the national coordinator for the CCD.
Disability groups say they will closely be monitoring the proceedings.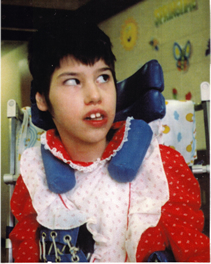 Tracy Latimer
The Latimer case directly concerned the rights of persons with disabilities. Mr. Latimer's view was that a parent has the right to kill a child with a disability if that parent decides the child's quality of life no longer warrants its continuation. CCD explained to the court and to the public how that view threatens the lives of people with disabilities and is deeply offensive to fundamental constitutional values. Learn more.