Act Now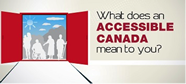 Empower U: Learn to Access Your Disability Rights Training on Canadian Human Rights, the Convention on the Rights of Persons with Disabilities (CRPD) and its Optional Protocol (OP) training aims to increase awareness of how to address discrimination using more familiar Canadian human rights laws such as Human Rights Codes and the newer international Convention on the Rights of Persons with Disabilities (CRPD). This is training for persons with disabilities by persons with disabilities. The training is part of a project funded by Employment and Social Development Canada and implemented by the Council of Canadians with Disabilities (CCD) in collaboration with Canadian Multicultural Disability Centre Inc. (CMDCI), Citizens With Disabilities – Ontario (CWDO), Manitoba League of Persons with Disabilities (MLPD) and National Educational Association of Disabled Students (NEADS). Read more.
Sign Up for our monthly digest
A monthly newsletter from CCD about what is happening in the community
Judges grill Latimer lawyer at hearing
Questions asked about what jury might have decided without farmer's statement on daughter's death
The Globe and Mail 28 November 1996
Ottawa—Robert Latimer's lawyer was given a tough grilling yesterday as he urged the Supreme Court of Canada to toss out the Saskatchewan farmer's confession to killing his daughter.
Mark Brayford argued that the confession is not permissible because the police did not tell Mr. Latimer he was under arrest when they went to his farm after the girl's body was found.
If Mr. Latimer had been told he was under arrest, he might have realized the seriousness of the situation and sought the aid of a lawyer, Mr. Brayford said. "They [police] didn't want to tell him he was being arrested because they feared that would trigger a call to [legal] counsel," he said.
But Chief Justice Antonio Lamer said police did give Mr. Latimer a clear warning that the situation was serious. "He was told that he was being detained for investigation in the death of his daughter," he said. "How clear can you get?"
Chief Justice Lamer questioned Mr. Brayford's suggestion that Mr. Latimer would not have made the confession if he had legal advice. :All of this is speculation," Chief Justice Lamer said. "He [Latimer] has never said he was misled."
Several of the judges asked whether a reasonable jury could find Mr. Latimer not guilty even if the confession were excluded, noting that the father was alone with his 12-year old daughter when she died of carbon monoxide poisoning.
Mr. Brayford said Mr. Latimer, who was not at yesterday's 90-minute hearing, could reasonably be found not guilty if the confession were excluded.
Carol Snell, representing the Saskatchewan Attorney-General, said there is ample evidence to convict Mr. Latimer even without the confession.
Ms. Snell said Mr. Latimer has never denied responsibility in the death, and has given a television interview based on the premise that he was responsible.
Ms. Snell said police told Mr. Latimer four times he had the right to seek legal counsel.
Mr. Latimer who farms near Wilkie, Sask., was convicted of second-degree murder in November, 1994, after admitting to killing his daughter Tracy, who suffered from cerebral palsy.
Both the prosecution and the defense acknowledge that Mr. Latimer is entitled to a second trial because the police improperly questioned jurors before the first trial.
The panel of nine judges reserved its decision.
The hearing was attended by advocates for the handicapped.
"It's easy to lose sight of the fact that a child is dead and the man who killed her is still free," said Catherine Frazee of the Council of Canadians with Disabilities.
"They're losing sight of the fact that someone died," said Ottawa resident Peter McGrath, who is confined to a wheelchair. "I think it's tragic that this technical stuff goes on with very little concern about what the real issue is."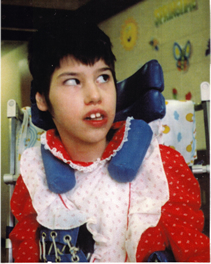 Tracy Latimer
The Latimer case directly concerned the rights of persons with disabilities. Mr. Latimer's view was that a parent has the right to kill a child with a disability if that parent decides the child's quality of life no longer warrants its continuation. CCD explained to the court and to the public how that view threatens the lives of people with disabilities and is deeply offensive to fundamental constitutional values. Learn more.