Act Now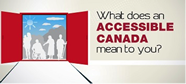 Empower U: Learn to Access Your Disability Rights Training on Canadian Human Rights, the Convention on the Rights of Persons with Disabilities (CRPD) and its Optional Protocol (OP) training aims to increase awareness of how to address discrimination using more familiar Canadian human rights laws such as Human Rights Codes and the newer international Convention on the Rights of Persons with Disabilities (CRPD). This is training for persons with disabilities by persons with disabilities. The training is part of a project funded by Employment and Social Development Canada and implemented by the Council of Canadians with Disabilities (CCD) in collaboration with Canadian Multicultural Disability Centre Inc. (CMDCI), Citizens With Disabilities – Ontario (CWDO), Manitoba League of Persons with Disabilities (MLPD) and National Educational Association of Disabled Students (NEADS). Read more.
Sign Up for our monthly digest
A monthly newsletter from CCD about what is happening in the community
Bill C-14 Does Not Go Far Enough to Protect Vulnerable Canadians
April 15, 2016 │ For Immediate Release
With Bill C-14, An Act to amend the Criminal Code (medical assistance in dying), the Government of Canada pushed back from the recommendations in "Medical Assistance in Dying: A Patient-Centered Approach," the report of the Special Joint Committee on Physician-Assisted Dying, which went beyond the ruling of the Supreme Court of Canada in the Carter case, but the Government did not push back far enough.
On the positive side Bill C-14 only makes medical assistance in dying available to people who are experiencing intolerable suffering and whose natural death is reasonably foreseeable. This language narrows availability to people who are in the end stages of dying. This criteria serves to protect Canadians who are adjusting to newly acquired conditions and, as a result, may be undergoing a period of weakened resiliency.
The preamble of the Bill recognizes the importance of safeguards to "prevent errors and abuse in the provision of medical assistance in dying" and that "vulnerable persons must be protected from being induced, in moments of weakness, to end their lives." Regrettably the promise of the Preamble is not borne out by the substance of Bill C-14, which does little to address the concerns about vulnerability that have been raised by the disability community.
The Bill's section addressing safeguards does not deliver important protections that the disability community has called for in the Vulnerable Persons Standard. In particular, the Bill did not provide for:
An assessment of vulnerabilities that may be inducing a person to seek an assisted suicide;
An expedited prior review and authorization by a judge or independent body with expertise in the fields of health care, ethics, and law.
"In the Carter decision, the Supreme Court of Canada gave the Government of Canada two assignments (1) develop a regime to provide dying people access to assisted suicide and (2) protect vulnerable Canadians who at a time of weakness may be influenced to accept medical aid in dying. Unfortunately, C-14 has some serious gaps when it comes to protecting the vulnerable," states Rhonda Wiebe, a Co-Chair of CCD's Ending of Life Ethics Committee. "Canada must do enough to protect people like me and other Canadians with disabilities who can be made vulnerable by both our health conditions and our social and economic circumstances".
"We appreciate Justice Minister Jody Wilson-Raybould's comments that Canada will meet its Charter obligations with regard to medical assistance in dying. We remind the Minister these Charter obligations are inclusive of robust safeguards to protect vulnerable Canadians," states Dean Richert, Co-Chair of the Ending of Life Ethics Committee.
-30-
For More Information Contact:
James Hicks, National Coordinator - Tel: 343-291-1118
Tony Dolan, CCD Chairperson - Tel: 902-569-2817
Dean Richert, Co-Chair Ending of Life Ethics Committee - Tel: 204-951-6273;
Rhonda Wiebe, Co-Chair Ending of Life Ethics Committee - Tel: 204-779-4493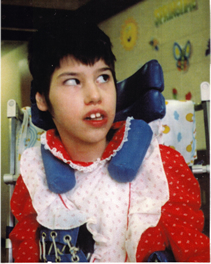 Tracy Latimer
The Latimer case directly concerned the rights of persons with disabilities. Mr. Latimer's view was that a parent has the right to kill a child with a disability if that parent decides the child's quality of life no longer warrants its continuation. CCD explained to the court and to the public how that view threatens the lives of people with disabilities and is deeply offensive to fundamental constitutional values. Learn more.