Act Now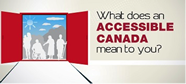 Empower U: Learn to Access Your Disability Rights Training on Canadian Human Rights, the Convention on the Rights of Persons with Disabilities (CRPD) and its Optional Protocol (OP) training aims to increase awareness of how to address discrimination using more familiar Canadian human rights laws such as Human Rights Codes and the newer international Convention on the Rights of Persons with Disabilities (CRPD). This is training for persons with disabilities by persons with disabilities. The training is part of a project funded by Employment and Social Development Canada and implemented by the Council of Canadians with Disabilities (CCD) in collaboration with Canadian Multicultural Disability Centre Inc. (CMDCI), Citizens With Disabilities – Ontario (CWDO), Manitoba League of Persons with Disabilities (MLPD) and National Educational Association of Disabled Students (NEADS). Read more.
Sign Up for our monthly digest
A monthly newsletter from CCD about what is happening in the community
Prejudice Erodes Free Choice in End of Life Decision-making
By Dean Richert, Co-chair CCD Ending of Life Ethics Committee
Illness or accident take Canadians down the path of being a person with a disability. Some, like Susan Griffiths, it would seem, cannot fathom the possibility of living with a disability and yet, currently being able to commit suicide, still want help to do so. Lindor Reynolds, Susan Griffiths, Arthur Schafer, the Winnipeg Free Press's pro-assisted suicide 'team', depict assisted suicide as a purely personal matter. By overemphasizing the personal dimension, they oversimplify the considerations before judges, legislators and doctors who are being asked to resolve the issue in a manner that upholds the public good. Rather than a steady diet of the pathos of Susan Griffiths' story, Free Press readers would be better served by an informed discussion of how cultural practices toward disability affect end of life choices; the need for procedural safeguards if assisted suicide is decriminalized and how decriminalization of assisted suicide will not disrupt the power imbalance between doctors and patients to the point where the Susan Griffiths of the world will receive assisted suicide on demand.
In Oregon and Washington, where physician-assisted suicide has been legal for a number of years, it is not physical pain that is the primary cause for seeking assistance, it is rather the perception by the individual who seeks assistance that to live with a disability is to live without dignity and autonomy.
The data in Oregon and Washington, pertaining to the reasons given as to why patients requested assisted suicide for 2010 are as follows : Oregon - Loss of Autonomy (93.8 %), Decreasing ability to participate in activities that make life enjoyable (93.8%), Loss of Dignity (78.5 %). Washington - Loss of Autonomy – (90%), Loss of dignity (64%), Decreasing ability to participate in activities that make life enjoyable (87%). People who request assisted suicide see that having a disability, however that disability might arise, is a loss of dignity and a loss of autonomy.
Another key component that does not form a part of the Oregon and Washington statistical evidence is what occurred at the time the life-ending drugs were administered. Was there coercion, duress, a willingness of a family member to urge the use of the drug by confirming with the person with a disability or possible disability that they will in fact be a burden, that their life will not be worth living?

The Carter case, currently in the BC Court of Appeal, uses the perception that "it is better to be dead than disabled" as a rationale for assisted suicide. The following were some of Kay Carter's and Gloria Taylor's concerns about being and becoming disabled, as found in the Amended Notice of Civil Claim (paragraph numbers as indicated):

(Kay)
15. Although her thinking and speaking capacities remained clear, Kay=s physical condition deteriorated steadily due to degeneration of the nerves and spinal column. By August 2009, Kay needed the assistance of an aid for dressing, toileting and most of her daily activities. She had extremely limited movement in her hands. Her right hand no longer functioned properly and although she was occasionally able to eat some of her meals without assistance, for the most part she could not eat without help. Kay was unable to walk and was confined to a wheelchair. She could not move herself in the wheelchair. If she was lying flat, she needed assistance to sit up. She also suffered chronic pain, which was treated with a series of daily medications. Her neurologist told her that her condition would eventually reduce her to lying flat in bed, completely unable to move.
17. Kay expressed concern that her condition was rendering her trapped in her own body and stripped of her independence. Kay stated that she did not want to live her life in that condition.
(Plaintiff Gloria)
44. However, Gloria=s disability is steadily impacting on her ability to do these things. She is losing the ability to perform basic household and personal tasks. She can no longer peel vegetables or open jars. She finds it challenging to dress herself, and has started wearing dresses every day to make dressing simpler. She has difficulty brushing her teeth, combing her hair and carrying out similar personal tasks. She can only type on her computer keyboard with her left hand and has difficulty using a mouse. She is no longer able to keep her house up to the standard she desires and is unable to perform yard work, such as the planting of flowers. She is concerned that her deterioration will soon impact on her ability to spend quality time with her granddaughter.
49. Gloria is terrified of losing control of her bodily functions. She has already experienced incontinence on several occasions while at home. She is concerned that these episodes will become more frequent, occur outside her home, or that she will lose her ability to clean herself when they do occur. The prospect of being fully incontinent mortifies her. (LEE CARTER, HOLLIS JOHNSON, DR. WILLIAM SHOICHET, THE BRITISH COLUMBIA CIVIL LIBERTIES ASSOCIATION and GLORIA TAYLOR v. ATTORNEY GENERAL OF CANADA, B.C. Supreme Court, Amended Notice of Civil Claim No. S112688.)
The basis of the Carter Case is that those requesting assisted suicide are "becoming" disabled and Atrapped@ in their body. Is this the type of suffering that assisted suicide can deal with? This is exactly what assisted suicide should not do: perpetuate the discriminatory stereotype that it is better to be dead than disabled.
As indicated above, the personal choice for assisted suicide comes from a place that assumes that it is better to be dead than to live with a severe disability. As Arthur Schafer was quoted in the Free Press article of April 13, 2013, the Charter of Rights and Freedoms establishes autonomy as a foundational principle. The problem is this: singling autonomy as the core value, that is to say that the right to choose assisted suicide as an option, may arise from a systemically discriminatory attitude found in society and social institutions against people with disabilities. Because of the overlap between the right to choose and the discriminatory attitude, the pressure within the individual and from outside the individual (society and the health care system, itself) is such that the person understands herself to be a burden and feels that she has a loss of dignity and autonomy because she is becoming, or is, disabled.
In the Supreme Court of Canada case of Law v. Canada where Justice Iacobucci discussed the idea of human dignity as follows:
Human dignity is harmed when individuals and groups are marginalized, ignored, or devalued, and is enhanced when laws recognize the full place of all individuals and groups within Canadian society.
The Justice asks not merely how the claimant feels she has been treated but also whether that feeling is Alegitimate@, that is, whether there is a reasonable basis for a feeling that one=s dignity has been assaulted.
David Lepofsky, as quoted in the Supreme Court of Canada case of Via Rail (paragraph 181) in which the court notes that:
[o]ne of the greatest obstacles confronting disabled Canadians is the fact that virtually all major public and private institutions in Canadian society were originally designed on the implicit premise that they are intended to serve able-bodied persons, not the 10 to 15 per cent of the public who have disabilities"
This seems to give some credence to the fact that public and private institutions often have built-in biases and discrimination.
At paragraph 56 of the Supreme Court of Canada case of Eldridge the court recognizes the truth of the devaluation of people with disabilities:
It is an unfortunate truth that the history of disabled persons in Canada is largely one of exclusion and marginalization. Persons with disabilities have too often been excluded from the labour force, denied access to opportunities for social interaction and advancement, subjected to invidious stereotyping and relegated to institutions; … This historical disadvantage has to a great extent been shaped and perpetuated by the notion that disability is an abnormality or flaw. As a result, disabled persons have not generally been afforded the "equal concern, respect and consideration" that s. 15(1) of the Charter demands. Instead, they have been subjected to paternalistic attitudes of pity and charity, and their entrance into the social mainstream has been conditional upon their emulation of able-bodied norms; …One consequence of these attitudes is the persistent social and economic disadvantage faced by the disabled.
This analysis of the devaluation of people with disabilities and the positive obligations that both private and public institutions have to correct such devaluation is critical for any consideration of assisted suicide. Often our Canadian public culture and institutions are systemically discriminatory; such examples can be found within the health care system in Manitoba.
Sometimes, public values are deeply prejudicial in that these values, while seeming neutral in their effects, are often prejudicial against people with disabilities. These values need to be understood as to how and where they are found within the Acore values@ of public culture, let alone within the health care institutions. How can a vulnerable person dealing with end-of-life issues, reach a voluntary decision given the prejudice that exists within both the larger society and specifically within the health care system?
Also, Arthur Schafer is quoted as saying that somewhere between 66.6% and 75% of Canadians are in favour of assisted suicide. This is, in my opinion, misleading. For example, two Angus Reid Polls were conducted to canvass the Canadian general public on their attitudes on whether a doctor should be able to help end another person's life. One reported in December 2010 and one reported in February 2010 in which neither define euthanasia nor do they mention assisted suicide. In fact, when the question asked Ado you think people who help a person to commit suicide should be prosecuted?@ only 41% of those surveyed indicated that they should not be prosecuted (The February 2010 Survey).
In the December survey, pain, while not being defined, was a key motivating factor for people agreeing with euthanasia. The Poll did not ask the question >if it can be controlled would you still request Assisted Suicide or Voluntary Euthanasia?=
The survey of December 2010 also makes it clear that if a person had a lifelong condition, like that of being a person with quadriplegia, 55% opposed the proposition that a doctor should help end his or her life.
It is clear that the questions found in the surveys are, in my opinion, not crafted to enable any one clear inference upon which to conclude that a majority of Canadians would support permitting legalized assisted suicide.
Suicide has always been a choice made by an individual in distress, which is the reason why the state has been involved in suicide prevention and decriminalized attempted suicide. The role of the state in helping a person commit suicide, whether that individual has a disability or not, old or young, male or female, whatever the race, is not clear as a protected right and calls for the assistance of a medical profession. Quite frankly, any person who is competent, disabled or not, can commit suicide without the assistance of the medical profession.
Finally, Arthur Schafer is quoted as saying that the 'slippery slope' arguments "are false". Some of the slippery slope arguments are empirical in nature. The Canadian Medical Association Journal (CMAJ) published an article in their Journal on June 15, 2010 (CMAJ June 15, 2010, vol. 182 no. 9 895-901). In it they look at Physician-assisted deaths under the euthanasia law in Belgium: a population-based survey. The results are as follows:
The response rate was 58.4%. Overall, 208 deaths involving the use of life-ending drugs were reported: 142 (weighted prevalence 2.0%) were with an explicit patient request (euthanasia or assisted suicide) and 66 (weighted prevalence 1.8%) were without an explicit request. Euthanasia and assisted suicide mostly involved patients less than 80 years of age, those with cancer and those dying at home. Use of life-ending drugs without an explicit request mostly involved patients 80 years or older, those with a disease other than cancer and those in hospital. Of the deaths without an explicit request, the decision was not discussed with the patient with 77.9% of cases. Compared with assisted deaths with the patient=s explicit request, those without an explicit request were more likely to have a shorter length of treatment of the terminal illness, to have cure as a goal of treatment in the last week, to have a shorter estimated time by which life was shortened and to involve the administration of opioids.
Of the 208 deaths in Belgian involving physician assistance, some 66 were without an explicit request and in those 66 deaths, the decision was not discussed in 77.9% of those patients. This seems to point to a possible empirical slippery slope argument.

Diane Coleman, a lawyer from Rochester, N.Y. with a severe disability and a founder of the disability rights organization Not Dead Yet in the United States, responded to a letter entitled "Trapped Alive" from Mr. Swanson published in the Calgary Herald on November 21, 2011 who stated:
...both my father and a good friend, who both live in Edmonton, and are both intelligent people who have become trapped in bodies that are failing. My father's life, as he knew it, ended several years ago when he was struck down by an automobile while out jogging. What parts of his body that are left, reside in a wheelchair. This once-active man in his 90s now resides in a body that is self-destructing in a painful manner. My dad has no quality of life, only a hope that the next day will not be as painful as the last.
In Diane Coleman's response she states that:
James G. Swanson's letter demonstrates the profound devaluation that too many feel toward those of us with severe physical disabilities. Swanson describes his father and a friend, disabled by an accident and ALS, respectively, as "trapped" and "condemned to a life in hell." Social messages that one is "better off dead than disabled" permeate society, including our families.
Swanson's solution to the so-called problem of disability is assisted suicide. Like most, he hasn't noticed the difference between suicide and assisted suicide. Apparently, he doesn't think it matters if someone's family views their life as devoid of quality. There's no sign of concern that we might feel that our existence is a burden to those closest to us. The Council of Canadians with Disabilities rightly opposes assisted suicide. A society that not only agrees with a disabled person's suicide, but guarantees that our suicide attempt results in death, is not treating us as equals. We deserve the same suicide prevention as everybody else, not a streamlined path to death.
Is this fearmongering? I would suggest that it is not, as there is, it would seem, empirical evidence which would tend to show the slippery slope has some validity. Would the permitting of assisted suicide lead to a reduction in resources for palliative care and for adapting various social policy and institutions? The suggestion to remedy this is to have legislation requiring the funding of such programs such as palliative care. But this is solely in the jurisdiction of Parliament and the Provincial Legislatures and not the courts. The courts cannot allocate resources necessary for such programs. There is a court case in progress now that does not ask, nor can it, for such allocation of resources.
It would be from a place of ignorance to suggest that the decriminalization of physician-assisted suicide will not affect social policy and devalue people with disabilities. This case is not about the right to physician-assisted suicide but the decriminalization of such. This case is also not about the right of the individual to have the final decision of how they are to die. The Colleges of Physicians and Surgeons across Canada are the licensing bodies of the physicians and they will have to approve such conduct should physician-assisted suicide be decriminalized. At that point, an individual requesting such assistance will have to find a physician that will assist them in dying. Then the person will have to go through the necessary procedural safeguards. Then the provincial government may or may not approve of the payment for the physician who assists. This is not within the purview of the court, nor has it been asked for in the Carter case.
For people with disabilities safeguards are important. An elaborate set of criteria for assistance in dying have been published by National Council on Disability in the United States and it sets out the following:
To effectively limit assisted suicides to appropriate situations and make certain that they do not become a vehicle for fatal discrimination against people with disabilities, such procedures would, at a minimum, have to ensure: that the patient's diagnosis is completely accurate; that the condition of the patient is definitely terminal; that the patient's death is imminent; that there are no available treatments that can save or significantly prolong the patient's life; that the patient is suffering unendurable pain and this pain cannot be controlled by medication or alternative treatments or therapies; that the patient wishes to commit suicide; that the patient's decision is based upon full information about the patient's diagnosis, prognosis, and options and the patient has understood this information; that the patient's desire to die is not a result of temporary dejection resulting from disorientation, adjusting to new limitations, or other causes; that the patient's desire to die is not a result of prejudice, stereotypes, and misinformation about people with disabilities and living with a disability; that the patient's decision to seek suicide is reached only after the patient has received, from knowledgeable disinterested sources, a thorough exploration and explanation of treatment options, rehabilitative techniques, assistive devices, accommodations, etc., for living successfully with the patient's disabilities; that the patient has had the opportunity to meet and talk at length with people living with similar disabilities; that the patient has made the decision to choose suicide freely without being influenced by coercion, harassment, intimidation, or duress; that the patient has requested physician-assisted suicide repeatedly over a sufficiently long period of time to ensure that it represents a determined steady conviction to end his or her life; that the patient is unable to commit suicide without the assistance of a physician; and that there is oversight by responsible, objective, disinterested, and impartial authorities who can verify whether or not the foregoing prerequisites to a patient's decision to choose suicide have been satisfied. (Burgdorf, Robert L. Assisted Suicide: A Disability Perspective. National Council on Disability Position Paper, March 24, 1997, p. 23)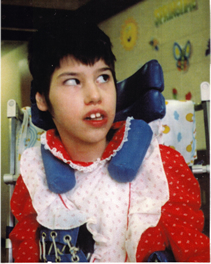 Tracy Latimer
The Latimer case directly concerned the rights of persons with disabilities. Mr. Latimer's view was that a parent has the right to kill a child with a disability if that parent decides the child's quality of life no longer warrants its continuation. CCD explained to the court and to the public how that view threatens the lives of people with disabilities and is deeply offensive to fundamental constitutional values. Learn more.