We Need Your Support
Donations are tax deductible and you will receive a charitable tax receipt for 100% of your gift.
Support CCD's work on the Carter case: Help To Live Not Die.
Act Now
You Presence is requested at CASHRA2013.ca Early bird registration ends April 18, so register online. Read more.
Sign Up for a Voice of Our Own
A quarterly newsletter from CCD.
How about the right to cry for help?

The article, "How about the right to cry for help?" was written by Amy E. Hasbrouck, Chair of Not Dead Yet. The Montreal Gazette published the article under the heading: Court ruling asserting a person's right to assisted suicide reflects discriminatory attitudes toward the disabled. In the article she states, "It's one thing when a random guy walks up to you on the street and says, 'I'd rather be dead than be like you.' It's quite another when a Canadian judge says of individuals who may experience such suffering (physical or existential), unrelievable by palliative care, 'that it is in their best interests to assist them in hastened death.' Same message, only the judge uses bigger workds." Read more.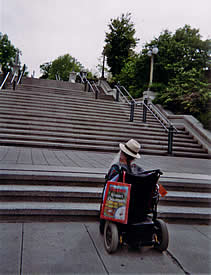 Jim Derksen views inaccessible York Street Steps in Ottawa. CCD intervened in the Brown Case, which challenged an inadequate accommodation developed for the Steps.
The Latimer case directly concerned the rights of persons with disabilities. Mr. Latimer's view was that a parent has the right to kill a child with a disability if that parent decides the child's quality of life no longer warrants its continuation. CCD explained to the court and to the public how that view threatens the lives of people with disabilities and is deeply offensive to fundamental constitutional values. Learn more.