Act Now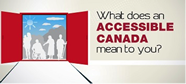 The Government of Canada is leading consultations to inform planned accessibility legislation.
In-person sessions are coming soon to your community. Now is the chance to have your say. Read more.
Sign Up for a Voice of Our Own
A quarterly newsletter from CCD.
Social Policy
14.3% of Canadians report having a disability. Canadians with disabilities are more than twice as likely to live in poverty than other Canadians. They face exclusion from quality education, from employment and from participation in their communities. CCD's Social Policy Committee provides leadership on addressing the social and economic exclusion of persons with disabilities.
Recent Work
March 20, 2019
Budget 2019 is not only an investment in the middle class. The disability announcements are also a down payment on the implementation of the international standards that Canada committed to meet when it ratified the UN Convention on the Rights of Persons with Disabilities in 2010. Read more.
November 12, 2018
CCD shares this written submission to the Committee as a way of further elaborating on the recommendations it made at its appearance before the Committee on October 22, 2018. Read more.
November 12, 2018
Please find a summary of the November 7, 2018 meeting of the House of Commons Standing Committee on Human Resources, Skills and Social Development and Status of Persons with Disabilities (HUMA). Read more.
More on Social Policy
November 12, 2018
November 12, 2018
November 12, 2018
November 12, 2018
November 12, 2018
November 12, 2018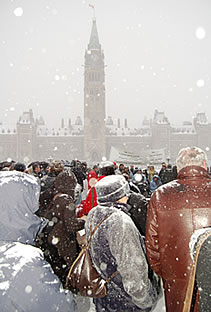 End Exclusion supporters rally in support of an accessible and inclusive Canada.
November 1, 2007
The National Action Plan presents a shared vision for an inclusive and accessible Canada. Read more.