We Need Your Support
Donations are tax deductible and you will receive a charitable tax receipt for 100% of your gift.
Support CCD's work on the Carter case: Help To Live Not Die.
Act Now
Write to your Member of Parliament in support of an accessible and inclusive postal service. Read more.
Sign Up for a Voice of Our Own
A quarterly newsletter from CCD.
Social Policy
14.3% of Canadians report having a disability. Canadians with disabilities are more than twice as likely to live in poverty than other Canadians. They face exclusion from quality education, from employment and from participation in their communities. CCD's Social Policy Committee provides leadership on addressing the social and economic exclusion of persons with disabilities.
Recent Work
August 18, 2014
The Canadian Museum for Human Rights (CMHR) has has embraced inclusive design. Read more.
August 14, 2014
Getting a letter from a doctor to qualify for a service means a person with a disability must expend time, energy and money. Read more.
More on Social Policy
May 16, 2014
April 16, 2014
April 16, 2014
April 13, 2014
April 10, 2014
February 12, 2014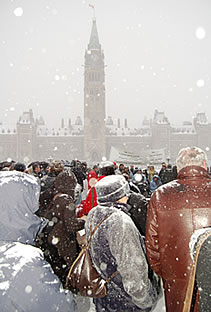 End Exclusion supporters rally in support of an accessible and inclusive Canada.
November 1, 2007
The National Action Plan presents a shared vision for an inclusive and accessible Canada. Read more.