Act Now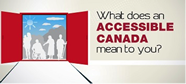 The Government of Canada is leading consultations to inform planned accessibility legislation.
In-person sessions are coming soon to your community. Now is the chance to have your say. Read more.
Sign Up for a Voice of Our Own
A quarterly newsletter from CCD.
Income
People with disabilities have lower incomes than people without disabilities. CCD seeks to reduce the annual income gap between Canadians with and without disabilities.
Recent Work
November 21, 2016
It is the view of CCD that the implementation of the measures in Bill C-26 has the potential to negatively impact Canadians with disabilities in a manner that could increase the disparity in income levels between Canadians with disabilities and other Canadians. Read more.
July 10, 2015
The federal, provincial and territorial governments pay a non-refundable Disability Tax Credit to about 375,000 tax-filers aged between 18 and 64. If the credit were refundable approximately 755,000 more Canadians with disabilities in this age group would benefit from the Disability Tax Credit. This paper estimates the cost and the options for making the Disability Tax Credit refundable. Read more.
December 11, 2013
The impediment created by the contractual competence and legal authorization requirements for opening a Registered Disability Savings Plan (RDSP) has been frequently cited by individuals with intellectual disabilities and their family members as a barrier that prevents eligible beneficiaries from opening a plan.The proposed solution involves a Federal Government Form ("the Form") authorized by Finance Canada and the Canada Revenue Agency enabling the appointment of one or more qualifying persons, as defined in the Income Tax Act, who may act as joint RDSP Account Holders in their capacity as an adult's decision-making supporters. Read more.
More on Income
June 3, 2013
June 6, 2012
March 30, 2012
March 26, 2012
March 21, 2012
May 27, 2010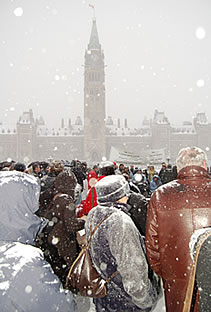 End Exclusion supporters rally in support of an accessible and inclusive Canada.