Act Now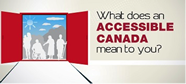 The Government of Canada is leading consultations to inform planned accessibility legislation.
In-person sessions are coming soon to your community. Now is the chance to have your say. Read more.
Sign Up for a Voice of Our Own
A quarterly newsletter from CCD.
National Action Plan
Canadians with disabilities and their families have developed the National Action Plan on Disability as a road map to help policy makers, politicians and interested Canadians advance a national disability strategy.
Recent Work
October 7, 2009
Jim Derksen presents the National Action Plan. Read more.
September 22, 2009
Roundtable Dialogue "Disabling Poverty/Enabling Citizenship"
October 1, 2009
Ottawa City Hall Council Chambers
110 Laurier Avenue West
Objectives:
• To build solidarity within the disability community and with other anti-poverty groups.
• To highlight our shared priorities regarding Poverty Alleviation and inform key decision makers of our policy proposals.
• To build understanding of how a disability poverty alleviation agenda fits within broader anti-poverty proposals being advanced.
• To build on the success of End Exclusion 2006 and 2007.
More on National Action Plan on Disability
June 1, 2008
November 1, 2007
January 1, 2007
January 6, 2006
December 5, 2005
October 1, 2005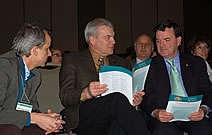 Michael Bach, CACL, and Laurie Beachell, CCD National Coordinator, share the National Action Plan with Finance Minister Flaherty.