Act Now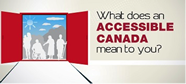 The Government of Canada is leading consultations to inform planned accessibility legislation.
In-person sessions are coming soon to your community. Now is the chance to have your say. Read more.
Sign Up for a Voice of Our Own
A quarterly newsletter from CCD.
Accessibility Canada Act
In Canada, people interested in disability public policy have different views on the effectiveness of disability legislation for removing barriers and improving the lives of people with disabilities. The United States, Australia and Ontario have such legislation but the results vary. CCD, using a human rights and disability rights analysis, examined what a federal disability act could do for Canadians with disabilities.
Recent Work
June 20, 2018
Today Canada's disability community welcomes the tabling of the federal accessibility legislation, by Minister of Sport and Persons with Disabilities, the Hon. Kirsty Duncan. A key election promise in the 2015 election, Canadians with disabilities, nation-wide, have been deeply engaged in discussion about the new law for the past 18 months, and we are pleased that Minister Duncan has taken this important step before the House adjourns for the summer. By doing this, we now have the summer to study the legislation and ensure that it meets the standards we have recommended to Government. In 2015, the Council of Canadians with Disabilities (CCD) responded to the promised law by making it known that the UN Convention on the Rights of Persons with Disabilities (CRPD), which Canada ratified in 2010, provides a roadmap for the government to follow for the achievement of robust accessibility legislation that will significantly improve disabled people's enjoyment of our human rights. "We have been clear from the beginning of the process that we have no appetite for a "light accessibility law," states Jewelles Smith, CCD Chairperson, who went further to say: "This new law must be robust and comprehensive to achieve what it sets out to do and we look forward to the opportunity to review and work with Parliamentarians as needed to ensure this vital objective." Read more.
November 6, 2016
The Government of Canada is seeking your ideas to inform the development of planned accessibility legislation. Read more.
October 31, 2016
At the National Youth Forum, Natalie Spagnuolo, a member of the Council of Canadians with Disabilities' (CCD) Social Policy Committee, will provide recommendations on where the Government of Canada should provide leadership to improve opportunities for participation by people with disabilities as it moves forward with promised accessibility legislation. Read more.
More on Federal Disability Act
October 30, 2016
October 20, 2016
October 13, 2016
October 1, 2006
May 14, 1999
October 7, 1998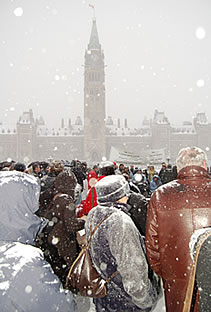 End Exclusion supporters rally in support of an accessible and inclusive Canada.