Act Now
Write to your MP supporting the Vulnerable Persons Standard and asking that its terms be incorporated in the law regulating assisted suicide/euthanasia. Read more.
Sign Up for a Voice of Our Own
A quarterly newsletter from CCD.
Federal Disability Act
In Canada, people interested in disability public policy have different views on the effectiveness of disability legislation for removing barriers and improving the lives of people with disabilities. The United States, Australia and Ontario have such legislation but the results vary. CCD, using a human rights and disability rights analysis, examined what a federal disability act could do for Canadians with disabilities.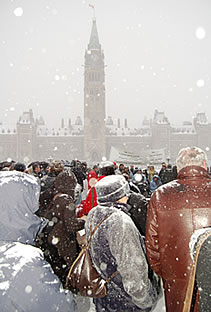 End Exclusion supporters rally in support of an accessible and inclusive Canada.