Act Now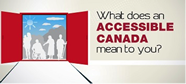 The Government of Canada is leading consultations to inform planned accessibility legislation.
In-person sessions are coming soon to your community. Now is the chance to have your say. Read more.
Sign Up for a Voice of Our Own
A quarterly newsletter from CCD.
Federal Disability Act
In Canada, people interested in disability public policy have different views on the effectiveness of disability legislation for removing barriers and improving the lives of people with disabilities. The United States, Australia and Ontario have such legislation but the results vary. CCD, using a human rights and disability rights analysis, examined what a federal disability act could do for Canadians with disabilities.
Recent Work
October 20, 2016
The federal Government plans to pass an accessibility act to make Canada more inclusive and, until March 2017, it will be consulting Canadians about the legislation through a survey and in-person consultations. 6 key points to emphasize at consultations are: 1. Use the act to implement the CRPD, 2. NOTHING ABOUT US WITHOUT US, 3. Name the Act: the National Accessibility and Inclusion Act, 4. Focus on federal issues, 5. An Act must have teeth to remedy barriers, so it must deliver more than voluntary standards and awareness raising activities, 6. Strong measures to support implementation. Read more.
October 13, 2016
In-person consultation sessions are taking place across Canada to inform the development of planned accessibility legislation. All Canadians are encouraged to take part in the consultation process, either by attending an in-person session or by participating in the online consultation. Read more.
More on Federal Disability Act
May 14, 1999
October 7, 1998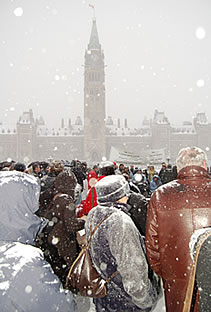 End Exclusion supporters rally in support of an accessible and inclusive Canada.