Act Now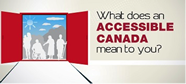 The Government of Canada is leading consultations to inform planned accessibility legislation.
In-person sessions are coming soon to your community. Now is the chance to have your say. Read more.
Sign Up for a Voice of Our Own
A quarterly newsletter from CCD.
Disability Supports
Disability supports are any good or service that assists a person with a disability in overcoming barriers to carrying out everyday activities. They also facilitate engagement in social, political and cultural activities and economic participation. Over two million Canadian adults with disabilities lack one or more of the educational, workplace, or home aids, modifications or other supports they need to participate fully in their communities. People less likely to receive the disability-related supports they need are: women with disabilities, people outside of the labor force who consider themselves completely prevented from working because of disability, people with low family incomes, people who are not receiving disability pensions/benefits, people with disability expenses that are not reimbursable by any plan, people living in rural communities. CCD has been recommending Federal/Provincial investments in disability-related supports.
Recent Work
June 6, 2011
Jasmin Simpson seeks fair play from the Canada Student Loan Program. Read more.
September 16, 2010
A universal pharmacare plan would help prevent poverty and reduce the burden of drug costs for the 1 in every 4 Canadians without drug coverage, anti-poverty groups advise. The 9 per cent of Canadians who live in poverty are at higher risk of poor health, chronic illness and injury. The new report from the Canadian Centre for Policy Alternatives confirms that in the current jumbled mix of private and public drug plans access to prescription drugs is largely based on income and where you live or work, rather than individual need. Read more.
December 2, 2009
CCD is hopeful that the attention being focused on the benefits of technical aids in the area of elite sports translates into increased support for public programs providing technical aids to Canadians with disabilities. Read more.
More on Disability Supports
October 19, 2005
October 19, 2005
February 1, 2005
June 2, 2004
May 31, 2004
February 1, 2004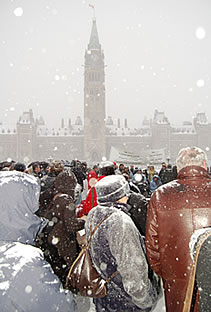 End Exclusion supporters rally in support of an accessible and inclusive Canada.