Act Now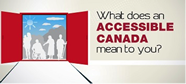 The Government of Canada is leading consultations to inform planned accessibility legislation.
In-person sessions are coming soon to your community. Now is the chance to have your say. Read more.
Sign Up for a Voice of Our Own
A quarterly newsletter from CCD.
Access/Inclusion
People with disabilities are moving toward equality. Evidence of this progress is apparent in the community: pay phones equipped with TTYs, audible traffic signals, tactile cues on streets, ramps, curb cuts, Braille elevator buttons. CCD has helped bring about these changes.
Through CCD, people with disabilities advise, critique, intervene, liaise and partner to improve access and inclusion in Canada.
A 2004 Environics poll demonstrated that Canadian citizens support inclusion and access for persons with disabilities.
CCD has been sharing its vision of how to achieve an accessible and inclusive Canada with private and public decision-makers responsible for the key systems of society, such as the physical and cultural environment, transportation, income and benefits, employment, health and social services.
Recent Work
April 9, 2019
The Council of Canadians with Disabilities (CCD), a national organization of people with various disabilities working for an inclusive and accessible Canada, applauds the April 5th announcement by the Hon. Carla Qualtrough, Canada's Accessibility Minister, that 28 disability organizations are receiving operational funding in support of their work on social inclusion. Read more.
March 20, 2019
Budget 2019 is not only an investment in the middle class. The disability announcements are also a down payment on the implementation of the international standards that Canada committed to meet when it ratified the UN Convention on the Rights of Persons with Disabilities in 2010. Read more.
January 24, 2018
January 24, 2018 - Today, the Government of Canada announced that more neighborhoods will not be converted to community mailbox service, which is a win; but the loss is that existing community mailbox service continues. The losers are the people in those neighborhoods – seniors and people with disabilities – who will continue to have problems independently retrieving their mail, due to the all too well known barriers in the community-mailbox model: snow, sidewalk conditions, etc. People with disabilities and seniors in neighborhoods with community mailboxes continue to depend on other people to get their mail, which negatively affects their independence and privacy. This is not CCD's vision of an accessible and inclusive Canada.
More on Access/Inclusion
February 14, 2017
December 17, 2016
November 25, 2016
March 23, 2016
March 1, 2016
November 19, 2014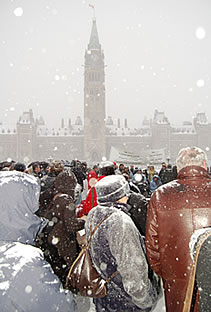 End Exclusion supporters rally in support of an accessible and inclusive Canada.