Act Now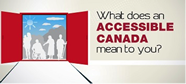 Empower U: Learn to Access Your Disability Rights Training on Canadian Human Rights, the Convention on the Rights of Persons with Disabilities (CRPD) and its Optional Protocol (OP) training aims to increase awareness of how to address discrimination using more familiar Canadian human rights laws such as Human Rights Codes and the newer international Convention on the Rights of Persons with Disabilities (CRPD). This is training for persons with disabilities by persons with disabilities. The training is part of a project funded by Employment and Social Development Canada and implemented by the Council of Canadians with Disabilities (CCD) in collaboration with Canadian Multicultural Disability Centre Inc. (CMDCI), Citizens With Disabilities – Ontario (CWDO), Manitoba League of Persons with Disabilities (MLPD) and National Educational Association of Disabled Students (NEADS). Read more.
Sign Up for a Voice of Our Own
A quarterly newsletter from CCD.
Access/Inclusion
People with disabilities are moving toward equality. Evidence of this progress is apparent in the community: pay phones equipped with TTYs, audible traffic signals, tactile cues on streets, ramps, curb cuts, Braille elevator buttons. CCD has helped bring about these changes.
Through CCD, people with disabilities advise, critique, intervene, liaise and partner to improve access and inclusion in Canada.
A 2004 Environics poll demonstrated that Canadian citizens support inclusion and access for persons with disabilities.
CCD has been sharing its vision of how to achieve an accessible and inclusive Canada with private and public decision-makers responsible for the key systems of society, such as the physical and cultural environment, transportation, income and benefits, employment, health and social services.
Recent Work
August 10, 2021
Council of Canadians with Disabilities is seeking up to two Indigenous Peoples of Canada with experiential knowledge of disability to participate in a Community Working Group for its System Navigator Service Project. The Community Working Group meets via Zoom on the last Monday of each month from 9 a.m. to 10:30 a.m. Pacific Standard Time. The monthly meetings will run for the duration of the project, ending in June 2022. Read more.
July 27, 2021
Frank Folino is one of the newest members of the Canadian Disability Hall of Fame. Read more.
July 6, 2021
The Coalition recently learned that the issue of national standards is once again on the table and once again has the potential to threaten the rights of guide dog handlers. And so once again, the Coalition intends to vigorously protest such standards in so far as they may apply to guide dog handlers. Below, we explain our reasons for objecting to national standards and call on our supporters to take action. Read more.
More on Access/Inclusion
July 6, 2021
May 31, 2021
April 20, 2021
November 7, 2020
April 9, 2019
March 20, 2019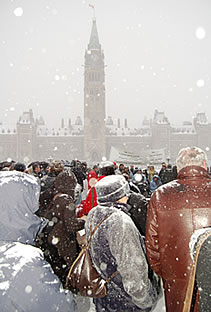 End Exclusion supporters rally in support of an accessible and inclusive Canada.