Act Now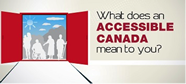 The Government of Canada is leading consultations to inform planned accessibility legislation.
In-person sessions are coming soon to your community. Now is the chance to have your say. Read more.
Sign Up for a Voice of Our Own
A quarterly newsletter from CCD.
Access/Inclusion
People with disabilities are moving toward equality. Evidence of this progress is apparent in the community: pay phones equipped with TTYs, audible traffic signals, tactile cues on streets, ramps, curb cuts, Braille elevator buttons. CCD has helped bring about these changes.
Through CCD, people with disabilities advise, critique, intervene, liaise and partner to improve access and inclusion in Canada.
A 2004 Environics poll demonstrated that Canadian citizens support inclusion and access for persons with disabilities.
CCD has been sharing its vision of how to achieve an accessible and inclusive Canada with private and public decision-makers responsible for the key systems of society, such as the physical and cultural environment, transportation, income and benefits, employment, health and social services.
Recent Work
February 14, 2017
CCD is interested in developing an ongoing collaborative working relationship with Parks Canada that will support increased access and inclusion in all of Parks Canada's activities. Read more.
December 17, 2016
The Standing Committee on Government Operations and Estimates released its report The Way Forward for Canada Post, which contains 45 recommendations. Read more.
November 25, 2016
While the Council of Canadians with Disabilities (CCD) is pleased with some aspects of the Government's electoral reform bill, "This Bill fails to respond to most of the important amendments to the Canada Elections Act that CCD proposed," said John Rae, 1st Vice Chair of CCD. Read more.
More on Access/Inclusion
March 23, 2016
March 1, 2016
November 19, 2014
November 8, 2014
October 21, 2014
October 7, 2014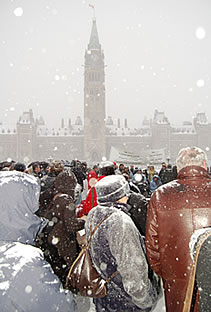 End Exclusion supporters rally in support of an accessible and inclusive Canada.