Act Now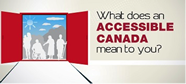 The Government of Canada is leading consultations to inform planned accessibility legislation.
In-person sessions are coming soon to your community. Now is the chance to have your say. Read more.
Sign Up for a Voice of Our Own
A quarterly newsletter from CCD.
Employment
Security is having a job. However, systemic barriers continue to keep many people with disabilities unemployed. CCD's Social Policy Committee has been developing strategies for improving access to the labor market by persons with disabilities.
Recent Work
September 17, 2014
A powerpoint presentation exploring employment and Canadians with disabilities. Read more.
February 12, 2014
CCD commends the Government of Canada for progress to date, and looks forward to working in partnership with the Government of Canada on those barriers, which are very well known in the disability community - poverty, inaccessibility, and lack of disability-related supports. Read more.
February 10, 2014
This collection of essays has much to teach Canadians seeking to include workers with disabilities in the workplace, because the authors tease out from their personal experiences the factors that promote employment for people with disabilities. Read more.
More on Employment
November 5, 2013
November 1, 2013
April 8, 2013
March 22, 2013
March 12, 2013
January 16, 2013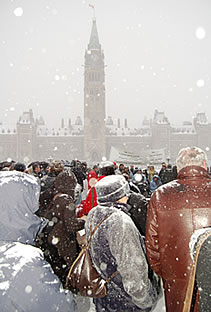 End Exclusion supporters rally in support of an accessible and inclusive Canada.