Act Now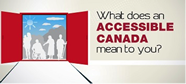 Empower U: Learn to Access Your Disability Rights Training on Canadian Human Rights, the Convention on the Rights of Persons with Disabilities (CRPD) and its Optional Protocol (OP) training aims to increase awareness of how to address discrimination using more familiar Canadian human rights laws such as Human Rights Codes and the newer international Convention on the Rights of Persons with Disabilities (CRPD). This is training for persons with disabilities by persons with disabilities. The training is part of a project funded by Employment and Social Development Canada and implemented by the Council of Canadians with Disabilities (CCD) in collaboration with Canadian Multicultural Disability Centre Inc. (CMDCI), Citizens With Disabilities – Ontario (CWDO), Manitoba League of Persons with Disabilities (MLPD) and National Educational Association of Disabled Students (NEADS). Read more.
Sign Up for our monthly digest
A monthly newsletter from CCD about what is happening in the community
Seasonal Greetings
To Council Members, Friends and Allies of CCD:
"I want to congratulate and thank all of you, for your time, commitment, respect and compassion this past year. Your tremendous work with people in our respected communities and your willingness to stretch to also give time to the collective work of CCD, is much appreciated by all of us. As a volunteer organization heading into its 47th year, we collectively have been the home for many for nearly 5 decades.
In June of this year at our AGM, the Qulliq was lit by elder, Mary-Lee Anayok, Nunavummi Disabilities Makinnasuaqtiit Society. https://youtu.be/bJlf52M9SrQ    That light gives us warmth and strength and it continues every day to burn softly, continuously, and steadily in our hearts as we work together. This has reaffirmed for all of us, that we continue to be, present, dedicated, respectful, and will continue to do the work together, in defending the Human Rights and Social Justice of the people in our intersectional, cross disability and Deaf communities.
We will continue to do this through our ever emerging knowledge and understanding of each other's experience and we will continue to do this with our developing principles of Respect, Intersectionality, Sustainability. We will continue the work around our Council Fire, with open hands and hearts, with no weapons and create a safer place for all of us to discuss and work through our many understandings and ways to support our communities.
Many people have found their way to this light this year and we thank all of them who are supporting CCD and giving of their time and welcoming us and opening opportunities for our involvement. Thank you to our Elders Council who are giving their wisdom, generational knowledge and caring spirits to help guide us.
It is an honour to serve you and our work at CCD. I am looking forward to more laughter, caring, sharing and growing understandings in the New Year."
Heather Walkus
National Chair, CCD
"As we wrap up 2022, I would like to extend my deepest appreciation to council members for your fruitful and productive sharing, learning/unlearning and decision-making and advocacy for all Canadians with Disabilities.
I look forward to catching up and picking up in the new Gregorian year, I wish you all the very best of this winter solstice season however you might honour, celebrate or observe the change of the seasons and the passage of this time of year.
As we say in many Black communities- 'Walk Good'".
Ingrid Palmer, 1st Vice Chair
"The year has been transformative for CCD. I wish all the best for 2023 – for you, the activist-driven people who steer your organizations, and those that you love. None of us can do this work alone. Happy holidays!"
Tracy Odell, CCD 2nd Vice Chair, Chair, Governance Committee
"2022 was a unique year, we are adjusting to measures caused by a worldwide pandemic and still managed to get things done, discuss, and welcome new members.
It was different yes, challenging at times but with the help of the membership, we shared, informed, and did it!
Many thanks to everybody involved.
'It's a lot easier to do good work when you have good things to say, and work with good people.'"
Happy Holidays.
Ian Young, Secretary
"On behalf of Nunavummi Disabilities Makinnasuaqtiit Society, I would like to say thank you so much for your dedication to the CCD vision and mission over the last year. As a collective, we have made impressive strides towards the inclusion of disabled people across the country, and while we still have a long way to go, I am excited to work alongside such a wonderful and dedicated team to continue our efforts. I wish you the best over the holiday season and a wonderful new year to you and yours."
Nicole Diakite, Treasurer
"Hello everyone, although I am somewhat new still to CCD, I am honoured to be working alongside all of you who bring so much experience, wisdom and a critical lens to the work that you do and that we are all doing - to ensure greater inclusion for ALL disabled folks in this country. Wishing you the best of the holidays however you celebrate or recognize this time and the best for the new year."
Fran Odette, Member-at-Large on Executive Committee
"Best wishes for a happy holiday season and sincere thanks to everyone for the work that you do to advance human rights. I look forward to working with everyone in the New Year on our collective goal of accessible and inclusive communities."
April D'Aubin, Research Analyst/Coordinator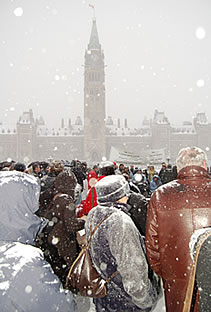 End Exclusion supporters rally in support of an accessible and inclusive Canada.