Act Now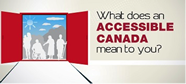 Empower U: Learn to Access Your Disability Rights Training on Canadian Human Rights, the Convention on the Rights of Persons with Disabilities (CRPD) and its Optional Protocol (OP) training aims to increase awareness of how to address discrimination using more familiar Canadian human rights laws such as Human Rights Codes and the newer international Convention on the Rights of Persons with Disabilities (CRPD). This is training for persons with disabilities by persons with disabilities. The training is part of a project funded by Employment and Social Development Canada and implemented by the Council of Canadians with Disabilities (CCD) in collaboration with Canadian Multicultural Disability Centre Inc. (CMDCI), Citizens With Disabilities – Ontario (CWDO), Manitoba League of Persons with Disabilities (MLPD) and National Educational Association of Disabled Students (NEADS). Read more.
Sign Up for our monthly digest
A monthly newsletter from CCD about what is happening in the community
Not Much Real Change Coming to Canada Post Service
For Immediate Release | January 24, 2018
Today, the Government of Canada announced that more neighborhoods will not be converted to community mailbox service, which is a win; but the loss is that existing community mailbox service continues. The losers are the people in those neighborhoods – seniors and people with disabilities – who will continue to have problems independently retrieving their mail, due to the all too well known barriers in the community-mailbox model: snow, sidewalk conditions, etc. People with disabilities and seniors in neighborhoods with community mailboxes continue to depend on other people to get their mail, which negatively affects their independence and privacy. This is not CCD's vision of an accessible and inclusive Canada.
"The Federal Government indicates that Canada Post will have an improved accessibility program, so we will have to wait and see how this rolls out," states John Rae, Chairperson of CCD's Social Policy Committee. "Our preference is a universal design approach whereby the service would be fully accessible to everyone." There will be a task force that will look at how to enhance Canada Post's accessibility program for seniors and those with mobility issues who receive their mail through community boxes. "We, of course, are open to assisting Minister Qualtrough make the accessibility program the best that it can be," adds Rae.
"What we really want here is real consultation and not just a public relations exercise," says Carlos Sosa, a member of CCD's Social Policy Committee.
When it ratified the Convention on the Rights of Persons with Disabilities (CRPD), Canada made a commitment to "access, on an equal basis with others, to the physical environment, to transportation, to information and communications, including information and communications technologies and systems, and to other facilities and services open or provided to the public, both in urban and in rural areas." "CCD has the expertise to work with the Government of Canada and the Canada Post Corporation to improve access to postal service across Canada," states Rae.
The Government of Canada has promised Canadians with disabilities accessibility legislation. "We are hopeful that in the future this legislation will help prevent Canada from developing new inaccessible service models like community mailboxes," states Rae.
-30-
For more information contact:
John Rae, Chairperson, CCD Social Policy Committee
Tel: 416-941-1547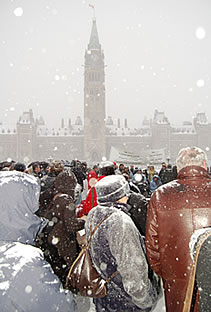 End Exclusion supporters rally in support of an accessible and inclusive Canada.