Act Now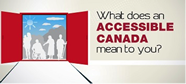 Empower U: Learn to Access Your Disability Rights Training on Canadian Human Rights, the Convention on the Rights of Persons with Disabilities (CRPD) and its Optional Protocol (OP) training aims to increase awareness of how to address discrimination using more familiar Canadian human rights laws such as Human Rights Codes and the newer international Convention on the Rights of Persons with Disabilities (CRPD). This is training for persons with disabilities by persons with disabilities. The training is part of a project funded by Employment and Social Development Canada and implemented by the Council of Canadians with Disabilities (CCD) in collaboration with Canadian Multicultural Disability Centre Inc. (CMDCI), Citizens With Disabilities – Ontario (CWDO), Manitoba League of Persons with Disabilities (MLPD) and National Educational Association of Disabled Students (NEADS). Read more.
Sign Up for our monthly digest
A monthly newsletter from CCD about what is happening in the community
Provincial and National Leaders on Disability Issues Recognized
14 June 2012
For Immediate Release
Today, Canadian communities are more accessible and inclusive of people with disabilities than ever before and this is due to the hard work of the women and men with disabilities who volunteer in the local, provincial and national organizations of people with disabilities. Disability human rights organizations are powered by volunteers who contribute their unique expertise, gained through a personal experience of disability, and countless hours of work to eliminate longstanding barriers or prevent the creation of new ones which will erode the access of Canadians with disabilities. Through the presentation of the CCD Awards, the Council of Canadians with Disabilities (CCD), a national organization working for a barrier-free Canada, recognizes the contributions of leaders in the disability community. At the CCD Annual General Meeting on 9 June 2012, Tony Dolan, CCD Chairperson, announced the following recipients of this year's CCD Awards:
Johanna Johnson, nominated by BCCPD
Marlin Styner, nominated by ACCD
Gayle Dixon, nominated by SK Voice
Colleen Watters, nominated by MLPD
Pierre-Yves Lévesque, nominated by COPHAN
Louise Gillis, nominated by NS-LEO
Peter Doucette, nominated by the PEI Council of People with Disabilities
Leanne Gallant, nominated by the CAD
Laurence Parent, nominated by the DAWN-RAFH Canada
Eugène LeBlanc, nominated by the NNMH
Dominic Sigouin, nominated by TVAC
Sylvain Bergeron, nominated by People First of Canada
Christine Kelly and Erica Carson, nominated by CWD – O
Sharlyn Ayotte, nominated by AEBC
Karen Hollett, nominated by NWT Disabilities Council.
CCD presented the inaugural CCD Awards in 1986. "The CCD National Council of Representatives created the CCD Awards to recognize the long-term dedication and hard work undertaken by individuals in the disability community to advance the human rights of persons with disabilities," states Tony Dolan, CCD Chairperson. "From our own experience, we know that this work is challenging, takes time and energy, but is exceedingly important if the disability community is to achieve our goal of equality and full enjoyment of accessible and inclusive communities. The CCD Award celebrates our dedicated leaders," continues Dolan.
This year, for the first time, recipients received the "Closing the Gap" pendant created by Hilary Druxman, working in collaboration with the Manitoba League of Persons with Disabilities and the DisAbled Women's Network Manitoba. Through the medium of visual art, the pendant, inspired by the Convention on the Rights of Persons with Disabilities, conveys the following messages:
Disability rights are human rights.
We are all human beings and have the same rights and responsibilities as everyone else.
Don't let the gap in understanding come between us!
-30-
For More Information Contact:
Laurie Beachell, National Coordinator: Tel: 204-947-0303.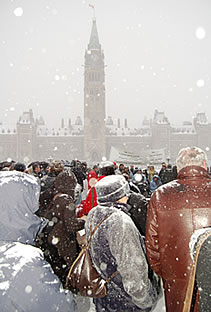 End Exclusion supporters rally in support of an accessible and inclusive Canada.