Act Now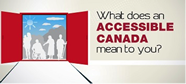 The Government of Canada is leading consultations to inform planned accessibility legislation.
In-person sessions are coming soon to your community. Now is the chance to have your say. Read more.
Sign Up for a Voice of Our Own
A quarterly newsletter from CCD.
Accessible Postal Service Is Our Goal
20 October 2014
For Immediate Release
An accessible and inclusive Canada is the goal of the Council of Canadians with Disabilities (CCD); accessible postal service is an integral component of a barrier-free Canada.
This week more Canadians will be losing door-to-door mail delivery. Like other Canadians, people with disabilities will be looking for their mail at a community mailbox. "Hopefully, only their mail will be waiting for them and not barriers which prevent them from using the mailbox in an accessible and dignified manner," stated Tony Dolan, CCD Chairperson.
CCD has been drawing Canada Post's attention to barriers (weather conditions, positioning of a box, design limitations) that may make it difficult or impossible for some people with disabilities to access a community mailbox. Canada Post has a legal obligation to accommodate people with disabilities who will not be able to use the community mailbox in a dignified manner.
CCD has shared with Canada Post strategies for maintaining a barrier-free postal service. "CCD has recommended that Canada Post continue door-to-door delivery but reduce the number of days per week that the service is offered," states Dolan.
-30-
To arrange an interview, please contact Laurie Beachell at laurie@ccdonline.ca or April at april@ccdonline.ca.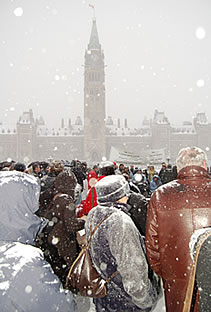 End Exclusion supporters rally in support of an accessible and inclusive Canada.